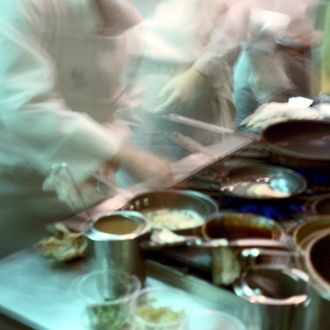 Kitchen nightmares.
Photo: Kim Steele/Getty Images
Restaurant-industry jobs routinely get ranked among the most stressful occupations, whether that's because you're making minimum wage while trying to evade workplace sexual harassment, or you're going insane working 70-hour weeks in a Michelin-starred kitchen. The current top restaurant on the World's 50 Best list, Spain's El Celler de Can Roca, is taking a radical new step to address this and help employees cope with their high-pressure work environment: The restaurant's staff now includes "its own psychologist," the New York Times explains today. It hired Inma Puig, a therapist whose clinical expertise is in teamwork morale, to "try to defuse emotions" through weekly sessions with El Celler's workers.
Joan Roca, one of El Celler's three chef-owner brothers, says he thinks they're the only restaurant giving this a shot right now, but from what employees tell the Times, it's having positive outcomes so far. Puig meets with everyone — sometimes it's just the Roca brothers at once; at others, it's a random mix of front-of-house and kitchen staff, groups with plenty to snipe at each other about, but that rarely get the chance to hash out problems in person. As she notes, the kitchen has "a lot of people working at high speed, very close to each other — and with a knife in their hand."
Everybody on the 60-person staff has to cater to the whims of diners who've waited 11 months for a once-in-a-lifetime experience, and that's of course par for the course in the industry. Roca tells the Times that they, as an industry, need to move past the age when working in fine dining was an exercise in "pure discipline and toughness, sometimes almost bordering on mistreatment." He notes it's a sad irony that chefs will fix a broken oven without hesitation, but ignore "the human machinery," and hopes other colleagues will follow El Celler's lead.