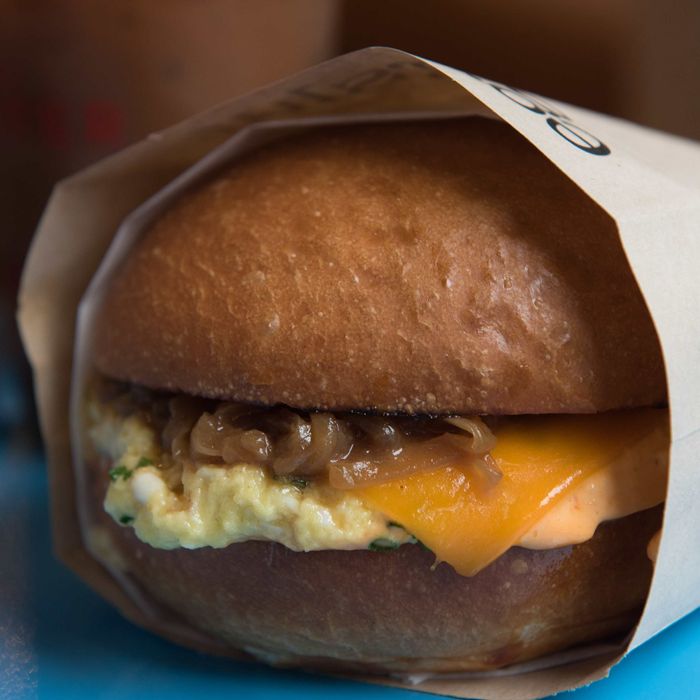 Soft-scrambled eggs, caramelized onions, and just-melted cheddar on Eggslut's Fairfax sandwich.
Photo: Liz Clayman
Alvin Cailan is breakfast-famous in Los Angeles. As the chef and founder of Eggslut, his morning creations are widely considered to be among the city's best. Each of Eggslut's four locations go through 2,100 eggs a day; 2 million people have watched a six-minute video of Cailan making a sandwich. And now, Cailan has come East — it's something of a return to New York, as it turns out — where he knows the breakfast-sandwich culture is strong, and that some classics are better left alone.
"Every morning, we'd skate to the PATH, take the train to the World Trade, then get bacon-egg-and-cheese sandwiches from the booth at the top of the escalators," the chef says, recalling summers when he was growing up and his mother "pawned him off" to extended family in Jersey City. He knows that those squishy, melty sandwich miracles that fly off bodega griddles don't need an update. And so, with his New York debut set to open this week, he says, bluntly, "I'm not going to do a bacon-egg-and-cheese."
And, indeed, the BEC is not among the three items Eggslut is bringing to Chefs Club Counter, an offshoot of Nolita's Chefs Club, housed at the corner of Spring and Lafayette Streets. The brand-new space is the next evolutionary stage of the Food & Wine–branded talent complex; both the original Chefs Club and the new Counter are a sort of anti-pop-up, where the signature dishes of lauded chefs stick around after out-of-town chefs head back to their home bases.
The aptly named Counter location opens Friday — you'll know when you walk by because you'll probably see a line out the door — and, earlier this week, Chef's Club culinary director Didier Elena was making some final adjustments, tweaking various moving parts, as the new restaurant's pieces were literally put in place. As it was happening, the final sandwich details were being worked out.
"Chef, should we make this smaller?" Cailan said, approaching Elena with a gold-colored bun, cut in half.
"What is this," said Elena, palming the bread. "90 grams?"
"Yeah, I think we need it at 75," Cailan said.
The bun has gone through 16 iterations. First, it was imagined as a poofy, swirl-topped kaiser, then as a sheeny brioche, like the one Eggslut uses in L.A. The collaborative chefs finally settled on a milk-based pain de mie. "Because the brioche has eggs in the dough, it was taking some of the flavor away from the egg on the sandwich," Elena explains.
"When Éric Kayser delivered the bun, it blew my mind," Cailan says, noting a monthlong R&D phase. It now serves as the base for a sandwich called the Fairfax — an Eggslut original consisting of cheddar cheese, caramelized onions, chives, and sriracha mayo perched on a wobbly chassis of eggs. Cage-free and soft-scrambled, they are cooked to classic specifications: un-whisked into a cold pan, brought up with plenty of cold butter, and taken off the heat before they fully set. "They call them French eggs, I don't know why," Elena says, while casually noting that as a young cook in France, anyone who added salt to omelettes at the wrong moment would get summarily booted from the kitchen.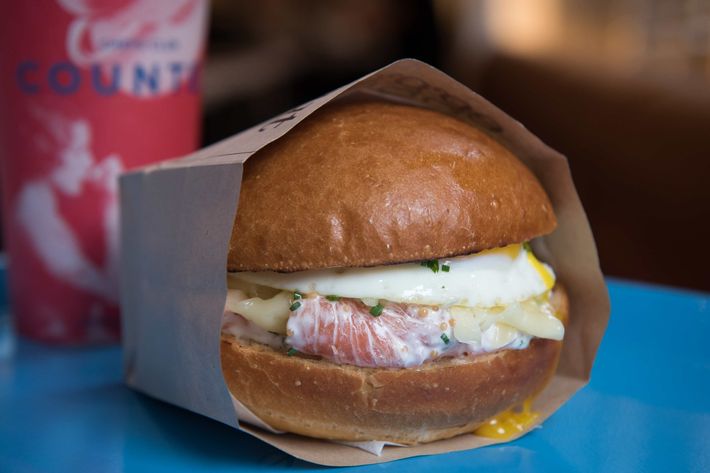 The Soho Salmon is Cailan's second sandwich on the menu, and it's something of a showstopper. Created specifically for New York, it contains thinly sliced fish dressed with pickled mustard seeds ("for that pop") and fromage blanc, plus a melted slice of Havarti. It's soft, not chewy, and the sunny-side-up egg slowly gets absorbed into the toasted bun. The salmon matches the pan de mie in texture, so no egregious fish slices pull away when a bite is taken. It's incredibly smart sandwich engineering that happens to look simple.
Lastly: the namesake "Slut," another egg — this one coddled in a jar on a cushion of potato, with a toasted baguette on the side. Cailan derived inspiration for the dish from two main sources. The Filipino food his aunt cooked ("After school, it'd be garlic rice and a fried egg."), and iconic chef Joël Robuchon's famed purée de pommes, a notoriously creamy version of mashed potatoes. "Mine is a little lighter than his," said Cailan. "A third less butter."
The rest of the Chefs Club Counter menu is equally ambitious. Atlanta chef Linton Hopkins is offering an Anson Mills grain bowl that has six heirloom grains on a base layer of squash purée, plus benne seeds and vadouvan carrots, crisp shiitakes, and a quenelle of vegan mayo made with cashews, herbs, and mustard.
George Mendes's stellar duck rice is also there, anointed with dabs of vivid orange purée. Magnus Hansson turns out pizza Romana in one corner. Charcutier Aurélien Dufour makes jambon de Paris served with comté on bread from Maison Kayser, which also runs the formidable viennoiserie. The burger — of course there is a burger — comes with avocado, crisp onion, Russian dressing, and a veneer of melted pepper Jack cheese. It hails from Jean-Georges Vongerichten's Mercer Kitchen, three blocks away.
It's an appealing lineup, a tightly edited grouping that feels something like a mini–food hall. And, of course, the long-awaited arrival of Eggslut should be enough to convince people to wake up early and check things out. "To me, this a New York breakfast sandwich," Cailan says. "Something you go out to get Saturday morning."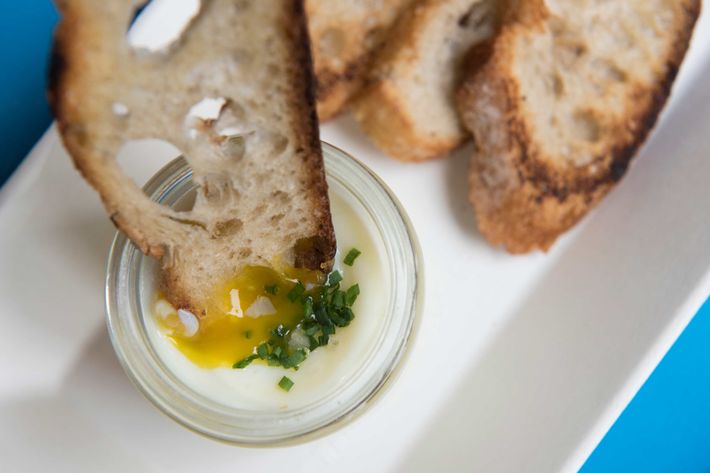 62 Spring St., at Lafayette St.; 646-438-9172