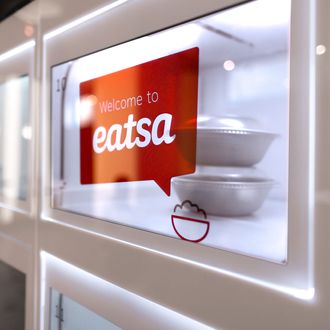 So where's the Braille?
Photo: Eatsa
Eatsa, the Automat throwback that serves healthy quinoa bowls instead of cherry pies, is being sued by disability-rights advocates who argue the trendy cashierless chain's setup is inaccessible to the blind. Its seven Bay Area, New York, and D.C. restaurants are futuristic spaces where customers poke in orders on iPads and magically retrieve food from a wall of backlit cubbies. Save for one sort of general-purpose attendant, there's effectively no staff in the front of the restaurant. The two plaintiffs — the American Council of the Blind and Michael Godino, a legally blind New Yorker who tried but failed to eat at one of the city's locations — say that's trouble for people who don't see very well. They argue technology exists to fix these problems, and that Eatsa hasn't adopted any of it.
Their suit, which seeks class-action status, says Eatsa "has ignored" blind customers' needs because its system for orders and pickups doesn't provide "any form of audio output or tactile input," making the restaurants "entirely inaccessible to blind customers." It's possible to request customer assistance, but they want the ability to "independently access" Eatsa's salads and fruit parfaits.
Eatsa hasn't released a statement yet, but the San Francisco Chronicle notes that an interesting sign has nonetheless materialized at one of its Bay Area locations — it simply reads, "Rebooting." The chain also informed customers in a Facebook post last week that "BIG changes are coming," so everybody should "get ready to meet a whole new Eatsa soon."