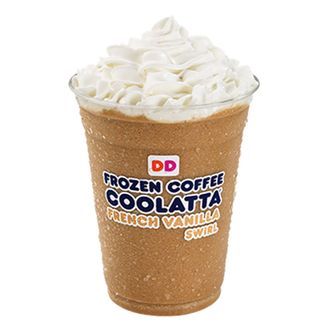 RIP.
Photo: Dunkin Donuts
Dunkin' Donuts recently did some soul-searching, and has come to a sad realization about its Coffee Coolatta drink: The thing frankly "isn't good enough" anymore, it told reporters this week. As a result of this discovery, the popular menu staple dating back to 1994 (making it a year older than the Frappuccino most people assume it copied) is being put out of its misery later this summer. Replacing it will be a 2.0 version very straightforwardly called Frozen Dunkin' Coffee.
Funny enough, it turns out this new drink is almost an exact Frappuccino clone: It goes in a blender, and is made with coffee extract, ice, a sugar syrup, and milk — the Frappuccino's ingredients, down to a one. Customers will also be able customize theirs by adding syrups or a different kind of dairy.
Dunkin' says the revamp gives the drink a better "coffee-forward" flavor that's more in line with what coffee lovers want these days. "We talked to consumers," executive chef Jeff Miller told reporters this week, "and this is the profile they're really looking for in a frozen coffee beverage." But it seems Dunkin's chat with consumers may not have been that thorough, because the ones on Twitter are really unhappy with this switch:

If the move suggests Dunkin' is again imitating Starbucks, this time by going more third wave with its coffee, well, not entirely: It's also debuting "something different than we've ever done in the past" — a something that happens to be a … frozen Monster Energy drink:

The new Monster drink combines a can of Monster Energy with Dunkin' blue raspberry or strawberry fruit Coolatta flavors, served over ice. The drink is expected to appeal to younger males as a coffee alternative for a morning "pick-me-up" or afternoon "get-me-going," according to Chris Fuqua, Dunkin's senior vice president of marketing, global insights and innovation.
As Fuqua further explains, "We think it goes after a whole new consumer."