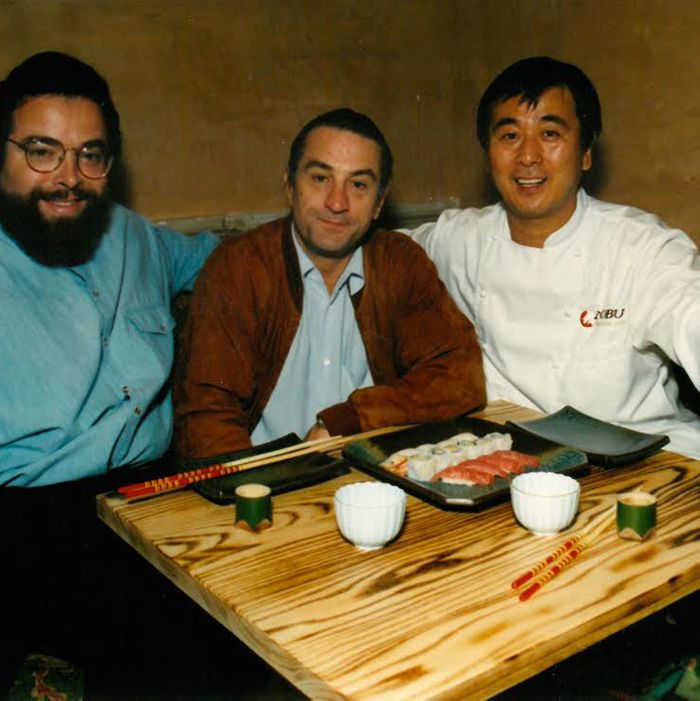 Nobu owners Drew Nieporent, Robert De Niro, and Nobu Matsuhisa.
Photo: Courtesy of Drew Nieporent
In August 1994 — just two months after an NBA Finals Game had been interrupted by a live broadcast of California police chasing a white Ford Bronco — restaurateur Drew Nieporent, producer Meir Teper, actor Robert De Niro, and chef Nobuyuki Matsuhisa opened Nobu in Tribeca. Twenty-three years later, Matsuhisa has emerged as one of the world's most successful expansionist chefs, with high-volume restaurants — and now hotels — spread across the globe, as well as the distinction of having inspired hundreds, if not thousands, of nominally Japanese restaurants to combine slices of yellowtail with slivers of jalapeño, and set it to lounge grooves. As then–New York Times critic Ruth Reichl observed in her three-star assessment of the original location in 1995, "It has grown into a restaurant that cannot be compared to anything else."
On Saturday night, the original location closed its doors. It was like any other service: There were perhaps fewer celebs than in the era when Richie Notar was manager, but just as many orders of miso black cod and rock-shrimp tempura flew out of the kitchen. Matsuhisa was traveling, De Niro was working, but Nieporent — dressed in his trademark checkered shirt and Myriad Restaurant Group fleece vest — held court, greeting regulars, sharing remembrances, and getting ready to move to a new location at 195 Broadway.
What initially brought you, Robert De Niro, and Nobu Matsuhisa together?
Essentially, Robert De Niro had been a customer of Matsuhisa, in Los Angeles. When De Niro and I were going to do Tribeca Grill, Bob brought up Nobu's name as a potential chef for the project. I knew a little bit about Nobu, because in 1989, he was named a Best New Chef by Food & Wine, along with Debra Ponzek from Montrachet. Nobu eventually saw the Tribeca Grill space, the size of it, and decided it was too big for him. He said, "But maybe one day I can open a small sushi bar with you."
I saw the friendship, the kinship if you will, between De Niro and Nobu. I made it a point in my head to make that thing happen. Sure enough, a few years later, I found a space down the block. With the help of David Rockwell, we set about building Nobu in 1993. We opened in August of 1994.
It was a hit from the start?
Yeah, it was packed from day one. I had opened Montrachet in 1985, which was a big hit, then I opened Tribeca Grill in 1990, which was another big hit. I always wanted to do a lot of places. I felt in my gut that New York didn't have a place like this and needed one, and that we were going to be successful from day one. It felt pretty right. The only fork in the road there was that we didn't have a liquor license at the very beginning, so I used to joke that we were called "Nobooze."
How important would you argue the restaurant, and Nobu himself, have been?
Honestly, I think Nobu is within the top five of chefs of all time, 23 years and so many restaurants later. It influenced all the chefs. It's also trans-generational: Our early customers have never left, but they've passed the baton to their kids, who are now bigger regulars than they are. Because of online reservations, we can keep track of how many visits people have made, and some of them have hit over 250. It's startling. It's not just a handful. It's the majority of the regulars, for whom it is an important part of their lifestyle.
I remember we had just opened and Sirio Maccioni was doing an event with Gerard Boyer, Paul Bocuse, and Jacques Maximin. They asked if we could do a table of six. I was working the door. They showed up with 18 people. At the time, Morimoto was working behind the sushi bar. He had done a painstaking menu for six people, so he didn't know what to do when they walked in with 18. I told him to do the menu for six people, and for the others, I said, "Do whatever the fuck you want." Robin Williams was here that night, too. When the chefs went outside to smoke, he followed them outside, like a kid in a candy store, since he was such a big foodie. I don't know if they knew who he was.
We opened Rubicon in April of '94, and Nobu in August of '94. At the James Beard Awards, in 1995, they were both nominated for Best New Restaurant. Nobu won. Traci des Jardins won Best New Chef. And Montrachet won for Best Service. We won like five awards that night. It was ridiculous.
The bottom line is, with all these chefs — that was the night Nobu became an international figure, because the French guys had never seen anything like it. There wasn't any 50 Best at the time. This was the breakout.
I think the key thing is accommodating people in the manner in which they want to be accommodated. We bend over backwards to have people learn about us or enjoy their experience, whether they have been coming for a long time or are brand-new. Servers don't have an edge. They'll ask you if you have been there before, because they want to know if you need guidance. If you don't want guidance, they'll leave you alone. The great attribute of Nobu is that it filled an amazing void in New York for that type of food.
What do you mean?
There's a lot of sushi bars, but they aren't all very friendly. They don't have the repertoire of Nobu dishes. In the early days, people had their Nobu list of dishes, a set of guidelines for the best way to eat at Nobu. So when their friends wanted to eat at Nobu, they first had to go to these people and ask, "What do I do when I go?" At the beginning, it was a little confusing, since the menu was quite large. I edited at first with "Nobu Signature Cold Dishes" and "Nobu Signature Hot Dishes," to give people some clue. The point I'm trying to make is that customers adopted it as their club, and each of them had their way of navigating it.
When I come to Nobu, I eat the exact same dishes. Most places are about innovation — everything has to be new — but we've learned that the signature dishes that have been on the menu for many years are what the vast majority of customers want. So when we open the new one, we will have one foot in the new and one in the old. That's because we know that if we went in a completely different direction, we'd lose the vast majority of our customers.
Would you say it was also a pioneer in terms of the big-box, clubby, David Rockwell Asian restaurant?
Yes and no. There was a place Café Seiyoken that tried to do fusion, which I always joked was confusion. The very nature of the Japanese menu is simplicity, and I think Nobu embellished without ever crossing the line. Everyone talks about clean food, and that's what this is.
We've been influential to our peers, but also to the diners.
In terms of atmosphere, Rockwell did something that synergized perfectly with what we were doing, which was new to everyone, even the partners. We hadn't experienced ponzu, yuzu, and many of these flavors. It was fun and comfortable and easy.
Give me some Drew-style stories from the early days.
We were a little snakebitten at the beginning. We had a robbery, so there's actually a bullet hole in the vestibule. We used to say that we could seat you in a shooting section or the no-shooting section. I was watching a program on TV about arson and realized that the building I was watching was our building, since apparently the super had tried to set fire to the building at one point. We had someone get hit by a car out front. One of our staff members had a heart attack. We were racing, but there were some scary moments.
The great thing is the diversity of this staff: If there was ever a moment here … you look at the people who work here, and it's the story of immigration. Every nationality, quintessential New York. That's the success. The Japanese restaurants in New York were all-Japanese staff, and the customers were all Japanese, pretty much, so what Nobu did alone was crucial — his friendliness and desire to serve everyone.
For me, every accomplished person seems to have gone through the portal of Nobu. Everybody knows what it is. I have other restaurants, and even 27 years after Tribeca Grill, not everyone knows what it is. You say Nobu, and everybody knows. We've had Paul Simon and Lionel Richie perform. Adele comes in for takeout. Beyoncé loves it. Taylor Swift has an apartment around the corner. Even though it's a celebrity magnet, we protect people's privacy. The food is also a pretty healthy way to eat.
Seventeen years ago, Muhammad Ali comes in. Howard Bingham, his photographer, was with him and introduced him to me. Ali had Parkinson's and couldn't really say anything. He was shaking. He sits down, pulls a napkin off the table, pulls out a Sharpie, and starts scribbling like crazy. It was almost uncomfortable. I gave Howard a weird look. Then Ali flips the napkin over and keeps scribbling on the other side. Then I got even more uncomfortable. What ensued was that he sat for 30 minutes, and on both sides, he had drawn mountain ranges, a boat, a plume of smoke, amazing. He signed it and gave it to me as a gift.
I also remember that before we opened, this was a place called Café Americano. They used to sell drugs out of this place. It was nefarious here. When I took the place over, I decided, I can't have these guys coming back — the wise guys. I'll never forget this as long as I live: We only had room for a sushi bar, not a liquor bar, and David Rockwell wanted to put it all the way in the back, and I said, "No, I want to put it in between the two pillars, so people see it when they walk in." I swear to God, we open the doors on opening night, and the first customers are the wise guys: "Where's the bar? We wanna have a drink." I tell them, "I'm really sorry, we don't have a liquor bar." The wise guy goes, "How the fuck do you not have a bar?" I swear to God, they never came back. Not putting a liquor bar in here was the most important thing I ever did.
How did Nobu — a chef so resistant to opening in New York, who said Tribeca Grill was too big — become one of the most successful expansionist chefs? He seems to be able to open three spots at a time.
At the beginning, Nobu would always admonish me about being involved in too many endeavors, "With sushi, man is man, and not a machine." The London opening [in 1998] was the breakthrough. Once we saw we could be successful in a new market like that — let's face it, getting on a plane is not easy, but Nobu's children were getting older, and that project built the dam to do other things.
Did he have a knack for expansion instantly?
The thing is, at the beginning, it was very hard to get sushi staff. They didn't really want to work for a non-Japanese owner. But we realized that there were people from other ethnicities who wanted to learn the craft, be it Korean or Hispanic. And there's nothing like making money in a job. When people make money in a job, not only are they going to keep working for you, but when you expand, they get rewarded. Pretty much, every time there was an opportunity, we could look inward for inventory. That was what gave us the confidence to expand.
You're closing the original location because the rent got too high?
We've been there 23 years, and the rent has accelerated quite a bit. I have customers who pay money to us, so I understand that without those people, I can't be in business. For some reason, the tenant-landlord relationship is different. It's like we pay all that money and are treated like the scum on someone's shoe. I just don't understand it. But I think our time had come. The building was fair to us, more or less, but it wasn't like at the end they said, "We really don't want to lose you."
You know, whether I wanted to stay or not, we are looking forward to the new one. We have greater facilities to do what we need to do. The volume of business was almost always too much for the design of the kitchen. On a busy night, we are going to do 300 people, and you can only fit six people on the hot line. The benefit is the sushi bar, which is like a second kitchen. I see it as an enormous garde-manger section. The reason we took Next Door is because it let us enlarge the kitchen. So the big factor to move is that the physical space will help us modernize and keep up with the volume.
Are you the type that gets nostalgic and sad, or are you ready to push forward?
I hate change. I've never liked it. It took me a long time to understand change. I couldn't premeditate how I was going to feel about leaving or how I was going to feel about the new space. I just wanted to let it happen and not overthink it. I really had a good time this last week with everyone. Normally, when you close a restaurant, the morale is just horrible. This is a unique situation or me: You're closing a restaurant and the entire staff is moving to a new place. In fact, everyone was pretty upbeat. They share the love of that space, since many of them have been there from day one.
It didn't impact me the way I thought it would. I have a philosophy that space is like a person: You have a pretty good sense of whether you will like that person the moment you meet them. The first reaction is telling. The Tribeca space was always friendly — high ceilings, big windows, laid out correctly with a kitchen in the middle, so it didn't feel like a bowling alley. There was a lot of intelligence in the design of that space, so it wasn't easy to let go.
The saving grace is that we have this new space. We're turning the page. We respect the 23 years we had in the space, but we have an opportunity to keep the story going, vibrant, and interesting.
This post has been updated to include Teper's role as a co-founder.