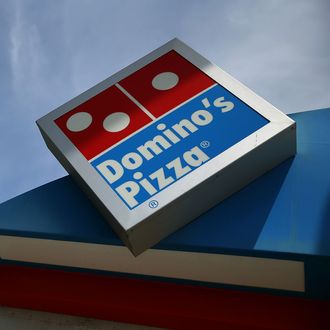 Still in the state's crosshairs.
Photo: Justin Sullivan/Getty Images
Back in May, New York attorney general Eric Schneiderman filed a lawsuit accusing both Domino's and several franchisees of "systemic" wage theft — what his office has routinely blasted as an ongoing pattern of "illegally chiseling at the pay of minimum-wage workers" by the entire chain. Executives viewed their inclusion in the suit as an annoyance (and possibly even a tactical blunder), since the courts have generally labeled franchisees the bad guys in these matters, not their corporate overlords. Recent labor rulings have started challenging that idea, though; and now, Schneiderman's bold move may be paying off, too: His office has announced that the three franchisees named in the suit are settling individually for $480,000, leaving Domino's as the sole defendant.
Schneiderman has now spent the better part of three years arguing that Domino's has "full knowledge" of franchisees' "consistent and outrageous record of disregard for workers' rights." Legally, his claim boils down to Domino's being what's known in labor law as a "joint employer" — in this case, that there's clear evidence corporate meddles in worker pay, versus it being entirely at franchisees' discretion. His office contends that, for the period outlined in the lawsuit, Domino's encouraged store owners to use a flawed payroll system (called PULSE) that it knew miscalculated workers' wages. Also, Domino's allegedly made multiple updates to PULSE every year, yet never bothered to fix the underpayment glitch, or even tell franchisees that this glitch existed. (It was deemed a "low priority.") As a result, workers got screwed out of a lot of hard-earned wages — delivery drivers in particular, who were reportedly shafted on miles they put on their private vehicles as well.
The $480,000 Schneiderman's office secured in restitution will be divvied up among hundreds of workers mostly in the New York metro area. Including these three new additions, 71 Domino's franchisees statewide have now settled labor violations with the attorney general. That represents more than a third of all the locations in New York state, and comes to nearly $2 million that's been returned to the chain's workers.