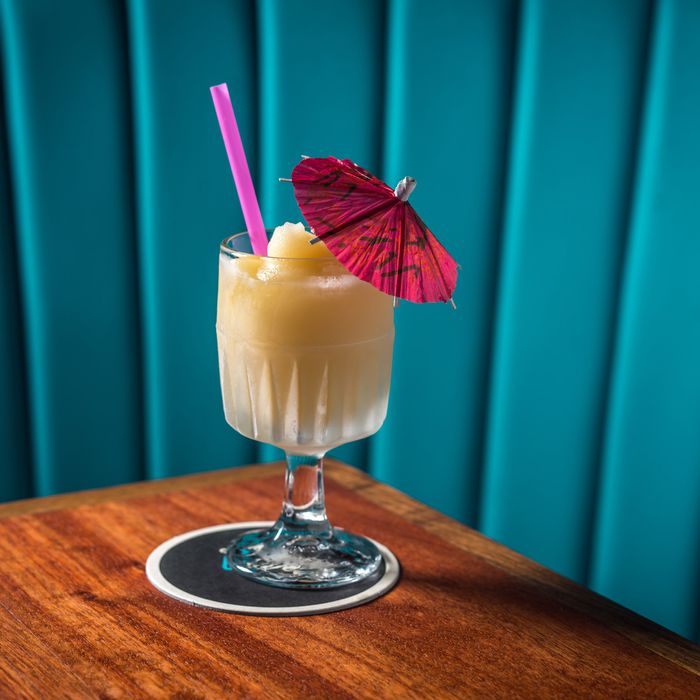 The Penichillin, a frozen version of the Penicillin.
Photo: Paul Wagtouicz
The mixology movement was defined, in large part, by its reclamation of cocktail history: unearthing techniques, books, ingredients, and recipes that may otherwise have been lost to time. Go to any half-decent bar now, and your Manhattan will not only be better than it would have been 20 years ago, it will also nod to how Manhattans were made when the drink was invented. Yet the movement also birthed a few new drinks that fit comfortably into the existing canon. Sam Ross's Penicillin is one such drink. The mixture of blended Scotch whiskey, lemon juice, honey-ginger syrup, and a float of peaty single malt is only 12 years old, but it tastes and feels timeless. It is a straightforward, grown-up drink for straightforward, grown-up drinkers, invented by a protégé of the late Sasha Petraske, the mixology world's original hard-liner.
In other words, it's not an obvious candidate to be transformed into a frozen drink dispensed from a giant slushie machine.
But Ross and his partners — Michael McIlroy and Dan Greenbaum — have done exactly that at their new Bed-Stuy bar, Diamond Reef. The Penichillin, as it's called, is served with a wide straw and a paper umbrella. It still has the single-malt floater, but the coldness and icy texture command a new dimension to the old favorite — more brain chill than brain freeze. It straddles the line between serious and fun. As a friend explained it, while drinking both the frozen and original liquid versions side by side, "The Penicillin is upfront about the night of debauchery ahead, but the Penichillin is wearing a mask."
The Penichillin is also extremely popular. On its first night in business, Diamond Reef's staff went through the entire first batch — about 60 drinks' worth — in three and a half hours, and there is perhaps no drink being served right now that simultaneously speaks to tenets of old-guard mixology and to the newer, more laid-back approach to bartending.
Ross and McIlroy are the duo that opened Attaboy in the space originally home to the hallowed Milk & Honey. Diamond Reef is the first of three new bars that the team plans to open this year; and while Attaboy is still a small, dark drinking den, a candid whimsy imbues Diamond Reef: the choking-hazard sign features a Crying Jordan, and honeysuckle bushes are planted out front. The playlist includes Sade's "Hang on to Your Love" and "Never Too Much" by Luther Vandross. Turquoise is everywhere.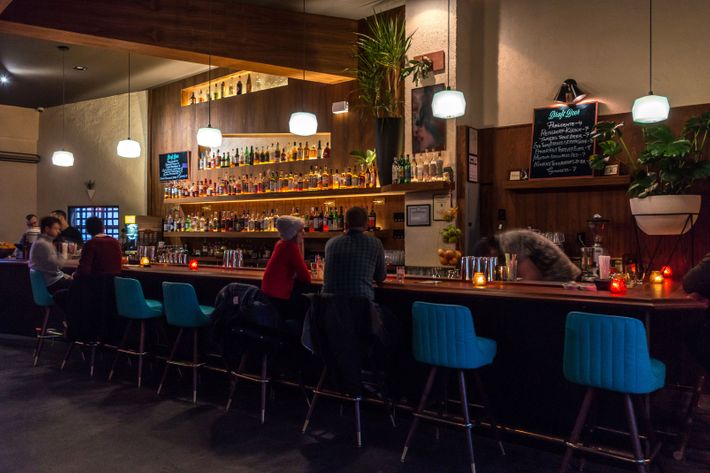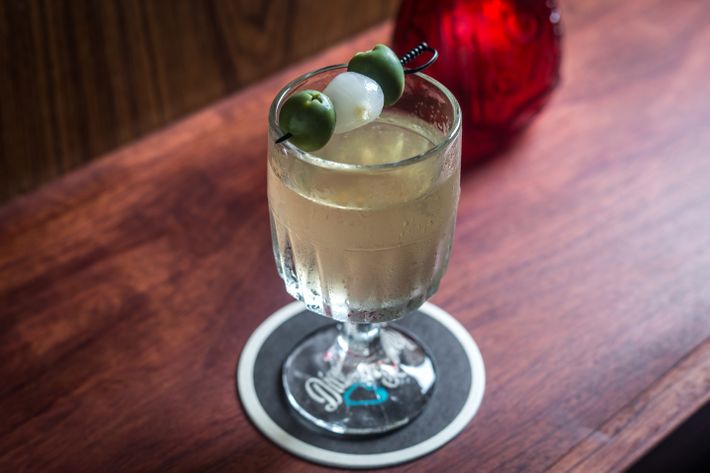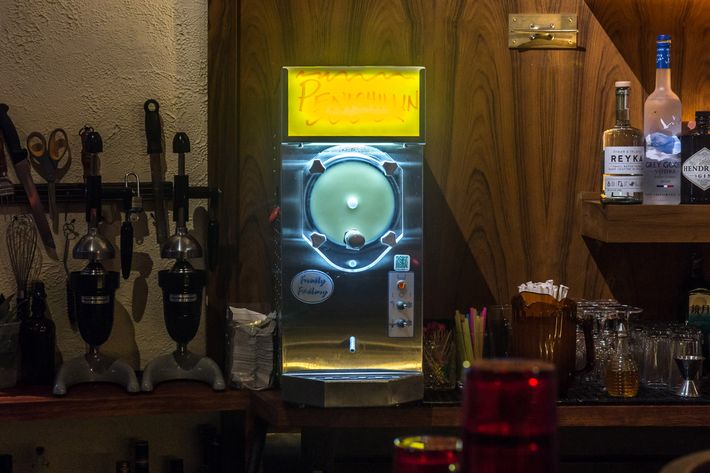 The style of the menu, and the venue itself, are not quite tiki — McIlroy is adamant about that — but there's definitely a Spring Break–bungalow-boogie vibe to the place. The cacao in a limey, minty rum-based Scorpion Kick is a flavor ninja, stealthy but strong. The Back Stop — just bourbon, coffee liqueur, and Mexican bitters — is surprisingly pulpy and viscous. There are plans to add piña coladas with floaters of blackstrap rum, Fernet, Lolita coffee liqueur, or Campari. Even a drink as stiff as a Martini gets loosened up here; the bar's "steakhouse" version features vodka and four dirty juices (brines of caper, onion, olive, and pepperoncini, plus apple-cider vinegar) for a savory, tangy taste. "I don't care if this makes all the lists of best bar in the world, or all of that stuff," Ross says. "It can even be a beer bar more than a cocktail bar. I just want it to be fun." (Adding to the fun: Every cocktail costs a relatively reasonable $12.)
There's still a lot coming. "We're going to have another bar out here," says McIlroy during a tour of the large back patio on their opening night, "a slushie machine to take some pressure off the main bar, and then just tubs of beer and rosé. We want it to be a hangout. We have a license to serve indoors and outdoors until 4 a.m., and we won't have any neighbors complaining, because everything around us is a business that's closed by this hour."
But Diamond Reef is about what it doesn't have as much as what it does. There are no vests or suspenders. The bartenders don't wear ties. And the bar definitely eschews the deeply researched faux history that defined so many neo-speakeasies in the mid-aughts. Diamond Reef was indeed a real reef — a harbor hazard between Manhattan and Governors Island that was blown to bits in the 19th century — but when you ask Greenbaum, the managing partner at the new bar, about it, he doesn't offer some soliloquy on the history of New York Harbor. "I didn't care about that," he shrugs. "I just liked the name."