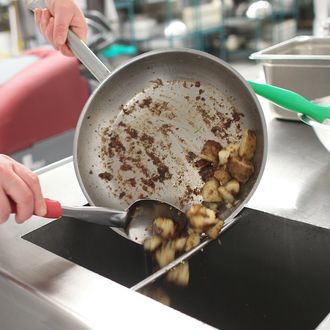 One councilman thinks there's a better way.
Photo: Rene Johnston/Toronto Star via Getty Images
A New York councilman has an ingenious plan that could help reduce the city's not-so-insignificant contribution to the problem of food waste. As the Daily News reports, Rafael Espinal is introducing a bill today that would create a classifieds-style site where restaurants and supermarkets could advertise free leftovers to groups that feed the needy.
This would jibe with the city's current efforts to curb food waste. City Harvest, the world's first food-rescue program, has saved more than 500 million pounds of food since 1982, and there's been a recent boom in tech start-ups like Transfernation, an "Uber for food rescue" that coordinates food deliveries from things like catered events to homeless shelters and food pantries. But Espinal argues that the city still lacks the painless, centralized donation hub that's necessary to get private companies onboard. "There's no clear way to get that food that they're dumping into their organizations so they can provide it to hungry New Yorkers," Espinal says.
He wants the site to be set up by the Sanitation and the Information Technology and Telecommunications departments. Grocery stores, restaurants, bodegas, and other businesses could post about the leftovers, where they're located, and when they're available for pickup. Interested nonprofits could then arrange a time and means to acquire them. Espinal explains that the city would step back and let a third party manage the site once it's up and running.
Estimates put the number of New Yorkers who can't reliably access healthy food at 16 percent. Espinal adds that the site would help cut into that, and also work to curb the food discarded around the city — about a third of what goes into New York landfills.