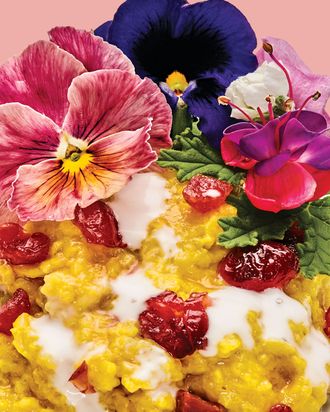 The Good Sort.
Photo: Bobby Doherty/New York Magazine
Congee, also known as jook, or rice gruel, has long been the breakfast of billions in China — filling, cheap, energizing, and easily digestible, fit for infants and nonagenarians alike. Some swear by it as a post-exercise pick-me-up; others as a superb hangover cure. Its soothing properties are considered so powerful that congee is even served at funerals. In its most basic form, it's white rice cooked in water or broth until the grains disintegrate, seasoned with everything from preserved eggs to pig's blood. Part comfort food, part blank canvas, it's gone beyond its traditional Cantonese Chinatown setting to approximate a cornstarch slurry in Mission Chinese Food's Westlake Rice Porridge, and to turn a popular Vietnamese roasted-shellfish street food into Hanoi House's clams and congee. In this wellness-obsessed, vegan, gluten-free age, it's no wonder that the ancient dish is being positioned and embraced as an ultramodern health food. Here, a few delicious new takes on overcooked rice.
New Wave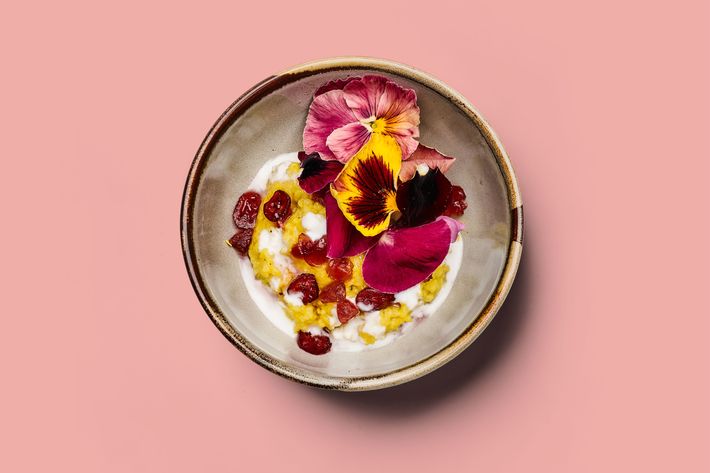 At Aussie-Chinese coffee shop The Good Sort (5 Doyers St.; $9), the jasmine rice is cooked in almond milk, seasoned with turmeric (plus ginger, cayenne, and coconut sugar), and garnished with coconut cream, poached cranberries, dried strawberries, and an Instagram-friendly edible pansy.
Traditional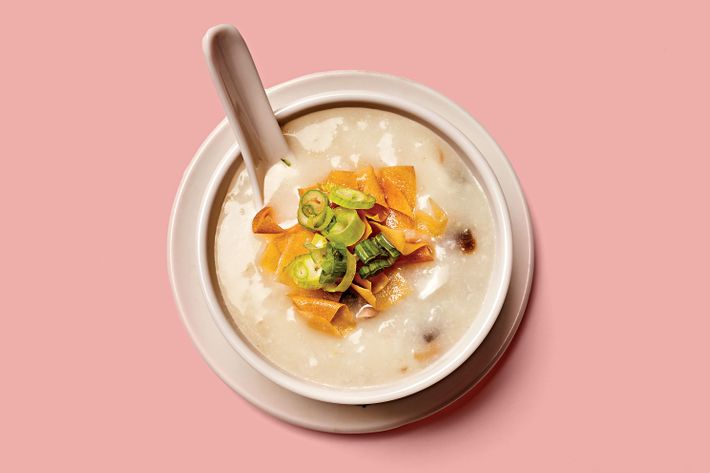 The classic congee at dim sum specialist Tim Ho Wan (85 Fourth Ave.; $3.75) hits that elusive sweet spot between thick soup and thin porridge. Beneath the unassuming surface lie shreds of braised pork and bits of both preserved and salted duck egg; on the side, sliced scallion and crispy thumbnail-size chips made from a dough similar to the one used for egg-roll wrappers.
Super-Healthy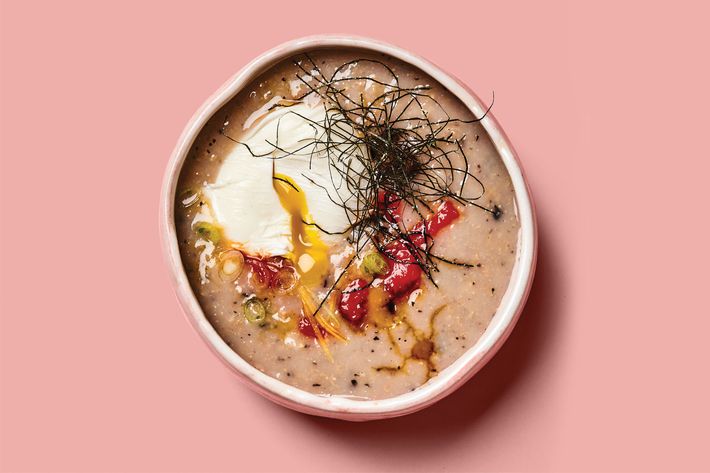 Neal Harden, the chef at Jean-Georges Vongerichten's abcV (38 E. 19th St.; $10), got the idea to make congee from forbidden or black rice and millet when he was cooking at a luxury-resort health spa in Bali. It's smooth and fragrant and thicker than most and served with a gang of savory condiments, including strips of nori, fermented chile paste, and mushrooms cooked with fermented black beans. Add a poached egg or an avocado for extra nourishment.
*This article appears in the March 20, 2017, issue of New York Magazine.