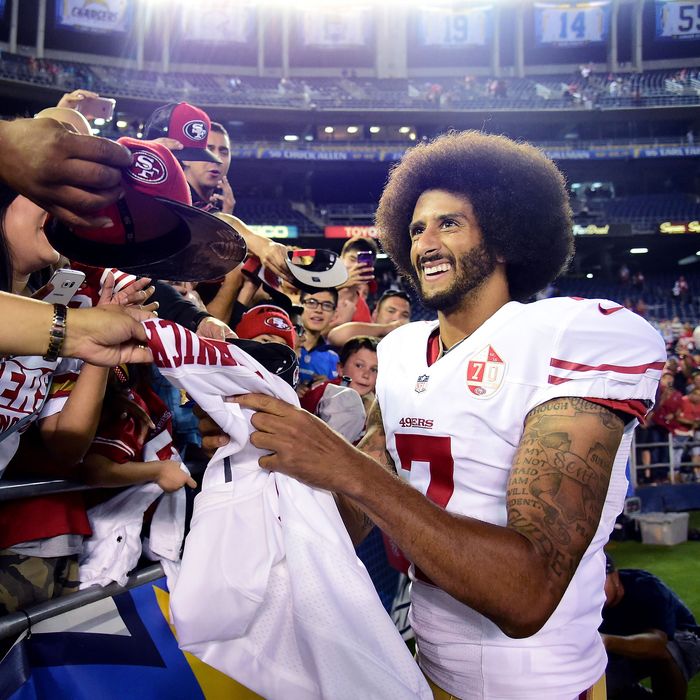 Colin Kaepernick.
Photo: Harry How/Getty Images
When President Donald Trump released his budget proposal, it called for, among many other cuts, eliminating federal funding for Meals on Wheels. While the proposal amounts to a policy outline, this wasn't looked upon kindly by many as the service provides meals for the disabled, elderly, veterans, impoverished, and others in need. Maybe, then, this will cause an uptick in donations, as Trump's election did for organizations like the ACLU and Planned Parenthood. On Tuesday, Meals on Wheels announced that the NFL quarterback Colin Kaepernick had donated $50,000 to the organization.
Last year, Kaepernick became part of the national conversation about race when he knelt during the national anthem in protest of police violence against minorities in the United States. The day before the donation was announced, Trump took credit for Kaepernick's continued free-agent status. The proposed budget cuts, which likely won't pass muster in Congress, also call for significant cuts to the State Department's Food for Peace programs, which provide food for poor countries affected by a natural disaster or war. Last week, Kaepernick also voiced support for and donated $25,000 to an aid effort for Somalia, which is currently experiencing a historic famine.