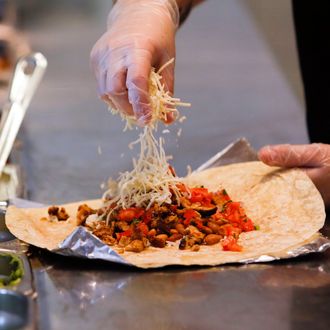 Should definitely be tastier.
Photo: Patrick T. Fallon/Bloomberg via Getty Images
Chipotle, which has been rid of GMOs and most antibiotics for years, has reached what it calls an even larger milestone of eliminating all artificial ingredients from its menu, it announced today. The hang-up was the tortilla, a mass-produced item it needs 500,000 of every day that requires — or used to, anyway — the use of dough conditioners and a few pesky additives. In the official statement, CEO Steve Ells says he's personally "been on a quest for a better tasting tortilla for years," and they've finally achieved it. The revamp, a two-year effort that got a big assist from all-star wheat-breeder Stephen Jones's Bread Lab, now boasts a recipe with five ingredients for flour tortillas (flour, water, canola oil, salt, yeast) and two for corn (masa and water). Gone are things like distilled monoglycerides, sodium metabisulfite, propionic acid, and 13 other multisyllabic ingredients.

Chipotle has arguably tried harder than anyone else to sell itself as the platonic ideal of fresh, healthier "Food with Integrity." A yearlong E. coli–and–salmonella scare later, it's safe to say a different image still comes to mind for most people. The chain has been pushing stepwise improvements to its food safety and animal welfare ever since, but it clearly hopes this big, mission-accomplished style of announcement re-excites more customers about carnitas and burrito bowls. It says the entire menu is now prepared using 51 ingredients most people can visualize immediately, and that the only preservatives left, if you can even call them that, are lemon and lime juice.