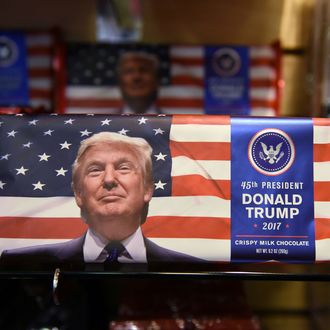 He's already got his own candy bars.
Photo: ROBYN BECK/AFP/Getty Images
Mars, Hershey, and Jelly Belly have discovered the strategy used by others who want to butter up President Trump, like the Kingdom of Bahrain and the Asian diplomat who said, "Isn't it rude to come to his city and say, 'I am staying at your competitor?'" The Washington Post reports the candy industry appears to be trying to curry favor with the administration by conducting what it describes as "a lot of business" with the Trump Organization.
The industry's lobby, called the National Confectioners Association, held its annual conference this week at the Trump National Doral resort in Miami. Days prior, the group's president wrote a memo that casually noted that candymakers "have a very narrow window of time now with the current administration and political dynamics" (presumably alluding to the midterms) to roll back unfavorable policies. Trump represents "significant opportunities to go on offense," he explained — and predicted they could save $280 million a year if the administration cut sugar subsidies alone. The group also wants to end regulations enacted under Obama that restrict GMOs and require food labels.
Conveniently, the group's also booked two future events — one in late 2017, the other in 2018 — at the Trump International Hotel down the street from the White House. And it turns out that the lobby met in Trump's Washington, D.C., and Miami hotels two previous times during the campaign. It maintains that these five stays in the capital's 37th-best hotel and at a golf resort that narrowly avoided foreclosure are purely coincidence, adding that they were chosen based on criteria like "quality of service" and "space to hold large meetings," and anyway, were booked before anybody took Trump seriously for president.
Either way, as the Post notes, the lobby has laid out a plan to spend almost $2 million this year, arguing candy is "part of a happy and balanced lifestyle," and to enhance the industry's perception "through additional relationships with Congress, the administration and regulatory agencies." The paper notes this is the first known example of an interest group booking "multiple events" at Trump properties while their owner sits in the Oval Office.