A few weeks ago, in an empty dining room of what used to be The Four Seasons restaurant, Jeff Zalaznick arrived late to a meeting with his business partners, the chefs Mario Carbone and Rich Torrisi. He was winded and his cheeks flushed beneath his beard. Normally, his attire consists of open-collared shirts, limited-edition Nikes, and drawstring pants. But today, he wore a blue Tom Ford suit. He had just been interviewed live on television, where he was asked to explain how their six-year-old restaurant group, which had given downtown New York no fewer than six meticulously orchestrated new destinations, with two Michelin stars among them and ten stars cumulatively from the New York Times, would remake one of America's most historic restaurants.
For the past 20 months, the three young men — all are between 33 and 37 — have begun work on the first floor of the Seagram Building on Park Avenue at 52nd Street, where, from 1959 until last summer, The Four Seasons had resided. Soon, the place will adopt the cumbersome title of the Landmark Rooms at the Seagram Building, and the famed Grill Room and Pool Room will be run as two separate restaurants, named the Grill and the Pool. The Grill, a retrospectively influenced chophouse with Continental flourishes, to be overseen by Carbone, will open in early April. The Pool, an inventive seafood restaurant under Torrisi's direction, is expected to open this fall.
"There are huge stakes," Zalaznick said, sitting down with Carbone and Torrisi at a steel-legged table. And, in the words of Drew Nieporent, the co-founder of Nobu and a friend of the trio, "it's a huge burden." The Four Seasons, after all, birthed the power lunch (the term was coined by Esquire in 1979, in a story that detailed the Grill Room's seating chart), which now, Nieporent notes, doesn't really exist. "That crowd has aged out, and the younger crowd doesn't operate that way."
But that, in any case, wasn't what made Zalaznick late. En route from the studio, he'd decided to cram in a ten-minute lunch at the Parisian steak chain Le Relais de Venise L'Entrecôte. "I even got in a walk on the way here — exercise," he told his partners. Carbone called that a stretch. The restaurants are two blocks apart. "It was brisk," Zalaznick said. He checked his phone, noting that "a lot of people" were sending him text messages because they'd just caught him on television. "Everybody says I look skinny." Carbone asked if he'd done the interview from a phone booth.
As a matter of personal dimensions, only Zalaznick's approach epic: He stands six feet four and sends a needle to the far side of 275 pounds. "I can't help it if all day long I'm surrounded by delicious food," he said, adding that because he's married and has two children already, his girth is evolutionarily irrelevant. (Carbone, who noted that he weighs 75 pounds less than he did when he was younger, and Torrisi are in shape enough that both have run the New York City Marathon.)
And yet, in culinary terms, everything about the sensibility of the three men, whose restaurants — Parm, Carbone, Santina, Dirty French, ZZ's Clam Bar, Sadelle's — are managed by an entity they've registered as Major Food Group — is big. They claim to be, as Carbone put it, "hands-down, the biggest seller of veal in New York" (on the back of the 14-ounce veal parmigiana at Carbone, currently listed on the menu for $72). It makes a kind of sense that they would assume the mantle of a project as grand as this. But it's also a quixotic quest, attempting to install a food-centric restaurant in a venue where food was always beside the point.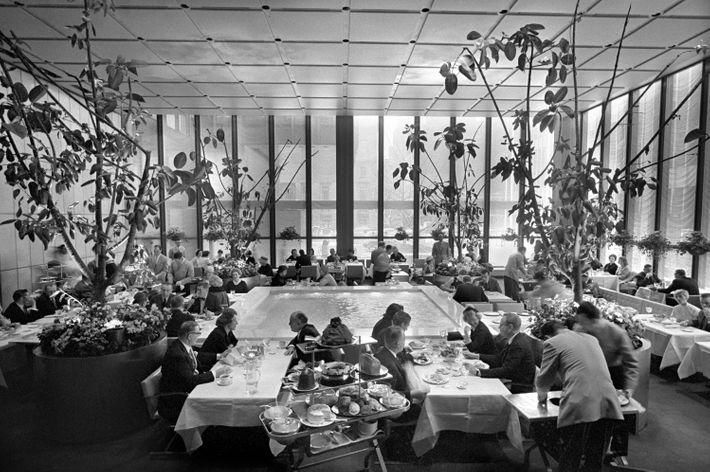 "The food was the food" is how even the most admiring regulars of The Four Seasons put it. In its heyday, it was the sort of place where Barbara Walters, Sandy Weill, and Calvin Klein knew they could run into one another and get a plate of crab cakes ($56). It functioned as a clubhouse whose waiters didn't need to take the order of Simon & Schuster editor-in-chief Michael Korda (Table No. 35) because for years it was an article of faith that he wanted a simple baked potato with olive oil (not listed on the menu).
Even the physical plant felt as if status, rather than luxury, was what the architects had in mind. The landmarked interiors and exteriors, a wonder of the International Style — Ludwig Mies van der Rohe designed the building and his young protégé, an up-and-comer named Philip Johnson, did the rooms — are full of iconic touches like glass walls, steel beams, shimmering metallic curtains, and the famous Richard Lippold sculpture of bronze rods that hangs from the ceiling of the Grill Room bar. Johnson's design made blessedly inefficient use of 30,000 square feet, giving diners space to be seen but not heard. "If we got a corner, it was the only place Jackie and I could go where people didn't bother her," says Joe Armstrong, the former magazine publisher who often ate there with Onassis. "It was the most public place, but it felt quiet."
For nearly 40 years, the soul of the rooms had been Alex von Bidder and Julian Niccolini, longtime managers who in 1995 assumed ownership of the restaurant and its name, though not its august environs. Then, in 2000, Aby Rosen, an art collector and property tycoon, purchased a majority stake in the Seagram Building. Rosen courted a different kind of celebrity: Bono showed at one of his birthday parties, and guests at the dinner he holds during the Miami Basel art fair have included Leonardo DiCaprio, Kanye West, and Naomi Campbell. His portfolio of holdings has taken on a number of hotels and restaurants — in addition to more than 100 Warhols — and he had been hoping to replace The Four Seasons with something "younger," he says. "Those are the people with taste and money, the 30-to-35-year-olds."
Rosen, a 56-year-old German émigré with a mane of flowing white hair, feuded with the operators for years "about the new energy I needed, and they were not up to it," he says. "Their clientele had evolved. Women didn't want to go there anymore. They thought they just needed to refresh it a little bit." In the spring of 2015, Rosen announced that he was not renewing their lease. "We all went there for the history, but it was saggy and tired. I mean, I love the creamed spinach and Dover sole, but there's more to a place." (It hardly helped that Niccolini was charged with sexual assault for forcing himself on a woman at a party at The Four Seasons in 2015; he pleaded guilty to a misdemeanor and was sentenced to no jail time.)
Rosen consulted with a number of restaurateurs before he made his choice, including, he says, Eric Ripert (Le Bernardin), Stephen Starr (Le Coucou), Danny Meyer (Gramercy Tavern), Daniel Humm (Eleven Madison Park), and Thomas Keller (Per Se). He had been introduced to Jeff Zalaznick by Vito Schnabel, the son of the artist Julian Schnabel and a Major Food Group investor. "When I met with Jeff, I asked him only a couple of questions: What does the architecture mean to you, and where is this place going?" When Rosen asked Zalaznick to name his ten favorite restaurants in the world, he was delighted that nine of them were also on his list, including L'Ami Louis and Le Duc in Paris. Also, Rosen adds, "a place in Bilbao."
"The old guard was unhappy" to see The Four Seasons go, he says. "Henry Kissinger told me I was making a mistake. Martha Stewart, too. Robert Stern, Norman Foster" — architects fond of the restaurant as much as the rooms — "they told me, 'Don't change the old grande dame.' "
"My God, it's like losing your childhood home — and learning that they've moved it to the Bronx," says Joni Evans (Table No. 5), the former publisher of Random House and a regular. "I have no interest in going back. I don't want to see what they've done."
The new tenants expect some resistance. "There will be attacks," Zalaznick says. "They'll say we got rid of too much, but the only memorable thing we threw out was those four shitty fake trees in the four corners of the Pool Room." He notes that although Phyllis Lambert, the daughter of Seagram's founder and the guiding force behind the building's construction, was initially critical about any changes to the interiors, she toured the new restaurants in January and was so pleased she decided to hold her 90th-birthday party in the Pool. The biggest renovations were to turn what used to be a private dining area for the Pool Room into a lounge and bar, and to install a giant "vertical garden" by the artist Paula Hayes along the wall that divides the two restaurants.
"We also removed 50 years of nicotine from the paneling and ceilings," says William Georgis, the architect behind the modest renovation, who characterizes his role as "just an act of reverence and respect, a matter of 'How can I not mess it up?' "
Niccolini and Von Bidder have signed a lease to open a new Four Seasons by the end of the year, three blocks away at 280 Park Avenue. "I don't know why Aby did what he did, but it was his decision," Niccolini says. "I'm not going to try to give you some crème Chantilly about it." He adds that they hired Isay Weinfeld, a Brazilian architect, to design the restaurant, and construction began late last month. "The only thing we took was the plaque on the building, on 52nd Street. And we kept our executive chef, Pecko Zantilaveevan. Some of our old staff will be coming back. And we're keeping a lot of our favorite dishes: Dover sole, Châteaubriand, crisp shrimp with mustard fruits, of course. What do you think people like?"
The new owners seem less concerned with antagonizing the old crowd than with cultivating a new one. "At the end of the day, there were only about 20 people who felt welcome under the previous regime," Zalaznick says.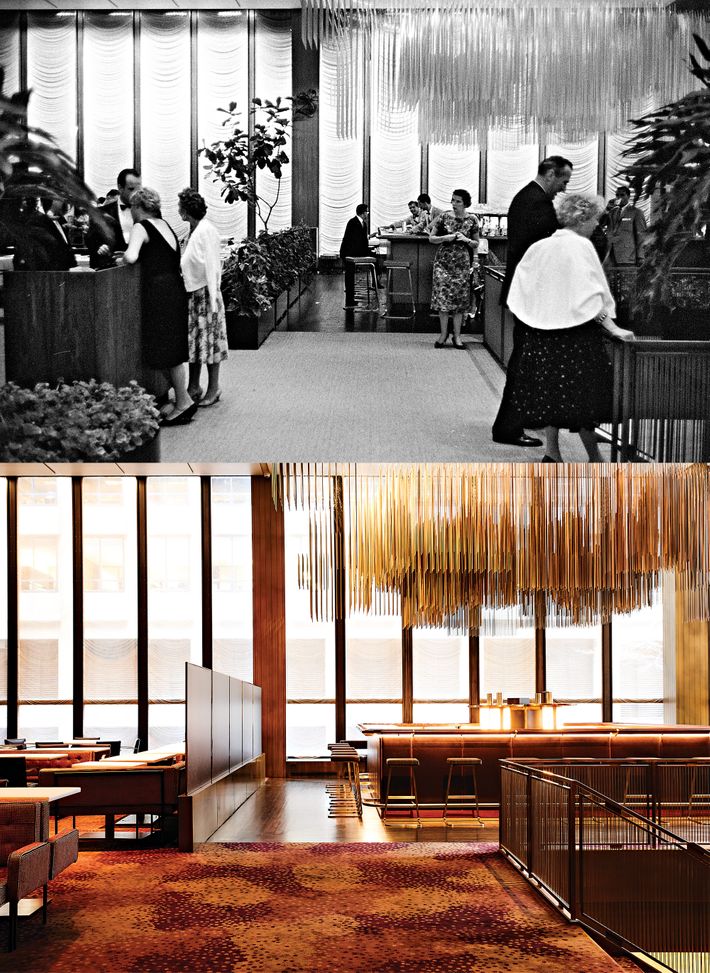 Although Major Food Group has a back office in Brooklyn, the three principals hold their morning meetings don style, in the windowless dining room of ZZ's Clam Bar in Greenwich Village, and most afternoons you can find any two of them a few blocks away, in the open kitchen of the storefront that used to house their first restaurant, the late Torrisi Italian Specialties, on Mulberry Street. "Mario and I sit apart from each other — I'm at the desk, he's at the table," Torrisi said there one afternoon, after having disappeared for a while "to run over to Dirty French to find a duck that we can play with," his chef de cuisine, Joe Cash, explained.
Both chefs come from middle-class bridge-and-tunnel households — Carbone grew up in Flushing and, later, Bayside; Torrisi in Dobbs Ferry. "By the time I was 14, I'd made a firm decision that my life would be in the kitchen," Torrisi says. "Mario feels like he chose cooking out of the need to find a trade. I just followed what I loved to do."
Torrisi's parents worked at the federal courthouse in lower Manhattan. His childhood epiphanies involved lunches in Chinatown and his grandmother's meatballs with Sunday gravy, "which I realized early on was so much better than what my non-Italian friends were eating." He was taken with the "cultish" environment of the professional kitchens he began working in as a teenager in Westchester — a local Chart House, then the Kittle House in Chappaqua. "I loved the camaraderie and the hierarchy, the way you learned not to look up when the broiler cooks yelled at you, the way the head chef's own knife pack was like a samurai kit."
He met Carbone at the Culinary Institute of America in Hyde Park. "I didn't really like him; he didn't like me," Torrisi said. But in 2001, they overlapped while working at Café Boulud and became friends. Torrisi found a mentor in Boulud's executive chef at the time, Andrew Carmellini, who recalls Torrisi as "the most competitive person, always coming in and asking to work on specials — king crab, rare-mushroom dishes, very chef-y things." Carbone found the stint less transformative and "too French," so he decamped for Wylie Dufresne's wd~50 (the now-closed Lower East Side stronghold of molecular gastronomy) and, later, Mario Batali's Del Posto. "I knew in my heart that I would always end up making Italian food," Carbone said from across the room.
Several years on, following a series of brief, unpaid gigs in the great kitchens of France, Torrisi told Carbone he was "pessimistic about doing anybody else's cooking." One day, the two shared their disenchantment with the city's Italian delis, a vanishing species whose remaining operators served mostly premade food. "The Italians of a certain age wanted to own a business, they just didn't want anything to do with cooking," Torrisi said. "Mario was fascinated about working in the same idiom. We realized we had a strong bond, in our upbringings and how we felt about restaurants."
In 2009, they borrowed about $250,000 from family and friends to open Torrisi Italian Specialties, a high-minded luncheonette that served turkey heroes at lunch and a $50 prix fixe at dinner. The Times raved about the "aggressively technical" cooking, with dishes like sweetbreads Milanese and tilefish with blue crab and fried artichokes, and took affectionate note of its paper napkins. "We used to call it a 400-square-foot rocket ship," Carbone said.
Zalaznick was an early patron. At the age of 27, he had cycled through an entry-level stint at JPMorgan and was working as a greeter at the Mandarin Oriental hotel while putting out his own restaurant blog, Always Hungry (a sample of his oeuvre: "Beyond the Parks: Best Dining in Orlando"). "Jeff would come in and approach us all day long about opening a restaurant together," Torrisi said. "He made us laugh, and he was very intelligent about food. It was another meeting of the minds."
Zalaznick had grown up on the Upper East Side, graduated from Dalton and Cornell, and was well connected. His father is a prominent private-equity investor, and his maternal grandfather was Paul Milstein, a titan of New York City real estate (an uncle, Edward Milstein, has one of the great wine collections in New York). Where to Torrisi and Carbone a life in food represented opportunity and exotic thrills, Zalaznick saw it as both more familiar and elusive. His family dined weekly at Shun Lee and celebrated his grandparents' anniversary every year at The Four Seasons. He has "formative memories of being blown away by the seafood sausage at Chanterelle and saying, 'What is this?' " he says. "But it took me longer than Rich and Mario to realize that chasing that feeling could be my life's work."
In 2011, the three opened Parm, the comfort-food trattoria next door to Torrisi. In very rapid succession came Carbone, ZZ's Clam Bar, Dirty French, Santina, and Sadelle's — all of them downtown, and all more expensive and spectacle-oriented than the original place. By 2015, there were several branded outposts in Las Vegas and Hong Kong, and a Parm counter at Yankee Stadium. Carbone, which opened in 2012, remains the group's standard-bearer, the truest expression of its evolved sensibility — crowd-pleasing, inventive, and umami-rich; popular with hedge-funders, hip-hop stars, and young Hollywood; difficult to get a table at; heavy on semi-ironic shtick. (Try to name another place with three stars from the Times that serves spicy rigatoni vodka.)
"Carbone is a show," Torrisi said. "The captains are the stars there, always performing and filling glasses before they need filling. They bring the whole idea to life. When we first opened Torrisi, it was all about the food. But now I'd say our identity is about so much more." This has lost the group some admiration from foodies and critics ("Like the average New York bagel," the Times' Pete Wells wrote in a mixed review of Sadelle's, an upscale boutique of Yiddishkeit and caviar, "its growth needs to be reined in.") But the men's broadened ambitions were hardly accidental — they just occurred at a higher velocity than any of them envisioned. "We always wanted to be more than great chefs," Torrisi said. "We love being entrepreneurs and businessmen." Carbone said, "Why should chefs just cook? Why is that looked down upon?"
It was a Tuesday last fall, which meant tasting day for the Grill. "I don't feel it yet," Torrisi said about Carbone's early-American corn pudding. But Zalaznick disagreed. "This is signature," he said. "Instant classic. As a side, every table's gonna get it."
Carbone and Torrisi respect Zalaznick's palate, but they also like to teasingly remind him that, fundamentally, he's of a different breed — the George Martin to their John, Paul, George, and Ringo. "I have the mind of a chef but not the training," he conceded.
"He used to invent one dish on the menu at every restaurant — the Caesar salad at Carbone was his — but we told him to stop," Torrisi said.
"The key is getting the proportions right," Zalaznick said. "I made a mess in the kitchen."
"He got stuck inside a chef's coat," Carbone said.
Torrisi and Zalaznick were seated at a small butcher-block table in their test kitchen. As two underlings in chef's whites worked deftly between the giant Molteni oven and range burner, Carbone stood flexing his thumbs expectantly, like a point guard waiting for a time-out to end. While Zalaznick is gregarious, his chefs are prone to verbal retreats either soulful (Torrisi) or standoffish (Carbone). Both are unmarried, though Torrisi is engaged to Mayana Neiva, a Brazilian actress, whom he met on the street one day in front of one of their restaurants. "She was doing a photo shoot and I just fell in love with her instantly," he said. He likes to tease her about Brazilians' eating habits. "They eat cheese all day. She'll eat a wheel of Camembert for breakfast, which I have to respect."
Carbone's "spring chicken with king's hash" came next (two plates, in different brines), followed by potato dumplings ("Strategically, it's good to have," he said). The group paused between courses to watch a video, on Zalaznick's phone, of the retired NFL wide receiver Randy Moss kicking a field goal wearing a tailored suit. Then came a beef tenderloin whose wholesale cost of more than $40 a pound made the group crack up. Dan Haar, the head chef for both Landmark Rooms, said that at standard markup, the entrée would sell for $80.
"That's what tenderloin is for," Torrisi said.
They cut the steak into small pieces, which they ate with their fingers. "It's Allison Ranch, from Texas," Zalaznick said. "It's silky, but it's a question of being able to get enough of it. We had to wait two months just to get it in to try it."
Trying to showcase the American culinary tradition in the former home of The Four Seasons is something of an archaeological trick. Not only is the lineage compact, but it harks straight back to the origins of The Four Seasons itself. "The place really invented classic American fine dining," Zalaznick said. "It was rooted in an idea of a Continental restaurant — basically a London chophouse with some French, some German, some Italian influences." They spent time poring over menus from mid-century and before — Carbone has collected them on eBay for years — from institutions that begat The Four Seasons, such as the '21' Club and Delmonico's. "We got a lot of menus from the New York Public Library."
Research also included a ten-day, 30-meal trip to Europe, a sort of pilgrimage to Continental cuisine. "We went to old prime-rib houses like Simpson's-in-the-Strand in London to check out the trolley service, to the George V in Paris to check out the floral arrangements," Zalaznick said. "The first chef of The Four Seasons, Albert Stockli, was Swiss, so we spent a day in Zurich," Carbone said, where they ate beef stroganoff at Kronenhalle. The dish appeared on the original Four Seasons menu, which led the group, once back in the kitchen, to a lengthy but unsuccessful revival bid.
"That's the dish we really thought would be the hallmark of the menu, which was stupid," Carbone said. "It started awkward and we got it to okay."
"It was a tasty seven," Zalaznick said. "We killed it when we realized it had no chance of achieving ten."
"It was a beef tenderloin with truffle sauce, basically," Torrisi said.
"I fell for the language," Carbone said. " 'Rare stroganoff.' " There's still plenty more where that came from, though, on the Grill's menu: "filet mignon à la mode," "Amish ham steak pineapple chow chow," Dover sole prepared "Neptune's Roast" style, "larded squab."
At another tasting, the group invited Mimi Sheraton, whom they'd hired as a consultant. Best known as the restaurant critic for the Times in the 1970s and '80s, she had put together the first Four Seasons menu with Stockli and James Beard. She liked the larded squab — prepared by covering the spatchcocked bird with whipped, cured pork belly and cooking with Seville oranges — but advised them to drop the word larded. This suggestion was ignored.
Later, Carbone mentioned he was planning to offer only five salads, and the group considered them all in relationship to one another. Of the crab Louie, Zalaznick said, "That's a slam-dunk." There was discussion of the merits of Dungeness-crab meat ("I don't know why anybody would brag about peekytoe," Sheraton said). They also tested the "Mimi Salad," something Sheraton had created for the original Four Seasons — with seafood, cold dressing, and shallots.
"I think it's much better to call it the Bouillabaisse Salad," Sheraton said.
"What, are you crazy?" Zalaznick said.
All four tasters shared a single salmon fillet in Chartreuse sauce. Torrisi thought Carbone should add a few peas — perhaps seven or eight. Zalaznick joked that that would enable them to charge another couple of dollars. Everybody laughed.
"Was it the most expensive restaurant when it opened?" Torrisi asked Sheraton.
It was. "They sat there with all the menus from other restaurants when they set the prices," she said.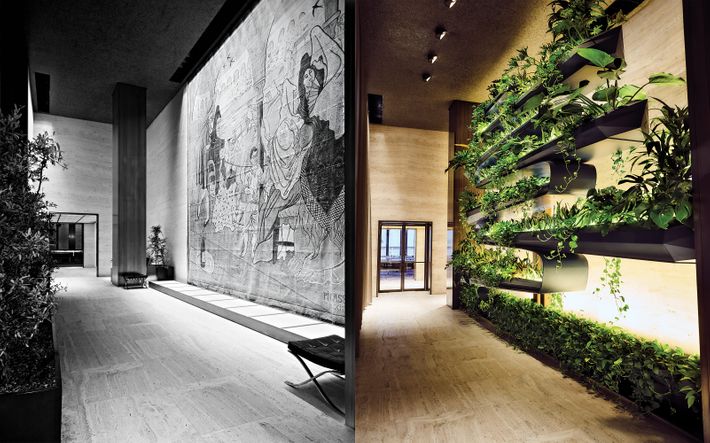 There's no question the Landmark Rooms will be among the most expensive restaurants in the city. "The Major Food guys are not known for bargain places, but in this case they don't have a lot of leeway — they're probably paying the highest rent in the city," says Drew Nieporent, whose $60 omakase meal at Nobu was considered prohibitive when he opened the restaurant in 1994 (it now runs to $150). Just the magnitude of the Grill and Pool's combined space — around 400 seats if you include the bars and lounges that adjoin each dining room — sets a very high floor. "But they're very good at keeping their customers," says Nieporent. "The one thing about Jeff is that he perceives that some people like to spend more, and he's found that clientele. For most of us, pricing is based on costs, but in this space, it's on what the people expect to pay."
The decision to split the old Four Seasons into two separate entities with markedly divergent offerings is a way of spreading bets and managing expectations. A trickier problem, according to fellow restaurateurs, is demand. Zalaznick estimates the average cover at the Grill and Pool will be around $150 per person at dinner (including wine) — resulting in a back-of-the-envelope combined take of about $100,000 a day, or something like $36 million per year. But that requires both dining rooms to average two and a half seatings at every table at dinner, and that would require not merely serving remarkable food, but pulling off the kind of personalized service The Four Seasons was beloved for. "Trideep, the maître d', ordered for me every day," Barry Diller (Table No. 26) says. "His only instructions were that I was not to get fat. I miss it terribly. I thought, Why should it end? I still don't really understand."
The budget for putting the new restaurants in the Seagram Building is $30 million. (It includes eventually opening a third Major Food Group restaurant, in the home of Brasserie, which occupied the basement level on the opposite side of the building.) Rosen said he considered turning The Four Seasons space into a private club. Instead, he and Zalaznick raised money from the hedge-fund and real-estate sectors and other investors to finance the cost of renovations. "The idea of raising the renovation money from investors was so we can have a similar effect — so that there are patrons who feel an attachment." He has 98 investor-patrons so far. "So it's like $300,000 per person, which is easy."
Regardless of whether the indulgent business lunch is endangered, Zalaznick says that midtown is "on the verge of a full renaissance." "You've got a bunch of high-end residential towers being built, a lot of wealthy international customers coming to what was always a commercial area." He points out that other restaurateurs, including Joël Robuchon and Daniel Humm, have signed leases to open places near the Landmark Rooms — as did, of course, Niccolini and von Bidder.
It was two months before the closing of the old restaurant when they announced their gambit of opening a new and transplanted Four Seasons. Niccolini says that a number of his old customers are among the 20 investors in his new venture, which will be smaller. "Think 120 seats," he says. "When we first took over The Four Seasons, the restaurant was there; we just added maybe more recipes. This is very expensive, totally different, very expensive." He finds the whole endeavor exhausting. "And in the morning, you get a stomachache."
Rosen, at least, says he doesn't expect much competition from it. "They will screw it up," he says. "These guys never built a restaurant from scratch. Jeff has built 11 restaurants from scratch. They're going to do a '50s design, but it will be retro, like a theme park. They're just taking their old story on the road. They'll do the same staged food. I feel bad for them, they boxed themselves into this very limited situation. Whatever."
The grill's tables, banquettes, guéridons, and serving pieces all arrived at once in December, so Rosen held a walk-through one evening to see how everything looked. He hired a three-piece jazz combo and opened a $1,000 jeroboam of Dom Pérignon rosé. Rosen likes to have his way. As part of his deal with his tenants, he retains control over the physical space — the architecture and, important to him, the art on the walls. In 2014, he notoriously fought with the New York Landmarks Conservancy for the right to take down a 19-by-20-foot Picasso painting that hung in the hall between the Grill Room and the Pool Room, referring to the piece, according to the conservancy, as "a shmatte." (He denies saying this.)
Rosen, who'd arrived in a black Borsalino hat, a silk scarf, and a zippered, fine-gauge cardigan, paused in front of a wheeled trolley that Zalaznick was lovingly separating from its plastic wrap, a gleaming marvel of cherrywood and heavy brass fittings, with a domed sterling-silver lid. Rosen asked what it was.
"The prime-rib cart," Carbone said.
"Tell me what you would do with it," Rosen said.
"The name kind of gives it away," Carbone said.
A battalion of service trolleys had been commissioned from a small family business in Brooklyn "with a machine the size of a studio apartment that stamps the silver," Carbone said. Zalaznick ventured that with each trolley costing them about $10,000 apiece, "we're making their year. Not many people are doing a Viennese dessert cart these days." They'd bought two, in addition to two flambée carts, a whiskey cart, and a cheese cart. In one corner, a table had been set: For each diner, there were three forks, three spoons, and four knives. While the Major Food trio examined a steak knife (Hawaiian acacia-wood handle, Japanese steel blade, $253 a pop), Rosen walked impatiently to the balcony level to check out two private dining rooms, windowless chambers with hundreds of tiny lights embedded in the ceiling and burnished walnut paneling.
"This is the best fucking room," Rosen said of one. "The ceiling used to be a pissy beige. This is much better." He asked if anyone had a measuring tape, then opened a manila folder. Out came some pictures of artworks he owns. He began affixing them to the walls. "Look, here's a Twombly," he said. "This one here, and that one will go there. We are going to make this artist's estate worth a lot more. And in the other room, Lee Krasner. We'll call it the Krasner Room."
Rosen's son Charlie, who'd arrived straight from his last final exam at Bard (Picasso in the 20th Century — "Crushed it"), asked what the ceiling height was in the private rooms.
Rosen shrugged. "Fifteen, sixteen?"
"Badass," Charlie said. He rubbed the cut-velvet Knoll fabric on an upholstered bench. "Check this out. It's, like, plush."
Zalaznick handed Rosen a dinner plate and explained that the pattern was a custom, modernized version of the original china designed by Lenox, but never manufactured, for the Kennedy White House. "Someone should be writing this down," Rosen said. He made his way to a cheese cart and began opening the drawers, then flipping the Lucite lid up and down.
Some of the other names considered for the new place were the Seagram, Seagram's, 375 Park, 99 East, Sea (for the Pool), and the Rose Room or the State Room (for the Grill). "The naming was a whole thing in itself," says Richard Pandiscio, the founder of a luxury-branding agency that Rosen hired to work with the restaurateurs on everything from logos to uniforms to the sturdy doggy bags (the Grill's will be cordovan-colored on the outside with a rose-hued interior, not unlike a steak).
For a while, Pandiscio feuded with Zalaznick, Carbone, and Torrisi over their desire to engrave ever more objects and components. "They wanted to brand everything," he says. "My job partly was to get them to understand the power of the rooms. I was always saying, 'Let's make that G on the Grill silver a little smaller.' But there's a certain pride to how customized everything they're doing is."
The Major Food brethren might even classify these touches as moves. "At Carbone, we call it 'the move' to hit the table with food the minute they sit down, before they even get their menus — cheese and salumi and Mario's tomato bread," Torrisi says. "But we refer to a lot of things as the move. The move can be a signature dish, the things people identify our restaurants with. You need a certain number of them on the menu."
To this end, Torrisi has gone through more than 50 classic potato preparations to come up with the only potato side dish he plans to serve at the Pool. "You blanch coin-size Idahos in salty water, stack them in a mold with butcher's string, pour raging-hot duck fat on them, and fry them in the oven," he says, waxing rhapsodic. "They're crispy on the outside and molten like a confit in the middle." His staff has suggested, jokingly, that he name it pommes Richard, after himself.
He has also tried dozens of versions of foie gras and, with his deputy chef, came up with a presentation that involves slicing it thinly on a girolle and arranging it like coral or a blossoming flower. "Now it's a matter of how to prepare it — with sweet potatoes, tart shells, dried orange chips, curried bananas, bruléed bananas. I'm still never satisfied."
Carbone, for his part, has hit upon a signature pasta dish as a way to offset what he calls "the disturbing tendency of noodles to take over a restaurant concept." The problem is that even the most unremarkable pasta on a menu is usually popular, threatening to become what a kitchen is known for. (It's also a great moneymaker because the costs are low; the trio brag that the spicy rigatoni vodka at Carbone, at $27 a serving, will put all their children through college.) The solution, which grew out of a 150-year-old recipe book published by the original chef of Delmonico's, will be called pasta à la presse and involves bringing roasted legs and carcasses of duck and other game birds to the table in a custom-made press that is squeezed over the diner's pasta, releasing the juices. "It was a matter of asking, 'What's the most Grill-like way to have pasta?' " Carbone says.
In a sense, this represents a triumph — or at least an assertion — of branding and the notion that eating choices can be sold to consumers as stops on their own personal narratives. "The first thing we had to figure out when we signed the lease was, 'What's the story we want to tell?' " Zalaznick said one day. "Our worst nightmare is to open a good restaurant and have everyone who goes there wondering, What does that place stand for?"
"All our restaurants are easy to talk about," Torrisi added. "Carbone is 'Italian-American fine dining.' Santina, which is mostly Mario's invention, is 'modern coastal Italian.' Dirty French, which was my idea, is the only one that requires more than a sentence to understand." While the place's theme came to include a lot of stuff — Vietnamese, North African, and Creole influences, and a good deal of pink neon in the dining room — the three men sold it with less than a sentence. Zalaznick said he simply wrote in an email to Sean MacPherson, who owns the Ludlow Hotel, that the restaurant they wanted to open in his lobby would be a place to serve "octopus tunisienne," as Zalaznick recalled. "I came up with it out of nowhere." He's never heard of such a dish.
Sometimes, they get so excited about what a dish represents that they have a hard time abandoning it when it's not working. Consider the Lobster Club, which Carbone describes as "an entire restaurant we had to abort over a black-hole dish, because we were so emotionally attached." He explained that before ZZ's Clam Bar opened in 2013, it was very nearly the Lobster Club, a 12-seat restaurant that would have served only one thing: lobster club sandwiches.
"Me and Jeff have a deep-rooted passion for club sandwiches," he said. "We believe you can tell how good a hotel is by its club sandwich." But it was not to be. "We printed the menus, we put down pink tile, but when Jeff and Rich started to develop the sandwich, they couldn't get it above an eight and a half," Carbone said.
"We realized we've only had a lobster club that was a nine or a ten in our fantasies," Zalaznick said.
"Something about the combination of fat-on-fat-on-fat," Torrisi said. "Lobster, bacon, mayo, the potato-flour bread soaked in butter. We got physically ill."
"It's a structural flaw," Zalaznick said. "We tried a hundred iterations, eating two a day. One day Rich looked up and said, 'I hate this fucking sandwich. I never want to eat it again.' We said, 'Done. Let's do the clam bar.' We were a week from opening. I went to the Bowery to buy blue tiles that afternoon."
The group now plans to use the Lobster Club name for its final restaurant in the Seagram Building, in the former home of Brasserie. It is scheduled to open toward the end of the year. "We're not doing the sandwich, but we'd already had matchbooks made," Zalaznick said.
*This article appears in the March 6, 2017, issue of New York Magazine.