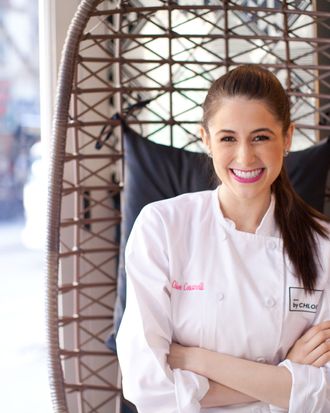 The restaurant's namesake and public face.
Photo: Melissa Hom
Since Food Network star Chloe Coscarelli and ESquared Hospitality's Samantha Wasser founded by CHLOE two years ago, their vegan fast-casual concept has become so popular that there are now five locations in New York, one in Boston, and one in Los Angeles — with several more planned. But behind the cashew "cheese" and pesto "meatballs," yet another vegan-restaurant scandal has erupted: The Wall Street Journal reports that after months of legal fighting — initiated by Coscarelli in the middle of last year — an arbitrator ruled that ESquared has the right to "terminate" all ties with Coscarelli, and continue growing the brand without her involvement.
Apparently, the situation grew tense when ESquared CEO Jimmy Haber started courting investors for additional locations. He says that Coscarelli "did not negotiate in good faith"; she says that he didn't let her meet with an important investor. Haber ended up personally investing over $10 million because "the alternative was to let the company go out of business." This is where it gets murky: It's obvious why Haber wanted to grow and capitalize on the concept's attention so quickly, but many successful chains have spent time honing their strategy at just one location before going national. By CHLOE has expanded incredibly — and perhaps recklessly — fast.
This is a huge blow to Coscarelli, who once told Grub that she spent two years perfecting by CHLOE's recipes in her apartment. She will persist in trying to stop by CHLOE from using her name, telling The Wall Street Journal, "I will protect the integrity of my brand."