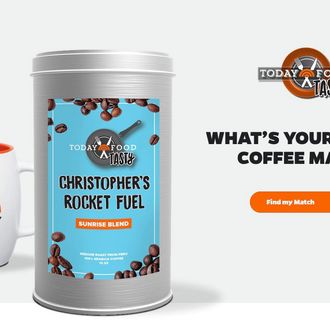 There are at least 13 reasons why you should buy it.
In addition to being a source of important coffee facts, like the top sex position based on your Starbucks order, BuzzFeed has now become a brand of coffee. As part of a partnership with NBCUniversal, its Tasty food platform will sell beans, and, naturally, offer a quiz to help with decision making.

It asks the key questions true coffee nerds should already be asking themselves, and only lets them answer with emoji — "Pick your favorite fruit" (to figure out their flavor profile), "Caffeine. How do you feel about it?" (to know if they need decaf), and then whether their ideal morning involves sipping wine with Kathie Lee and Hoda or seeing "what's trending" with Carson Daly (to do who knows what. NBC's Today show is also a sponsor, if that's not already apparent).
At the end, quiz-takers are presented with an option to order their "perfect coffee match," which comes as a reusable tin filled with beans by Brooklyn Roasting Company, a third-wave roaster that could find its capacity taxed if the idea catches on too well. No doubt BuzzFeed sees the possibility for a good, new revenue stream — this branded e-commerce model worked a few months ago when BuzzFeed launched a cookbook that let buyers handpick what Tasty recipes they wanted. People bought 100,000 copies in two months.
Likewise, these Tasty coffee tins also come with labels people can personalize. The cutesy touch might be a selling point for less hard-core coffee drinkers, but their price point is steep: It's $19.99 for 12 ounces (plus another $4.99 for shipping), which comes out to a few bucks more than similar offerings at both Blue Bottle and Stumptown.