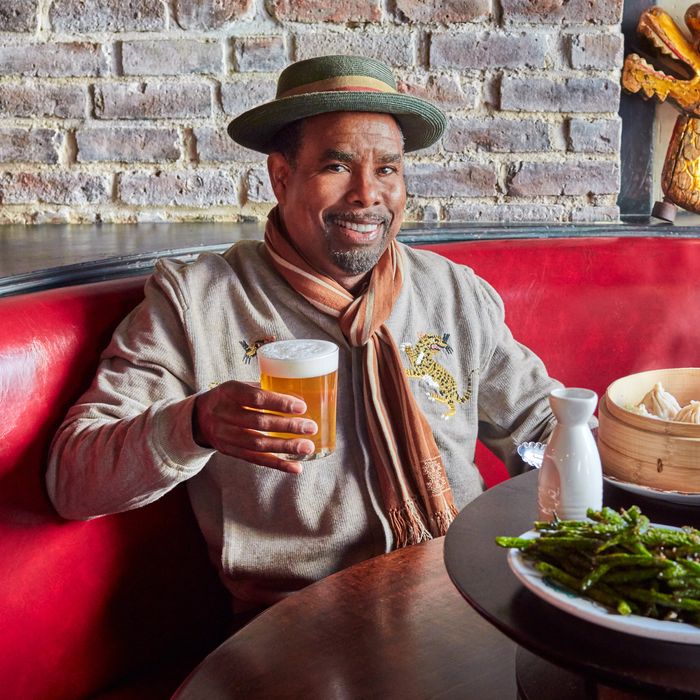 At Kings County Imperial.
Photo: Miachel Breton
For the past 23 years, Garrett Oliver has worked as the brewmaster for Brooklyn Brewery — a job that entails bridging the worlds of beer and food, while brewing special recipes for some of the world's top chefs, including Thomas Keller. (After a 10-year-old working relationship, Keller accepted Oliver's invitation to casually cook with his friends in Brooklyn; and on Wednesday, that collaborative dinner took place at the Four Horsemen.) This week also saw Oliver, who's an accomplished author, too, taking down a mutton chop at Keen's, along with roast chicken and sea-urchin panna cotta at the NoMad. He even managed to turn some leftovers into an impromptu feast at home. Read all about it in this week's Grub Street Diet.
Friday, February 24
As soon as I get down to the kitchen and pick up my phone, the first email is "urgent" … a restaurant in Tokyo needs the beer pairings for the menu! First item: sliced carrot with hijiki (edible, brown algae paste), carrot, soy sauce, sugar, almond, and olive oil. Hijiki?
Can I get coffee first? I can't do this without coffee. There aren't many things I can do without coffee. Even though I usually only drink one cup a day, it's a cup that would jump-start a Bugatti. I've got standards and rituals. A few months ago, I got rid of the feisty, old Braun power pulverizer that my coffee friends say makes sad coffee. At first, offended by the C-note-plus price of a burr grinder, I got a manual burr grinder. But it turned out I couldn't use it … not before I had coffee. So I gave it away and got a power burr grinder. It's pretty good. French press, heated. A 1920s Sheffield stainless knife, bone-handled, as the stirrer. Workday cups are from Crate & Barrel. Leisure-day cups are sunflower yellow, bought on a '90s vacation in Provence. The thing I lack is hipness, apparently.
Yeah, I drink Peet's Major Dickason's Blend. Sorry, coffee friends — yes, it's "heavily roasted." I don't know who Major Dickason was — I hope he didn't do anything terrible — but his coffee is good. No, it doesn't "taste of Burgundy." I can't deal with pale-ass coffee that tastes like Burgundy. Not until after I've had coffee.
Greek yogurt — half-cup, no flavors, full fat. Granola by Granola Lab, Garrett's Blend (I hope he didn't do anything bad). I see hazelnuts. I know that granola is really candy, so shut up, okay? Muesli tastes like horse chow (because it is), and I lost Irish oatmeal in a breakup a while back, so what am I supposed to do? I dice Fuji apple on top, and that's breakfast, nearly every day. I sit down, drink the coffee, eat the granola, look up hijiki. Apparently it contains questionable levels of arsenic.
Lunch is a homemade, leftover sandwich: baguette, prosciutto, Robiola Osella fresh cheese, apples, arugula, black pepper, and olive oil. I got a system for the leftover bread. You take a 50-50 blend of olive oil and water, emulsify it with a whisk, then brush it all over the bread, and put it in a toaster oven at 450 degrees Fahrenheit. Boom — just like new, sometimes better. You should try it.
Today, Dennis "Dee Jay" McNany, second of his name, celebrates the 40th year of his reign. Dee Jay has summoned us, all other business to be put aside, to appear before him in the Lillie Langtry Room at Keen's Steakhouse. Keen's? Last time I was at Keen's was 15 years ago. I'm a Luger's man. I regard Keen's like the Statue of Liberty; sure, it's beautiful, but we don't go there. But Dee Jay does, and it's apparently his happy place.
When I climb through the warren of rooms and arrive upstairs at the Lillie Langtry, I see why. All of the gang is in the room, the booze/food/music mafia. This thing of ours. Dee Jay's band is called Museum of Love, and this is the museum. In the room are filmmakers, musicians, rock stars, Horsemen, food writers, wine people, tincturers, and various assorted ruffians — all 40 of us around a huge square table. I know all but maybe three of them. It looks like a scene from The Godfather, and I half-expect a gold telephone at any moment. Crazy-ass wines reaching back into the '70s.
I order: mutton chop, duck hash, creamed spinach, mashed potatoes, and cheesecake. It's all awesome, and the mutton chop is the size of two fists. Eventually, I pick it up. Who's going to see me? I think about rolling up some duck hash in a napkin, and putting it in my pocket for morning eggs. I think about finding duck hash in my pocket in the morning. I forget the duck hash. At the end of the evening, Dee Jay sits, alternately scowling and beaming, with a golden crown expertly fashioned from Champagne wire cages sitting on his slicked-back mane. The Don ain't slippin'.
Saturday, February 25
Sorry, it's still coffee and granola, so late that I never actually eat lunch. Sunday gets better. Wait for it.
Today is the opening of NYC Beer Week. Not long ago, we were the only brewery in town; but now there are 50, and everyone is starting off a week of events, sort of a brilliant blaze of flavors and camaraderie blended with a Bataan death march of stamina. A man has to be careful. The first event is at the Brooklyn Expo Center. Mostly, I man my booth and pour my beer alongside beer from our sister brewery in Stockholm, Nya Carnegiebryggeriet. I get around the floor a little, and taste some other beers. The sours from Hudson Valley Brewers are really nice, complex, and elegant. I ghost out a side door and head for the NoMad.
Now, it's my friend Jim's second birthday party. He's a wine marketer based out of Healdsburg, California, but he still has some NYC burning in his heart. He's in town for the weekend to stoke the embers. Thursday, we were at Le Coucou with his husband, Deacon; but now we're at an alcove table in the main room, sitting on red and gold velvet, with his pals. The house sends out raw bar fruits de mer — lobster salad, beautiful diced scallops, oysters, and a sea-urchin panna cotta that goes straight to my brain. Now it's on. Mutton still coursing through my veins, I order the seared foie with chestnuts and duck-confit-stuffed lady apple, and of course, the roast chicken. Along with it, we order a couple of wines and Le Poulet, the beer that chef Daniel Humm asked me to brew as the chicken's perfect accompaniment.
The foie, of course, is spectacular. I think about how to up my foie game, how to make better demi-glace, and my lack of terrine skills. Great meals always make me want to cook. The roast chicken is, essentially, the One True Chicken. One Chicken to Bring Them All. The chicken you can't cook, even if chef tells you how. Brown as an antique mahogany table, the magic chicken is waved in front of us like a wand; and just like that, we are ensorcelled. As you probably already know, the skin, crunchy as dream bacon, has a layer of foie gras and truffle-brioche stuffing underneath it. The breast, carved off as a tranche, is perfectly cooked. The leg meat has been braised in a pomme purée with baby leeks. The beer sings with the dish, as it was born to do. All is right with the world. Then it's on to pear cobbler with spiced-pear ice cream, and roasted pineapple and brown-butter cake with Kaffir-lime ice cream.
We leave the table and retire to the Library, one of my favorite rooms in the entire city. I decide to be good. Instead of one of the excellent cocktails, I order a '96 Broadbent Colheita Madeira. Jim and Kimmy share a Zombie, delivered in a large, glossy, black skull; adorned with a magnificent pineapple crown; and spiked with three copper straws. My delicious Madeira now looks sad. There are three straws, right? As we leave the NoMad, we realize that we've closed the place. There is no one left in any of the bars, or in the restaurant. The next day, a friend said, "You closed NoMad? I dunno … should you really close NoMad?" I said that I did not understand the question.
Sunday, February 26
Once a week — not always, but often — I step away from the granola. Today, I'm going to deploy the freezer. I defeated the Zombie, and I feel really good, but something restorative is in order. A few weeks back, we had a Super Bowl chili cook-off at the brewery. I don't care about football, but I do care about chili. So I made a huge pot and threw down hard. Lior's spice blends, smoked jalapenos, serranos — the works. Three types of beans — sorry, love ya, Texas, but NYC rolls with beans. It was excellent chili. Eric, on our brewing team, a CIA grad, worried me with his glassy, dark, tangy sauce, but I figured I still had him. In the end, Walker, the organizer of the cook-off, walked away with the prize. It was a stitch-up, I'm telling you. Walker has bright-red hair, and a beard like a beacon. It's cheating; you can't win a chili cook-off against that. The dude is a walking chili commercial.
I make a chili omelette. I know, you think this is weird. It's completely delicious, and I've loved making it since I was a kid. I ate it with tortilla chips, and my face glowed for a half-hour. I text a few friends: "Wanna come over for dinner? Nothing fancy, 7 p.m.?"
I wasn't getting serious. These were friends for whom you pick up your socks, but really only spot-check the bathroom. What will I cook? It's bizarre February weather, sunny and getting well up into the 60s, and I start thinking ahead to springtime. And my stocks. I'm soon going to be in six different countries, and by the time I'm really back on the ground, it's going to be 80 degrees every day. I fast-forward to mid-autumn, when I open my freezer; pull out my tubs of magnificent frozen stocks; look at the dates ("1/2/17"); open them up; smell them; and dump them out into the sink and wash them down the drain. Oh, hell no.
I specialize in leftovers. All my friends know that no scrap of meat ever sees my garbage pail until the very last bit of flavor has been wrung from it. If you eat at my house, you might eat that same duck two more times over the next couple of months — once again as a taco, and then again as a stock. I decide to deploy all my good holdings.
I go up to the roof and clip some rosemary. The rosemary asks why the thyme got brought inside for the winter and he didn't. I say, "You're still alive, aren't you?" mutter something about cassoulet, and go back downstairs. On New Year's Day, in a beautiful gesture, one of our gang threw a party. The party, shaggy after the previous evening, centered around an entire classic Spanish ham — complete with a stand and the special knife — given to the hosts as a gift. I'd gone home with ziplock bags of fatty trimmings; and the next day, I'd made a stock that would wake the dead. Borlotti beans, rosemary, Spanish ham stock, pancetta, and onions.
The house smells amazing, but by midafternoon, I've gone wobbly. Perhaps I did not defeat the Zombie? Did it bite me? Anyway, I slow down, and by the time Paul shows up, I'm an hour behind, and am loading all this bean slop into a blender. I can cook, but I would be a terrible chef, I think, as a pink ooze emerges from the bottom of the blender jar. Forgot to screw it tight. Breathe, keep going. Note to self: I need an immersion blender. I brought it to the brewery eight years ago, and it never made it back home. Idiot. A blender.
The soup made, I make grits, deploying the second stock: wild partridge. Around Christmas, for my annual dinner, I'd cooked eight stuffed wild Scottish partridges. The shrimp goes into the wok with a pasilla-based chili sauce that I'd smuggled home from a recent beach trip to the Yucatán. It had been a dipping sauce on the table, and the restaurant, La Perla Pixan in Playa del Carmen, makes it in-house. It had been so good that I talked the chef out of a tub of it, and smuggled it home in a water bottle.
Borlotti bean soup with crunchy pancetta: delicious, but a little pasty — more water next time. Also, work on that bolognalike color. Shrimp and grits with smuggled pasilla sauce: soigné.
My pal Foster of Bushwick's Foster Sundry, always rolling like a boss, brought Vulto Creamery's Heinennellie, a bark-wrapped vacherin-style beauty from the Catskills. As Foster walked in, he'd handed me a package. It said "Pork Denver." I said, "WTF is a 'Pork Denver?'" I got a short explanation about pork steaks. I fast-forwarded to a warm evening in spring on my roof deck, me telling someone, "Pork Denver is always served a little pink. Don't worry about it." Dinner is kind of a shitshow, but it tastes really good, and we have a good time, so whatever.
Monday, February 27
Back to granola.
Lunch is a tuna-salad sandwich at my desk. I'm busy.
We'd have a preventative maintenance day at the brewery, and afterward I take the crew down the street to the Kent Ale House at 5 p.m. for a little creative R&R. We taste a barrel sample of an upcoming beer that we've aged in applejack barrels, and fermented with an apple-derived, wild yeast strain. It's been in the barrel for many months, and it's really tasty, but lacks something. We have time for blends and infusions, so I'm soliciting ideas. We bat those around for a while, until the food shows up, and the entire team pounces like a pride of lions from a NatGeo show. Our server, an affable fellow from West Cork, slings the food and an accent so thick that he sounds like Brad Pitt's Pikey from the movie Snatch. "You can understand Paul?" his colleagues ask. Actually, yes. They look worried.
The pita chips have a nice, darkish tan-brown color, and that slight sheen and translucency that tells you three important things: (1) these are delicious; (2) do not, under any circumstances, eat more than five of them; (3) you will eat 11 of them. What chance does a man have against spinach-artichoke dip? Nachos. Chicken wings. A pretzel on a hanger. Conversation devolves into geek-tastic Star Wars talk. I think I can hang. Our mechanic opines that he thinks Rey is Palpatine's daughter. I'd never thought of that. I tell him that I think Luke — failing to heed Yoda — actually went to the Dark Side at the end of Empire, but didn't even know it himself. Counterarguments ensue, involving the Star Wars comic-book and novel universes. I can't actually hang, and I bounce to Sunday in Brooklyn, where some other brewery folks are having dinner with our Swedish cousins.
A decent man only eats one dinner. But I never said that I was a decent man. Steak (excellent), chicken, salmon, all with mags of Frank Cornelissen's Contadino, a couple of bottles of La Sorga Brutal. Then it's burnt-honey tart, sheep's cream, quince, followed by Amaro Sfumato.
Tuesday, February 28
I pick up the phone. "Urgent!" The Japanese customs people are asking questions about the beers I've sent for one of my dinners in Tokyo! How much raspberry juice is in the Discreet Charm of the Framboisie, and where did it come from? Not from Russia?
Can I get coffee first?
Again with the coffee and granola. No, there is no juice, only whole raspberries, grown in the U.S. The coffee in Intensified Coffee Stout was roasted by Blue Bottle, ground by us at the brewery, and made into a cold brew before the blend. Pedro built a giant French press that holds 80 pounds of coffee. The plunger weighs 35 pounds. Okay? Okay. Crisis averted.
I'm in a hurry. I have to do staff training at the Four Horsemen at 2:30 p.m. I stop for a sandwich at Joe's Busy Corner. In North Williamsburg's nearly-fled Italian days, Joe's Busy was once run by the Liveri brothers, huge Italian guys with handlebar mustaches, plucked eyebrows, and the occasional hoop earring. The little old ladies waited behind the construction workers for a chance to have a go at Lennie and Anthony. "I remember you were slow as a child, and you're still slow now!" Damn. The only survivor from those guys is "Puebla." I've known Puebla for 20 years, and I still don't know his real name. He's from Puebla. My name is "Brooklyn," as in Brooklyn Brewery, and he doesn't know my name either. But he is my pal. "Ham and Swiss on rye, Puebla, dry." I've been cheating on Puebla. I have my own mayonnaise in my own fridge at the brewery. Delouis Fils. It's really good.
I have an event at the brewery tonight, so I bounce over to Kings County Imperial for an early dinner at the bar. A nice, big glass of Brooklyn Sorachi Ace; KCI's silky, spectacular Flushing-grade soup dumplings; pickled cabbage with Sichuan peppercorns, and dry-fried long beans with pickled vegetables and ground pork. Then, I head back to the brewery and have some food by our house chef, Andrew, and our Stockholm chef, Luke: some nice smoked salmon with avocado salad, citrus, and beef-fat bread crumbs.
Wednesday, February 29
Have you met the breakfast?
Lunch is "One regular slice, cold, to go, thanks" at Vinnie's Pizza on Bedford Avenue in Williamsburg. I heat it up at the brewery and eat it at my desk. It's 3 p.m.
At 4:30 p.m., it's zero hour. I roll up next to the Four Horsemen, put on a brand-new (bought two years ago in Stockholm) pair of black Tiger of Sweden sneakers in the car, and head inside.
Everyone is furiously folding napkins with studied intensity. They nod. Beverage director and Horseman Justin Chearno strides up, wearing a brand-new pair of gleaming white sneakers. We know the rules of Fight Club.
Chef de Cuisine Devin Knell calmly takes everyone through the intricacies of service. The staff makes adjustments, suggests refinements, and a plan is set.
"Chef is here." An SUV opens up in the street, and Thomas Keller, scarfed and carrying bags, walks into the room. I greet him at the front door. He is instantly and easily charming. Talking to people all the way, he puts his bags up on the bar, pulls out a few books, and starts signing. His pen is calligraphic, and the script looks like something meant to convey a title of land. He hands personalized books out the people on his list, and heads for the kitchen.
I've made beer for Keller for about ten years now, but we'd barely met before. This summer, I asked, "Hey, do you wanna come cook with my friends in Brooklyn?" I never actually thought he'd say yes, and now he's here.
At 5:40 p.m., I go move my car to a vaguely illegal space and kiss it goodbye — if it gets towed, I don't want to know until service ends. Keller changes into his dress whites in the middle of the dining room. He gathers the whole staff up, ushers them all outside, and poses everyone for a team photo.
Guests roll in for the 6 p.m. seating, and Keller greets them all at the door. My friends are in the room. I'm at the bar with Larry, who bought me my first home-brewing kit in 1984. I do a quick back-of-the-napkin addition, and I've got about 240 years of friendships in this 38-seat restaurant. Three of the four Horsemen.
People sit with glasses of Blue Apron, the dark ale we make for Keller's restaurant group, corked and refermented in the bottle like Champagne. Addictive smoked almonds, beautiful olives.
Suddenly, glasses of beer and the first course start appearing on the bar, and I'm startled. It's Central Coast abalone and spot-prawn ceviche, with cucumber jícama, radish, and Meyer lemon. I don't taste it. The dishes aren't supposed to be firing yet. We had a plan. We had a plan. We had a plan. This wasn't the plan, and a twinge of panic rises in me. I talk to GM Amanda, and we decide on a new plan of how to roll with this.
The ceviche is beautiful — subtle, very mildly tart, but also slightly sweet; the prawns are like sashimi candy; and the abalone is slightly al dente, without a hint of chewiness. Two beers alongside: Crush 2016, a light, tart beer aged on sediments from natural wine fermentations, and driven "wild" by the yeasts therein; and Kiwi's Playhouse 2015, a bright, sour beer aged in cognac barrels on kiwi fruit. Everything works, and I'm happy.
But now I'm seeing second-course beers hitting tables, and the next course is at the pass, where Keller is stationed. Keller, chef Nick, and the whole team are in the zone, the machine has started up, and they are firing off dishes like a battleship cannon. Things are backing up. I ask Devin to dial it back and relax the pace. Slowly, everything settles.
Prime rib, Western beef, short rib, and Topspin ale "carbonnade," with aged cheddar grits, French Laundry garden greens, and cipollini onions. Sous-vided for 48 hours and served at exactly the right warm temperature, all the interstitial fat has the texture of marrow. It's ridiculously beefy and melts silkily on the tongue. Topspin 2015, a "quadruple" dark Belgian ale meets it with a depth of high-temperature caramel. K is for Kriek, aged on cherries and refermented with wild yeasts, comes in from another direction, its acid cutting through the fat and then melding with the dish. The room takes on a warm, electric buzz.
Now I know we have this. The staff is relaxed. Everything has flow. We are one with the Force.
Baked Andante Dairy "mélange," gently warmed, with Mendocino County porcini-mushroom conserva. To pair, Bedivere 2014, a version of our Local 1 Belgian strong golden ale, barrel-aged with funky, wild yeasts; it meets the forest-floor earthiness of the cheese. Caradoc, aged two and a half years on wild wine lees; it developed a "flor" of wild yeasts, and slowly oxidized into a state reminiscent of vin jaune and sherry. We serve it completely still.
Frozen Banana, warm K + M chocolate pudding, piedmont hazelnuts, and banana semifreddo. The pudding sits on the surface, and as the spoon goes in, the superlight, fluffy semifreddo sits underneath. Magic. Black Ops 2015, our bourbon, barrel-aged imperial stout — tasting like a dry chocolate-coffee, bourbon milkshake (you know you've always wanted that). Finally, as a digestif, Hand & Seal Cognac Edition 2014, a rich "barley wine" aged for a year in Nicolas Palazzi's totally sick cognac barrels. It's a beer that I made for my 20th year at Brooklyn Brewery.
The pairings all hit, and the rest of the evening sails by on a cloud. Everyone is grinning ear to ear. The 9 p.m. seating is younger, cooler, nerdier, and just as happy. Keller speaks to the room each service, and works the tables and the door. Around 11:15, he puts his hands on my shoulders and says, "I have a morning meeting, man — I gotta go." I call chef Kazuo of my favorite sushi place, 1 or 8, and deploy the sushi. I get in my car (still there!), pick up Kazuo as he strides to the restaurant, and deliver the sushi to Keller and the team. Keller takes his to go, but it takes him 15 minutes to get to the door. I see him through the air lock, into an Uber, a hug, and he's gone. Kazuo and his sous-chef eat carbonnade at the bar. Everyone melts.
There were 15 wobbly minutes at the gun on the first service, but the team all killed it. No one can stop smiling. That just happened. Later, as we drink whiskey and mezcal up the street at Iona, Justin says, "You know — obviously not really, but in weird way — that was almost the best day of my life."