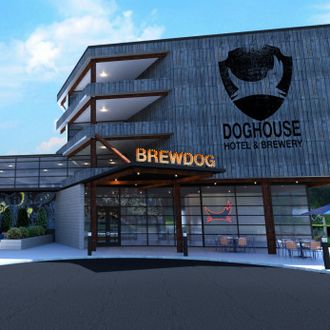 The beer experience will "last from dusk until dawn."
Scottish craft brewery BrewDog is working hard to expand its reach beyond beer enthusiasts drawn to taxidermy squirrels. A couple of weeks ago, it won over the animal-lover crowd by announcing "paw-ternity leave," probably the world's first week of paid time off to employees who get a new puppy or rescue dog. And now comes the news that it's also planning what it calls the "first crowdfunded craft beer hotel," which has been dubbed the DogHouse. The plan is to situate it next to BrewDog's new taproom and sour-beer brewery in Columbus, Ohio, so guests can pair their stay with a facility tour, much like what Dogfish Head offers at its boutique hotel in Delaware — only BrewDog has included a few upgrades.

It claims the hotel "will have it all," assuming you're obsessed with craft beer — you'll wake up "to a view of our sour beer foeders and the smell of freshly mashed malt," and can mosey down for a beer breakfast, then just camp out in the room and make liberal use of your own private IPA tap.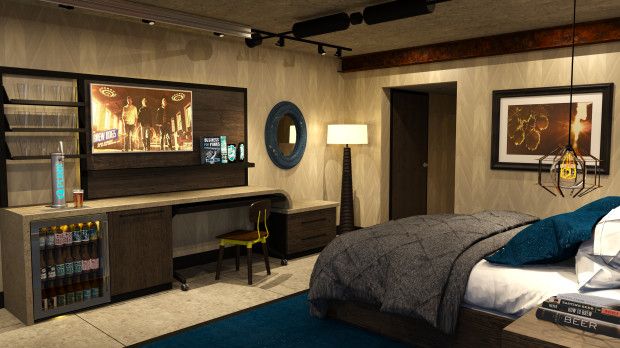 Per the Indiegogo page, it looks like rooms will go for about $250 a night. They'll boast an "in-shower fridge" stocked with more beer, or there's the option to splurge on a luxury suite that has a hot tub filled with Punk IPA — which, as far as hotel bath gimmicks go, sounds like a major step up from heart-shaped Jacuzzis and towel animals. The hotel's spa features hop-oil pedicures, malted-barley massages, and hops-infused face masks. (If getting drunk by osmosis is possible, then the DogHouse is where you can do it.)
BrewDog expects the entire complex will cost about $6 million, and the plan is to have the hotel operational by late 2018. People who chip in at least $150 on Indiegogo get a free night's stay.