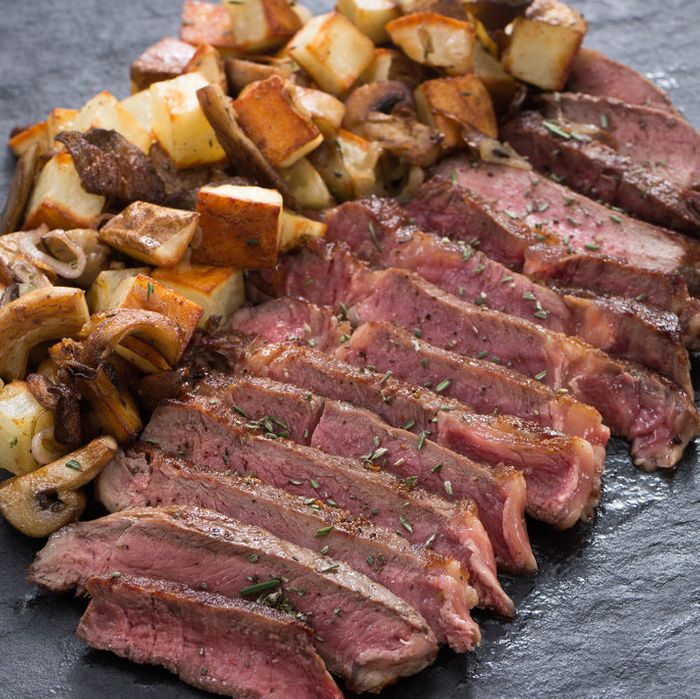 Blue Apron: now with beef by Bill Niman.
Photo: Blue Apron
In the United States, Bill Niman's name is synonymous with (more) sustainably raised meat. He was an early adopter of the ethos in those dark days before everyone wanted to be a bespoke turnip farmer, garnering the support of California cuisine innovators like Chez Panisse and Zuni Café. His meat eventually gained enough cachet that when Chipotle started using its pork for its carnitas, sales went up despite a price increase. But it wasn't entirely a grass-fed fairy tale. Natural Food Holdings took a controlling stake in the company in 2006, when its CEO says Niman was losing $3 million a year, and bought the company outright in 2009. Then in 2015, notorious factory farmer Perdue bought the brand.
Niman left the company in 2007, telling the Washington Post that the new owners "offered me money to play Colonel Sanders for Niman Ranch." The next year, he tried to make goat a thing in the States. But he'd instead focus on his family, getting back to raising cattle and heritage turkey under the BN Ranch moniker. Now, he has sold the ranch to someone he actually wants to work with: meal-kit delivery service Blue Apron.
As a member of the company, Niman will be responsible for creating a pastured supply chain for the beef, pork, turkey, and chicken that Blue Apron uses for the 8 million meals it ships monthly. It certainly adds cachet to Blue Apron, which certainly doesn't hurt, given recent reports about meal-kit services struggling to retain customers and make money. For Niman, it's also an opportunity to take sustainable meat to a much broader audience, and offer it at relatively more affordable prices — as Blue Apron will be able to go whole-hog, but on a larger, more efficient scale.