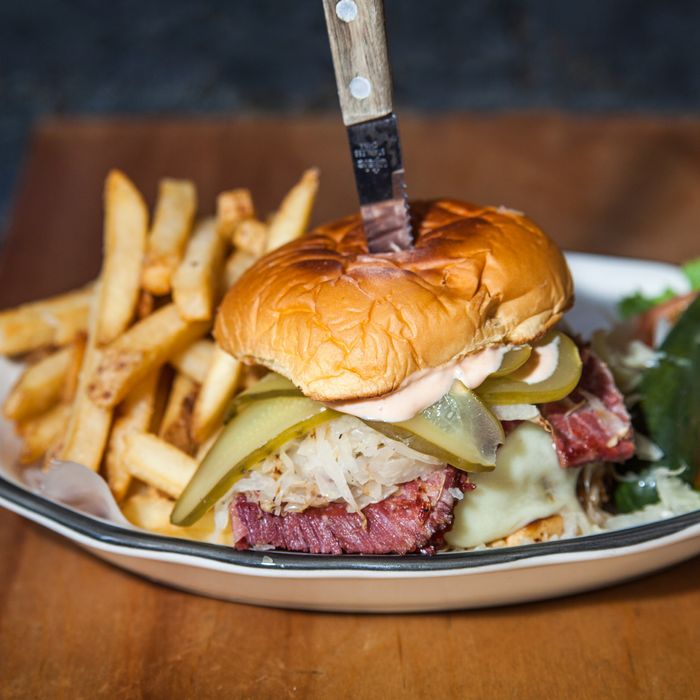 Meeting of the meats: Katz's corned beef on a Black Tap burger.
Photo: Konstantin Sergeyev
"I love the idea of collaborations," says Jake Dell, the 29-year-old owner of Katz's Delicatessen. "Whenever any chef calls me about one of these things, I say I have two rules: Make it your own, and it better be fucking good!"
A few notables who have passed muster with young Dell: Daniel Boulud, who combined Katz's pastrami with bone marrow for a dish at DBGB; Joe Ng, who stuffs egg rolls with that same spiced and smoked miracle meat at RedFarm; and the freewheeling folks at Speedy Romeo, who top off an everything-bagel-crust pizza with the salty stuff. "They're all phenomenal," says Dell.
A couple weeks ago, Dell got another one of these collaborative calls, this time from Black Tap chef-owner Joe Isidori, who was able to extricate himself from milkshake mania long enough for a sit-down at Katz's. "He had this vision," says Dell. "We went back and forth for a while." As a parting gift, Dell sent Isidori home with some housemade supplies from the Katz's kitchen "to play around with." A few days later, they reconvened at Black Tap to taste the results: an eight-ounce Pat LaFrieda brisket-blend patty, with Swiss and Black Tap's signature gochujang-spiked special sauce, plus Katz's corned beef, sauerkraut, and full-sour pickles — all of it wedged into a Martin's potato roll.
"It's a Jewish kid from the East Village and an Italian kid from Yonkers collaborating on a sandwich for an Irish holiday," says Isidori, summing it up. It might not exactly be kosher, but it couldn't be more New York.
(The Reuben burger will be available at all Black Tap locations March 17 to 19 for $18,* including fries or onion rings.)
*The price of the sandwich has been updated to reflect new information provided by Black Tap.