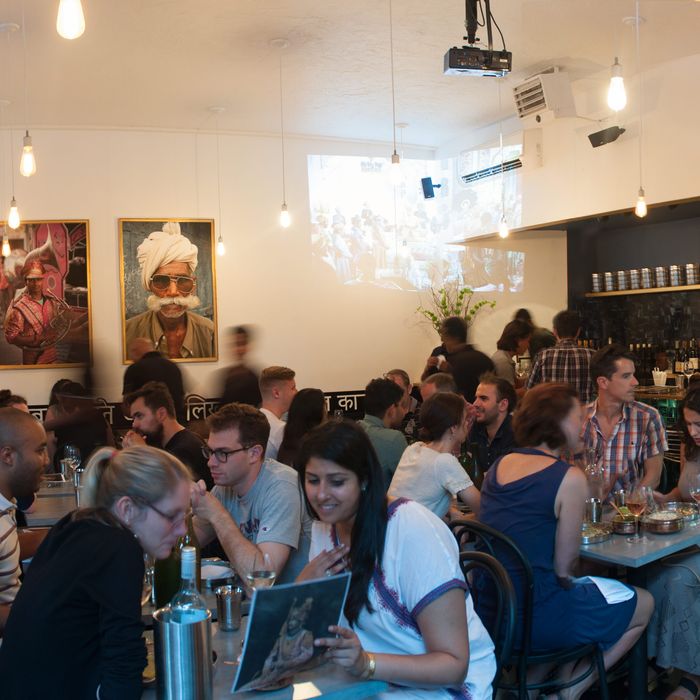 Things have taken a turn south for the popular restaurant.
Photo: Tirzah Brott
Hip East Village Indian restaurant Babu Ji will apparently close, Eater's Ryan Sutton reports, following its second wage-theft and overtime lawsuit in just two years. When the Australian import opened in 2015, it was met with significant buzz — New York's Adam Platt called it one of the city's best new restaurants that year — and lengthy lines usually reserved for stunt pastries and milkshakes. A receptionist at the restaurant, which isn't taking reservations past March 8, initially told Eater the restaurant would close for "renovations." During a second call, they were referred to the owners, who did not respond to requests for comments.
Last July, two employees filed a lawsuit against owners Jessi and Jennifer Singh, accusing them of pocketing tips and not paying overtime. It was settled for $95,000 in October, though the Singhs didn't admit to any wrongdoing. That lawsuit was filed by one Maimon Kirschenbaum, the most feared man in New York restaurants this side of the Department of Health. Along with Babu Ji's owners, he's successfully sued celebrity chefs and restaurateurs like Mario Batali, Daniel Boulud, and Keith McNally.
Kirschenbaum has also been open about his media-friendly legal strategy, and the lawsuit this time around includes some fiery allegations. According to the lawsuit, threats were made by Jessi against one employee's family in India ("you know that in India a man paid $100,000 rupees to have someone's family killed"), and against the employees themselves ("I'm going to fuck you up"). This is, legally speaking, a more serious case than the last, as such threats violate state labor law and the federal Fair Labor Standards Act. The Singhs denied the allegations in a November filing, the same month they opened another Babu Ji in San Francisco, and the suit will be tried by jury.