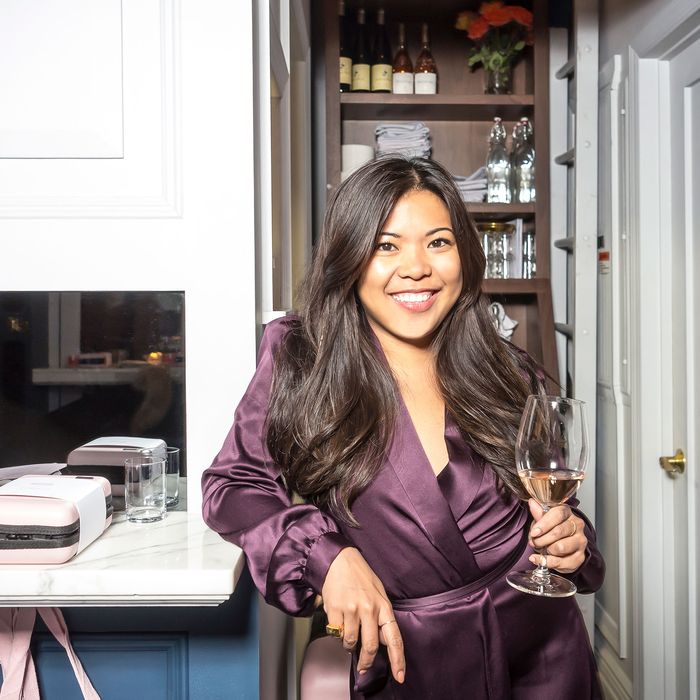 At While We Were Young.
Photo: Noah Fecks
Warby Parker alum Jen Rubio is the co-founder of Away, which specializes in simple, stylish luggage. Since her business is less than 2 years old, Rubio is very much in start-up mode — this week, she moved her team to a larger office, held meetings with investors, and worked on a Sunday night (with the help of RedFarm). She also ate pasta all around New York — even for breakfast, one day — and made good use of the city's many delivery services. Read all about it in this week's Grub Street Diet.
Thursday, March 2
Ruby's is in my neighborhood, and I walk past it every day on my way to work, but they don't open till 9 a.m. So I always have my phone, ready to order right when they open. And I always get the mushroom scramble, which is so good.
And then, after the photo shoot that morning, I ordered a Sweetgreen salad for lunch, but it basically just sat on my desk all afternoon. I have a real love-hate relationship with lunch. I'm either at a really great lunch meeting, or I just forget to eat.
But that was fine, because later in the day I took my PR team to dinner at Charlie Bird. I love taking the team out for dinner, because we basically order one of everything. Although, I did try to order the $95 rib eye, and that got vetoed as being too intense. But we did have literally one of everything on the menu except for that.
Friday, March 3
I love holding meetings at the Crosby Street Hotel. I do this thing where I tend to over-order for breakfast, and then I'm really sleepy. But that day, I just got the porridge with mangoes.
It was actually moving day for Away on Friday. We moved from Soho to Noho. I was basically running errands all day, so I picked up a salad from Sweetgreen; but, mysteriously, I got back home and realized that I probably left my salad on a shelf at Duane Reade. I ended up ordering from Mimi Cheng's instead; instead of snacking like a normal person, I often get dumplings as a snack.
I'm obsessed with Sugarfish in Los Angeles, where I go once a month, and I eat at Sugarfish once or twice a week when I'm there. It just opened here in Flatiron, but it's impossible to get into. I tried to go there for dinner with my boyfriend on Friday, but it was a three- or four-hour wait, so we just gave up and ordered in from Uncle Boons. The crab fried rice is my favorite. And the rotisserie chicken is out of this world.
Saturday, March 4
With a colleague and a friend, I braved the cold and went on a dim-sum tour in Flushing. This friend is a dim-sum connoisseur and took us all around. I had big plans to go to the Armory Show, but I ate so much that I got sick and had to skip it. I was incapacitated from all the dim sum.
But I have another friend who's starting this company called Collection Coffee. He came over that afternoon and gave me some of his new coffee beans and an espresso machine to try, so he taught me how to use that. I normally go to Gasoline Alley for coffee. I ended up skipping dinner on Saturday because I had drunk so much coffee, and I still felt sick from the dim sum!
Sunday, March 5
My good friends were in town from L.A., so I went to 11 Howard, where they were staying, in sweatpants to just lie in bed and order room service. And I love 11 Howard to death, but its room service just comes in takeout containers — it's not like the full room-service experience that you want. So half an hour after, we were still hungry. We ended up walking a few blocks up to Sant Ambroeus, and had a second breakfast there. They all got breakfast foods, but I'm having a real pasta moment. I basically stopped eating pasta for a couple months, and now I'm back in full force. I mean, thank god.
It was 11:45 in the morning, and everyone around me was eating eggs, and I had the spaghetti carbonara for breakfast. It was amazing. And whenever I'm there, I always order pancakes for the table. After my two breakfasts, I ended up at the Bowery Hotel for a weekend work session over tea, which turned into 4 p.m. drinks, and we ended up ordering food from Gemma to our table. I love their little crostinis, and I always get the pesto pasta.
At this point, I'd had a breakfast and two pastas, and a lot of Old Fashioneds. But it was still pretty early. By the time I had left, it was only 6:30 p.m. Normally on Sundays, I just like to prep for the week ahead, and my co-founder, Steph, and I have a tradition of getting RedFarm. I got the three-chili chicken and the pork-and-crab soup dumplings. It was a little extravagant for ordering in, but it was so good.
Monday, March 6
I was like, "Okay, I'm going to be healthy!" I went to Greecologies, which is around the corner from my apartment, and I got Greek yogurt with rose-petal honey. I mean, obviously, I've never eaten a rose, but it was just incredible. It tastes like a rose does, I think. And then I went next door to Cha Cha Matcha, which is such a hot spot right now, but when you go really early, all the cool kids that go there aren't always up yet. So it's bearable and easy, and you don't have to wait 20 minutes for a coconut-matcha latte.
Monday was our first day in the new office, which was super exciting. I had a full day of meetings, so I ended up ordering in from Hu Kitchen. I always order a chocolate bar, so no matter how healthy my order is, I end up eating an entire bar of chocolate before the day's over. I like the one with quinoa puffs. I also had an avocado smoothie and chicken soup. I still felt good about myself for getting healthy Paleo food.
We just launched a collaboration with Pop & Suki, so we had a launch dinner at this new restaurant in the West Village called While We Were Young. It's tiny; it probably only seats about 30, but it has pastel hues, which are perfect because we launched a pink suitcase. I had tuna tartare and squid-ink spaghetti. Can I really say I had pasta again? Everyone was drinking rosé because it was pink.
Tuesday, March 7
Our new office is on Fourth and Lafayette, so we're right across from Lafayette, the restaurant, which is a great place for breakfast meetings. I got a smoked-salmon Benedict, and they do it with this amazing brioche bun on the side and its smoked-salmon hash in a skillet. It's one of my favorite breakfasts in the city.
A few hours later, I actually had a lunch meeting at Lafayette again, and I got a rotisserie-chicken salad. This was a pretty serious business meeting with one of our investors. So, you know, I got the salad. We were having a pretty intense business talk, and then a waiter walked past, and he was holding a bowl of their black macaroni with rock shrimp and tomato sauce. And we both looked at it, and we're like, "Should we get that for the table?" So this serious business lunch turned into us literally splitting a bowl of pasta. Another bowl of pasta. I do work out.
We do a dinner with every team every quarter. I'm not going to name the place, but we had a very subpar dinner at an Italian place. The service was terrible. They randomly brought out a birthday cake, and we thought maybe they brought it to the wrong table, but it was nobody's birthday in the whole restaurant. We were confused. Beforehand, I had walked past Hecho en Dumbo, and they make this amazing stuffed pepper, and that was all I could think about at this Italian place. I did have another pasta sampler, though, because I'm embarrassing, and I have to eat pasta three times a day.
Wednesday, March 8
We're being featured in an AmEx commercial, and the hair and makeup team came to my apartment. I was trying to be a good host at 6 in the morning, so I showed off my newfound espresso skills and bought a bunch of pastries, but I was basically the only one who ate them. I showed up to the shoot with crumbs in my hair, and everyone was like, "What's wrong with you?"
Later, we had our board meeting, and we ordered in from the Smile — some rotisserie chicken and the cauliflower. But then, I did that thing where you're just talking the whole time, so you don't really get to eat. I ended up ordering chicken fingers from Dirty Bird.
For dinner, I went to a dinner hosted by Karlie Kloss at Two Hands, and then I was off to the airport after that. This is kind of embarrassing, but I have this airport tradition at JFK Terminal 4: I always go to Buffalo Wild Wings, and I always get snack-size boneless, hot barbecue wings. It's a little much right before you get on a plane, but I just can't walk past Wild Wings without eating there.