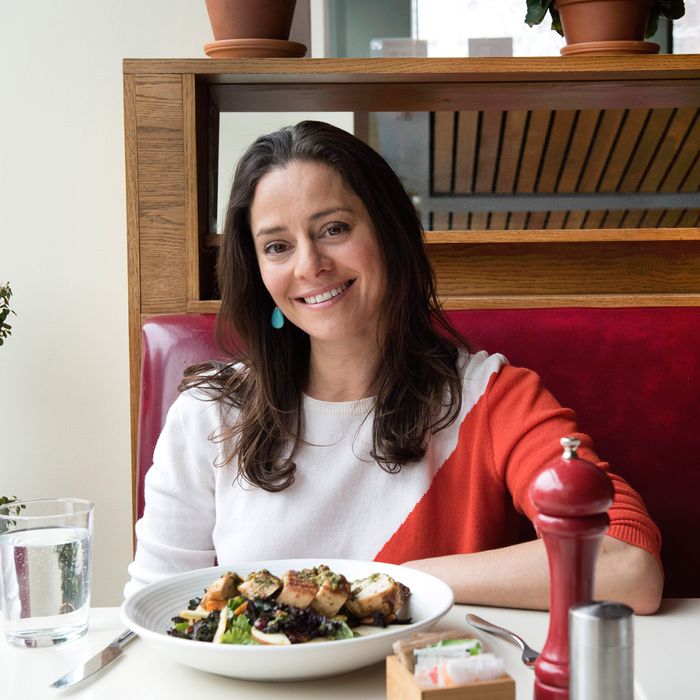 At Cookshop.
Photo: Liz Clayman
This week, New Yorker staff writer (and former New York writer) Ariel Levy released her third book, The Rules Do Not Apply — a memoir that elaborates on her award-winning essay "Thanksgiving in Mongolia." Since the "fake blizzard" impeded her book-tour plans, she celebrated in New York by cooking chicken cutlets at home, drinking at El Quijote, feasting on chicken wings, and eating two different cakes at the same party. (Spoiler: Carvel ice-cream cake is still good.) Read all about it in this week's Grub Street Diet.
Thursday, March 9
I started the day with coffee and chia pudding, which I'm extremely into. I first had it earlier this winter at my friend Flora's restaurant in South Africa, and I couldn't believe something that delicious could be good for you. Here's how you make it: You dump a can of coconut milk into a bowl. Then you put some chia seeds in there. That's it. You just wait for it to turn into a delicious pudding that you eat with berries or sliced bananas and, weirdly, a little peanut butter. (It sounds gross, I know, but that peanut-butter-and-banana thing is incredibly tasty.)
At about 2 p.m., I had a pathetic lunch, which is pretty standard for me when I'm working from home: some slices of turkey, and an orange pepper that I cut up and ate with the last of a container of hummus. It wasn't pretty.
But dinner was good! My cousin Abigail was visiting, and she brought her friend Lisa who has the best Bitmoji avatar I've ever seen. (She sort of cheated: The last time she got a haircut, she showed the stylist her Bitmoji and was like, "Make me look more like that." And did he ever.) I made what I always make: white-bean-and-kale soup from a recipe in The Moosewood Cookbook, to which I add bacon. Sorry, but it just makes it delicious. I served it with a good baguette and lots of pretty radishes. Abigail brought some okay hamantaschen and a lot of great wine; I was ever so slightly hungover the next morning.
Friday, March 10
Made my usual Illy coffee in a blue Moka pot on the stove, and had a little chia pudding. (I make vats of it and keep it in the fridge.) I begin almost every day by drinking my coffee, while I Skype with my special friend, Dr. John, who is taking his lunch break at that time of day in Lagos, Nigeria, where he runs a clinic when he's not here with me in New York.
There was a light snow happening, and it was very pretty watching it through the giant windows at Cookshop. My friend Matt came and met me for lunch. We both had the grilled-chicken salad, which is excellent. I get it a lot (my apartment is only a few blocks away from there). The salad has a lot of toasted pecans on it and I'm not that into nuts, so I let Matt eat mine, as well as his. He also ate the little squash bits off my plate when I went to use the restroom, and that was neither authorized nor appreciated.
I had dinner that night at an Israeli restaurant I'd never been to before, Bar Bolonat, with Sarah McNally — who has a great bookshop in Nolita, where I'm giving a reading from my new book in April. We had fried olives to start, and I thought they were good, not great, and that they looked a lot like deer turds. But this fried Japanese eggplant Sarah ordered was really good — they make it with harissa and little fried-shallot bits. They do the food "family-style" there, which is to say that everything comes out as it's ready, the assumption being you'll share it all. But Sarah is a vegetarian, so there was a regrettably long period during which my hunk of brisket got cold, as we waited for her chickpea gnocchi to show up. ("Go ahead," she said. But what am I, an animal?) When I finally got to dig in, the brisket was nice and shred-y like I like it to be, but maybe a tad sweet for my taste. And speaking of sweet, they brought us a dessert on the house: this chocolate pudding with something they called a "pretzel tuile" for some reason. It just seemed like an extremely thin cookie to me. Tasty.
Saturday, March 11
I made my Illy coffee and took a break from chia pudding because I had some smoked salmon in the fridge, which I ate with scrambled eggs. Delicious. I FaceTimed with my dad while I was eating because he loves lox and eggs, and he used to make it for me when I was a kid, sometimes on weekend mornings.
I didn't have lunch because I knew I was having an early dinner that evening — which turned out to be merely the beginning of an epic eating orgy. It all started innocently enough with sushi at my friend Erika's new apartment in Brooklyn Heights. Her twins are 4 years old, so we wanted to have dinner with them before their bath, and that was all well and good.
But then at 8ish, when she put them to bed, I moved on to Park Slope, where my friend Elisa was having people over for her birthday. That's where the shit hit the fan. She had these incredible chicken wings from a place called Wangs, and I ate somewhere between three and 70 of them. (In my defense, it wasn't just me. None of us could leave those Wangs' wings alone.) Plus, she had a Carvel ice-cream cake. I hadn't eaten one since I was 19, when Elisa herself had gotten one for me. Well, they're as good as ever. To make matters worse, Elisa's sister-in-law had baked her this incredible cake, which she served with caramel sauce and fresh whipped cream. It was an absolutely brutal pig-out of a night.
Sunday, March 12
In penitence, I went to yoga at the Shala near Union Square as soon as I woke up on Sunday morning. When I got home, I made a punitive smoothie of kale, yogurt, and frozen berries (heavy on the kale), and I used the last of my Illy to make a little Moka pot of coffee. I talked about the previous evening's face-stuffing on Skype until Dr. J said, "You're boring me to tears. Can we please talk about something else?"
I worked in my apartment that afternoon and ate only the most virtuous and rabbitlike snacks: a yellow pepper, some radishes, a couple carrots.
For dinner, I made the rest of the lox and eggs.
Monday, March 13
I was supposed to head to D.C. to do a reading at a venue called Sixth and I, but they canceled because of the dreaded, incoming blizzard. So, suddenly, I had plenty of time to do some cooking, and to use all the food in my fridge that was nearing the end of its life. For instance, I had some chicken cutlets that I made according to a recipe from Lidia Bastianich — I saw her do it on Channel 13 years ago, and I've probably prepared it once every other week ever since: You dredge the chicken in flour, salt, and pepper, and then fry it until it's golden brown in olive oil with garlic slivers. Then, you toast some capers and red-pepper flakes in the pan; and for the grand finale, you turn the heat up really high, and throw in some red-wine vinegar that makes a giant, eye-stinging cloud of vapor. I've regretted making this dish more than once in poorly ventilated kitchens. But on this occasion, it was fine because I remembered to turn on the fan, and there was nobody there to complain about it.
I ate some of the chicken for lunch with a red-cabbage slaw I love, which is really just a sliced-up cabbage soaked in oil, vinegar, and salt. But it's so good for you! Tasty, too.
I went for dinner at my friend Deborah's apartment in Tribeca; she made a pasta with sausage and broccoli rabe for me and her kids. She served it with grated cheddar — either because you're supposed to or because she was out of Parmesan, I never got to the bottom of that. Then we looked at these beautiful brooms that Deborah had made at a kind of craft camp in North Carolina. It was all very cozy, and I almost slept over, but her son, Nate, scared me by saying I'd never get home the next day because of the fake blizzard.
Tuesday, March 14
My book came out! I started the day with my coffee and, of course, chia pudding, watched the "blizzard" coming down outside, and read my reviews on the interweb.
I ate the leftover Lidia chicken and red cabbage for lunch, and did a little work on this profile I'm writing on the novelist Elizabeth Strout. Then at 5 p.m., my friend Adam and I went to walk his dog, Grace, who I really think is extra cute. She looks like she's part schnauzer, part supermodel, and part rat. And she's just the sweetest; nobody can resist her — which came in handy because we got cold pretty quickly and ducked into El Quijote for a drink at the bar.
They let Grace sit by our feet, after Adam showed the maître d' her bogus service-dog credentials on his iPhone. Adam lives in Chelsea, too, so we often go to El Q. together for a festive drink. We used to eat there pretty often, too, but the only thing I really like are the collard greens, and that's not much of a meal. Anyway, Adam got me a drink to celebrate my book release, and then we thought about going to visit it at the Barnes & Noble near Union Square, but there was just too much snow and slush for that. We said good-bye on the corner of 22nd Street and Eighth Avenue, and I watched Grace's cute, little, rat-tailed ass bounce away in the snow.
Just for the heck of it, though, I went by my favorite store in the neighborhood, 192 Books on Tenth Avenue, before I went home. I thought for sure they'd be closed for the snow day, but to my surprise, there was Todd, the owner, shutting up shop just as I got there, and there was my book in the window.