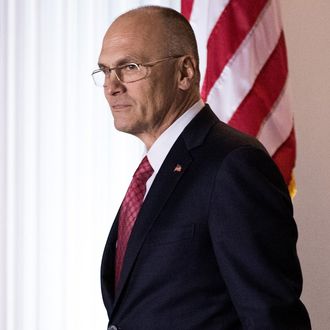 Anybody hiring?
Photo: Drew Angerer/Getty Images
Barely a month after his Labor secretary nomination went up in flames, it seems Andy Puzder has now abruptly resigned as CEO of Carl's Jr. and Hardee's parent company. Puzder was President Trump's pick to run the federal agency tasked with protecting American workers' rights — a role that troubled members of both parties, considering CKE Restaurants spent years violating labor laws under his watch, and that he called his own workers "the best of the worst," wanted to automate his restaurants, and created a corporate environment where women often got harassed.
But he spent 17 years as CKE's top dog, and made it into a highly profitable chain. "I used to hear, brands take on the personality of the CEO," he once told Entrepreneur. "And I rarely thought that was true, but I think this one, in this case, it kind of did take on my personality." Puzder's replacement at CKE will be Jason Marker, KFC's U.S. president. (Marker's successor at KFC, in turn, will be the guy responsible for all those Colonel Sanders celebrity ads.)
After enduring an "unprecedented smear campaign," Puzder withdrew his Labor nomination in mid-February, explaining he'd just go back to running CKE. But in his statement yesterday, he simply said: "I expressed my desire to have CKE plan for succession approximately a year ago, and I could not be more pleased to have Jason Marker selected to be the company's next leader." It doesn't appear CKE plans to make Puzder or Marker available for interviews, and the Times says it's also unclear what Puzder is doing with his $50 million ownership stake in CKE that ultimately proved one of the many, many hurdles to his confirmation.
Back in the political arena, Trump's second choice for Labor — former U.S. attorney Alexander Acosta — starts his confirmation hearing today. Acosta looks mostly squeaky clean by comparison, but he's still going to have to explain why, for one thing, he cut a deal with a billionaire accused of sexually abusing more than 40 minors.