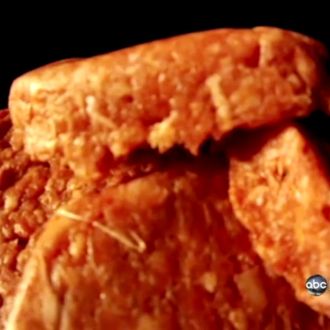 Definitely looks menacing.
Photo: ABC News
A South Dakota judge has ordered ABC News to face a defamation trial for its withering 2012 exposé on "pink slime." Judge Cheryle Gering rejected ABC's request to dismiss the case, arguing that a jury could find "clear and compelling evidence" the multipart series — which revealed that 70 percent of supermarket beef contained the controversial ingredient, accompanied by many minutes of unappetizing visuals — was libelous. Gering threw out defamation claims against anchor Diane Sawyer, but let the accusations stand against Emmy-winning correspondent Jim Avila.
"Lean, finely textured beef," as pink slime is officially known, is a filler added to ground beef that's made from assorted low-quality meat chunks, and blasted with ammonia to kill bacteria. The industry rushed to 86 the product after ABC's story, but plaintiff Beef Products, Inc., says the reports were "fake news" (ugh) that gave the impression that LFTB wasn't safe, nutritious, or even really meat at all. It argues that the consumer backlash, complete with a raft of angry petitions, forced three of its four plants to close, killing hundreds of jobs and costing the company $1.9 billion in business. That amount could be tripled under libel laws in South Dakota, where the trial is set to occur, potentially sticking ABC with almost $6 billion in damages.
ABC's lawyers counter that the network never directly called pink slime a health risk — just a potentially suspect ingredient. A jury will have to decide if Avila and the reports pursued an "anti-meat-industry agenda," although the network stands by its reporting, and continues to rip the suit as an intimidation tactic to silence unfavorable coverage. A statement ABC released to The Wall Street Journal says, "We welcome the opportunity to defend the ABC News reports at trial and are confident that we will ultimately prevail."