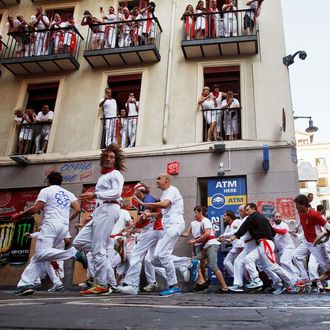 They do love running from things in Spain.
Photo: Pablo Blazquez Dominguez/Getty Images
A group of 120 people celebrating a baptism at a restaurant in Spain appears to have pulled off the world's most epic dine-and-dash. The owner of the spot, El Carmen in the town of Bembibre, says his rude guests engulfed various appetizers and mains, and put away some 30 bottles of booze, before fleeing en masse. "It happened in the space of a minute," he tells the BBC. "It was something they had planned, and they left in a stampede." It seems the signal to bolt was when staff went to go get the group's desserts ready.
Not that they'll be getting any of their $950 deposit back, but the owner claims he's out more than $2,000 even after holding on to that. He suspects he won't see a dime of it either, because local police tell media that they're having trouble tracking down the fugitive banqueters, who were Romanian citizens and are probably high-fiving back in Bucharest by now.