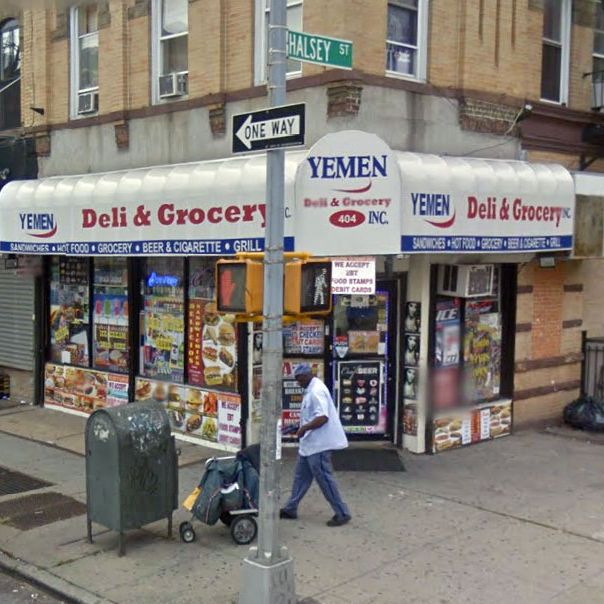 One of New York's many Yemeni-owned bodegas.
Photo: Google
President Donald Trump's Executive Order banning immigrants and refugees from seven Muslim-majority countries has been met with a swift (if divided) response. Protests erupted in 20 cities, the New York Taxi Workers Alliance went on a general strike at JFK Airport, and since its announcement there's been chatter of a nationwide general strike. One of the countries included in the ban is Yemen, where American-backed Saudi forces have been accused of possibly committing war crimes. In response to Trump's Muslim ban, Yemeni bodega and grocery-store owners across New York City will shut down 1,000 stores from noon to 8 p.m. tomorrow.
Bodegas are part of the cultural identity of New York City, and a disproportionate amount of them are owned by individuals of Yemeni heritage. One of the city's best known bodegas is the deli informally known as Hajji's, which contributed to the city's culinary cannon with its creation of the hyper-regional sandwich called the chopped cheese. The shutdown, the Facebook event page for the strike says, is intended as "a public show of the vital role these grocers and their players in New York's economic and social fabric."
Along with the strike, there will be a rally tomorrow evening at 5:15 p.m. at the Brooklyn Borough Hall. After a Muslim call for prayer and sundown prayer by those who prescribe to the Muslim faith, select grocers will share the immediate impact of the ban on their lives as well as stories from families afraid to come forward.