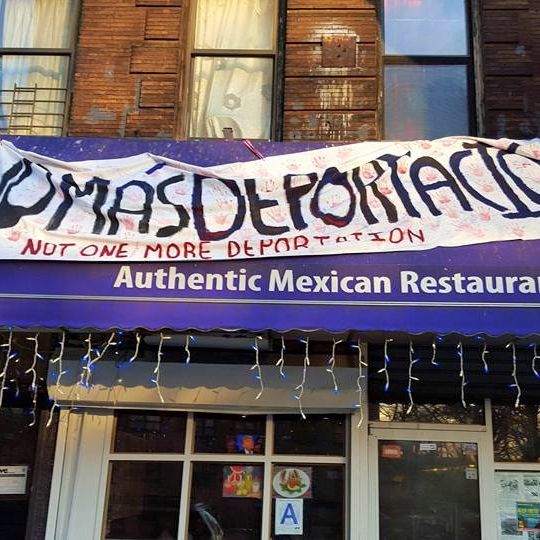 An anti-deportation banner on the awning of La Morada, one of many restaurants that closed today in solidarity with immigrant workers who went on strike.
Photo: Courtesy of La Morada
In New York, Maria Cano is a legend. Even if you don't know her name, you know her as the "sainted Arepa Lady," and the person who makes Colombian corn cakes so well that people travel far and wide just to try them. Surprisingly, in her home country, she wasn't a cook, but was a lawyer and judge in Medellín. She left because of the city's dangerous political climate and ongoing drug war. Now, in New York, she's become a venerated figure in New York's food pantheon, along the lines of Shopsin's Kenny Shopsin and Di Fara's Dom DeMarco. And today, Cano is among dozens of New York owners — and countless more around the country — who have decided to close their businesses as part of the Day Without Immigrants campaign, willing to take the financial blow in order to take a stance against the Trump administration's anti-immigrant policies.
"We never received welfare, we never received any type of government aid," says Cano's son Alejandro Osorio. "What we're trying to show is we're here to work, to contribute, we want to be part of the American Dream. That's what we're trying to do."
The Day Without Immigrants is a true grassroots campaign, with word first spreading via flyers and word of mouth, as well as through social media. As Marco Saavedra of the family-owned La Morada tells it, chatter about an immigrant strike started after the Women's March, when there was "a lot of momentum." Eventually it received exposure, and support from high-profile players in the restaurant industry, which is absolutely dependent on immigrants.
The movement first gained speed in Washington, D.C., where chefs — including José Andrés — pledged their support. Backers in New York now include Tom Colicchio, who will keep his restaurants open for employees who can't forgo a paycheck, but has nevertheless pledged his support publicly; Mexico City native Fany Gerson, the founder of La Newyorkina and Dough, who says she first heard about the strike through her employees; and the founders of the Blue Ribbon restaurant group, who have closed seven of their NYC restaurants. Other spots closing in recognition of the campaign are Frankie's, Prime Meats, Tapestry, Rosie's (for lunch), Patacon Pisao, El Atoradero Brooklyn, Mexicocina, and Shelsky's. The Soho and Red Hook locations of Court Street Grocers have shuttered at the behest of employees, while their Carroll Gardens original will stay open. (All of today's sales at that Court Street Grocers will be donated to the American Immigration Council.) The family-operated T.I.C. Group, which runs some of Manhattan's most popular Japanese restaurants, will close its two largest restaurants (Sakagura and Soba-Ya), as well as support any of the employees at its other restaurants who go on strike.
This is no small gesture. Closing for a day in New York is not easy for employees, who are often poorly paid, or for restaurant owners, who often face razor-thin margins. "Closing one day is really painful, as anyone in the restaurant business knows," says T.I.C COO Sakura Yagi, whose father founded the restaurant group. "The least we can do is to close. New Yorkers have always supported my immigrant father and his businesses through the years. We're just passing it on."
That willingness to take this economic hit, though, is meant as a demonstration of support for the immigrant community — and a notice to customers. "I kind of want people to come, go to the effort of trying to get the lunch they wanted, and then be disappointed," Shelsky's owner Peter Shelsky admits. "Go, 'Oh, this is why I can't have my food, because without these people there is no food.'"
In the South Bronx, La Morada serves as a community hub, and the decision to close was motivated by the convictions of its customers. Owners Natalia Mendez and Antonio Saavedra, as well as their children, have consistently advocated for immigrant rights. For their son Marco, the strike isn't an end in and of itself, but an opportunity to organize and galvanize fellow immigrants and send a message that's about much more than a day's taco sales — he hopes the protest can inspire and empower fellow immigrants who might feel alone.
"The goal wouldn't be just that it's today and then we go back to business as usual," Marco says. "But, to be able to somehow seize momentum and build momentum. To see who in our community are our leaders, our motivators."
A Mexican immigrant, Antonio "Tony" Vilchis has built a successful group of businesses in the South Bronx, where he operates four restaurants, including the popular Mexicocina taquerias, and employs some 30 people. Every one of them, he says, wanted to strike. "I know I'm going to lose money, but this day is not about the money," he explains. "It's to show that we're here and we're not going anywhere. We do this because we are part of this community, the economy, and part of this country and this city."