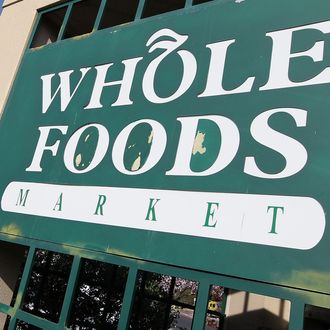 The news really can't come as that big of a surprise.
Photo: Justin Sullivan/Getty Images
Stagnant sales have finally pushed Whole Foods into a spot so tight, it can't wiggle out by getting bougier or throwing shoppers another lower-priced bone. On a call yesterday with investors, CEO John Mackey conceded that the grocery biz "is very different today than it was five years ago," thanks to "mainstream supermarkets [upping] their game." The company will have to get more "disciplined" about growth as a result, he explained, and that starts with closing nine locations this year — stores in Chicago, New Mexico, Utah, Arizona, and Georgia, and two apiece in Colorado and California. This is Whole Foods' first downsizing since 2008, and the most store closures it's ever done simultaneously, Bloomberg reports.

Mackey added that these stores were mostly "older, smaller locations" that, for some reason, were located near "larger, more modern" ones, so a person could see why this move would make sense. It follows six straight quarters of sales declines, though, and Bloomberg adds that the company's 2017 sales forecast offers "little hope of a quick recovery." Whole Foods apparently considered converting some of the nine stores into outlets of its new low-price 365 chain, but concluded that "wasn't practical."
Probably not the best time to note that Aldi, previously not Whole Foods' rival in any legitimate sense, just announced it's spending $1.6 billion to make 1,300 of its budget-friendly stores into "sleeker" spaces, with "more natural light" and "fancier wood fixtures" that will also carry a larger selection of organic produce and fresh meat. Cling to your vegetable butcher while you can, Whole Foods.