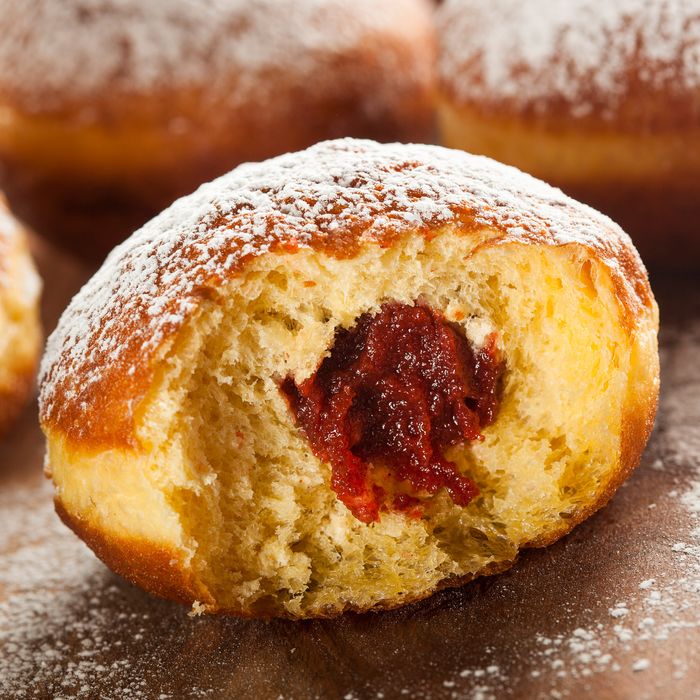 Photo: Brent Hofacker/Getty Images
New York's doughnut scene is clearly thriving, and it's not without quality spots to satisfy a pierogi fix. But while the city's food culture owes a major debt to Poland's Jewish cuisine, pączki — fat doughnuts typically served this time of year — have never found the following here that they do in cities like Detroit. This is a shame; they are excellent. The orb-shaped pastries are made with a rich dough enriched by egg and lard; they're like the jelly doughnuts you know and love, but extra. Luckily, they're still being offered at some spots as specials for Fat Tuesday (a.k.a. Mardi Gras, a.k.a. tomorrow). If you've never had them, or you've never really found them in NYC, here's where to go.
Old Traditional Polish Cuisine
The food truck takes its sugar-dusted doughnuts to Midtown West for Fat Thursday, and will be selling them again on Fat Tuesday. They're very much in demand, though, so to guarantee you get yours, preorder them by calling 347-469-8867 or emailing oldtraditionalpolishcuisine@yahoo.com.
Northside Bakery
At its locations in Williamsburg and Glendale, the pastry shop offers its pączki with jelly, coconut, and powdered-sugar, and also glazed or chocolate-covered.
Polish G.I. Delicatessen
Among the holdovers of the old Ukrainian Village, this small deli deep-fries its doughnuts and stuffs them with jellies like raspberry and strawberry, or prune and raspberry.
Rzeszowska Bakery
The Greenpoint spot might be known for its babka, but it makes a popular pączki with the traditional rose jam and — Americanizing it — Boston cream.
Peter Pan Donut and Pastry Shop
Brooklyn's favorite doughnut shop might not be Polish-owned, but it joins in the fun with its historically Polish community over in Greenpoint. It offers the treat with these fillings: raspberry jam, rose jam, custard, and prune, as well as glazed or rolled in sugar.