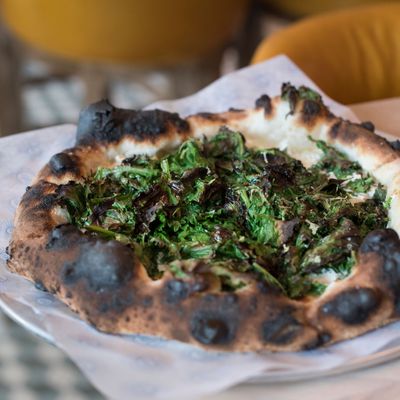 Don't care about football? Go eat pizza at Leuca.
Photo: Liz Clayman/Liz Clayman
While most of the nation might be amped-up to watch Super Bowl 51 (but really just the commercials), you're probably thinking, ugh another football game? (If not, you've really come to the wrong place.) But the big game is a blessing in disguise for football haters in New York, because it's one of the slowest nights of the year for restaurants. Hitting up almost any restaurant in town will not only be easier, but the staff will also be super psyched to finally have someone to talk to. Many of the city's hottest and newest restaurants have reservations available, and you won't have a problem just walking in like you normally do. Here, 14 spots where it will be business as usual on Sunday:
Pondicheri
Availability: There are tables for parties of two to five available all night long, from 5 p.m. to 9:30 p.m.
Head to the Flatiron canteen for contemporary, creative Indian cooking, like traditional rogan josh (braised lamb), Kerala shrimp braised in coconut and spices, and tandoori quail stuffed with pine nuts and caramelized onion masala.
Leuca
Availability: There are tables all night long for parties of two and four.
You can eat pretty much whenever you want this Sunday at Andrew Carmellini's Italian restaurant in the William Vale hotel. Treat yourself to some pasta, wine, and — why not? — an affogato sundae for two.

Pig Bleecker
Availability: There are tables for two every half hour between 5:30 p.m. and 9 p.m., for parties of four from 6 p.m. to 9 p.m., and for parties of six at 5:30 p.m. and 9 p.m.
Just because you aren't watching the Super Bowl doesn't mean you can't eat lots of meats. Check out the West Village's new fancy barbecue spot, where there's smoked fried chicken with cheesy grits, double cheeseburgers, and pigs in a blanket.
Flora Bar
Availability: There's no dinner reservations, but if you're looking for a blowout lunch it's wide open.
Haven't had a chance to go to the Met Breuer's restaurant since New York's Adam Platt raved about it? Take advantage of the Super Bowl and drop by for lunch, when they serve lobster and crab dumplings in yuzu broth, lamb ribs with yogurt and mojo verde, and stracciatella with Meyer lemon.
Lalo
Availability: There are tables for two and three people at 6 p.m. and 9:30 p.m., and for four to six at 9 p.m.
Gerardo Gonzalez's cool-kids spot on the Lower East Side still has a few tables up for grabs, so snag one and get yourself some carnitas with flour tortillas.
Black Walnut
Availability: There are spots available for parties of two to six people throughout the night.
Mostly tucked away from windows, the dining of New American restaurant is a good place to play a game of hide-and-seek from the world. Not to mention there are comforting dishes like the old-school fish muddle with lardons and potatoes, and desserts like pumpkin cheesecake.
Maison Pickle
Availability: Reservations are only available for parties of six or more, but if you can gather a gang of football haters you'll find tons of options.
The good thing about needing six people to get a reservation here? You can eat all the French Dips. If you're uptown and don't want to miss out on having a meaty night, this is your spot.
Sauvage
Availability: Lots of options from 5:30 p.m. to 9:30 p.m. for parties of two to four.
If you're looking for somewhere where you can have quality cocktails in a romantic setting, mosey on over to Greenpoint. Newly minted chef Damon Wise serves rabbit with mustard-seed honey broth, sun chokes with 'nduja and mint, and duck with vadouvan.
Indian Accent
Availability: Whether you're a party of two or a party of four, you'll easily be able to find a table at the right time for you.
Want to get fancy? Go to the upscale Indian restaurant, where you can get a three-to-four-course tasting menu, with options including crab claws with butter-pepper garlic, pork-chilli fry, ghee roast lamb, and more.
Fish Cheeks
Availability: Parties of two will find tables all night long, and there's still plenty, if slightly more limited, options for parties of three to four.
If you're more of a seafood or Thai-food type, the creamy, spicy coconut-crab curry at this restaurant right off the Bowery will warm you right up.
Ladybird
Availability: There are still a good amount of spots for tables of two or four available from 6 p.m. to 8:30 p.m.
Vegetarians don't like the Super Bowl, too. The wine bar's menu is entirely vegan and vegetarian, with dishes like caramelized-artichoke heart, wild mushroom and onion fondue, and a saffron semifreddo.
Paowalla
Availability: Tables are up for grabs all night long for parties of two and four, and there are lots of options for parties of six.
Here's an idea: Have Floyd Cardoz's kitchen crew throw you a carb party, and eat all the bacon-stuffed naan you can.
Bessou
Availability: There are tables for two to four throughout the evening, and a handful from 5 p.m. to 8:30 p.m. for groups of five.
It's a very pleasant and welcoming place to spend any evening, and its take on karaage (Japanese fried chicken), dusted with North African spices and served with shiso tzatziki, is everything that's right about food in New York.
Tim Ho Wan
Availability: Walk-ins only.
The Hong Kong import doesn't take reservations, but the Super Bowl is likely your best chance — in the immediate future — to get your hands on these har gow without having to wait two to three hours.