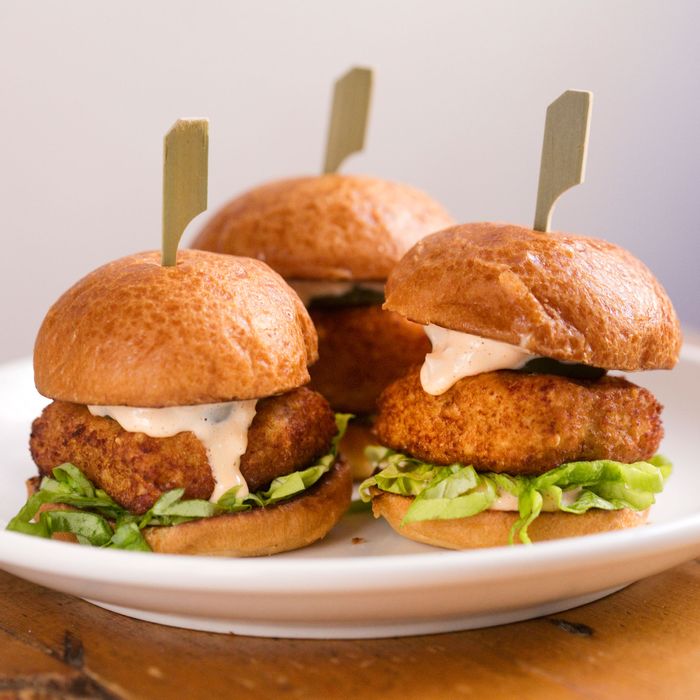 Downtown favorite Mother's Ruin recently started serving fried-fish sliders.
Photo: Melissa Hom
Every month in New York, there's bound to be a bewildering number of new dishes to eat, drinks to imbibe, and food-themed events to attend. It would be impossible to pack in every single thing each month, and the hardest part often is just figuring out what's really worth your limited time. So Grub kicks off each month with a curated collection of dishes, drinks, and events that should absolutely be on your agenda. Make your plans now.
1. Check Out New York's Newest Vietnamese Hotspots
Finding good Vietnamese food in New York hasn't been easy, but that might be changing. One of the city's better restaurants serving the cuisine, Bunker, recently relocated to a more accessible and spacious location that still maintains the original's ramshackle aesthetic. Best of all, there's a more expansive menu with new dishes like bun cha, pork belly, and sausage steeped in fish sauce and other seasonings, vermicelli noodles, and herbs and greens for wrapping. Across the river, two new restaurants specializing in the cuisine have opened up in the East Village: Madame Vo and Hanoi House. The former serves a solid pho ($16), made with meatballs and rare flank steak, that's on the sweet side. Head to Hanoi House for crispy spring rolls ($8), a refreshing shrimp and pomelo salad ($14), and an exemplary pho ($13).
2. Head to Queens for Outstanding Chongqing Chicken
Northern Queens is out of the way for most New Yorkers, but it's home to a small but growing mala belt that constitutes some of the city's finest Sichuan restaurants. It stretches from College Point, home to Little Pepper, to Little Neck, where Grain House is located, to, now, Whitestone. Late last year, the residential neighborhood saw the opening of Legend of Taste, which occupies a squat building not far from the Throgs Neck Bridge. Inside, there's a large and pleasantly decorated dining room that could easily be the home of a Chinese-American General Tso's factory in the suburbs. The food immediately stands out, particularly the nubbins of diced rabbit ($9) served in a fragrant slurry of sauce and a standout version of chongqing chicken ($15), well-fried and bracingly hot.
3. For Your Next Lunch, Eat a Lamb Sandwich at Colonia Verde or Hot Roast Beef at Rider
The power lunch might be dead, but you can still eat well during the day. Fort Greene's Colonia Verde recently launched it for the first time, serving the meal from noon to 4 p.m. Tuesday through Friday. The menu includes some standby dishes, as well as brand new ones like a lamb sandwich with mint, aji amarillo, and labne spread as well as a lighter lunch salad with mixed greens, roasted fennel, caramelized pepitas, and passion-fruit dressing. Across the river, the Williamsburg restaurant Rider has extended its hours from 8 a.m. to 4 p.m. on weekdays. During the morning there will be doughnuts in flavors like lemon and fennel, granola with apples and nigella crumble, and more. Come lunchtime, the restaurant will offer the sweet deal of two courses for $18 with options like hot roasted beef with bagna cauda griddled bread and kohlrabi, celery, and broccoli salad with cilantro vinaigrette.

4. Have Fish Cheeks' Garlic Pepper Shrimp for Lunch on Saturday, Then Head to Houseman for Brunch on Sunday
Tribeca restaurant Houseman has launched Sunday brunch, serving the meal from 11 a.m. to 3 p.m. On the menu: sweets like an orange and pistachio pound cake, French onion sandwiches, and steak and eggs. For a more tropical bent Fridays through Sunday, head to Fish Cheeks for braised duck leg with egg noodles in a five-spice broth, garlic pepper shrimp, and more. They're open from noon to 4 p.m.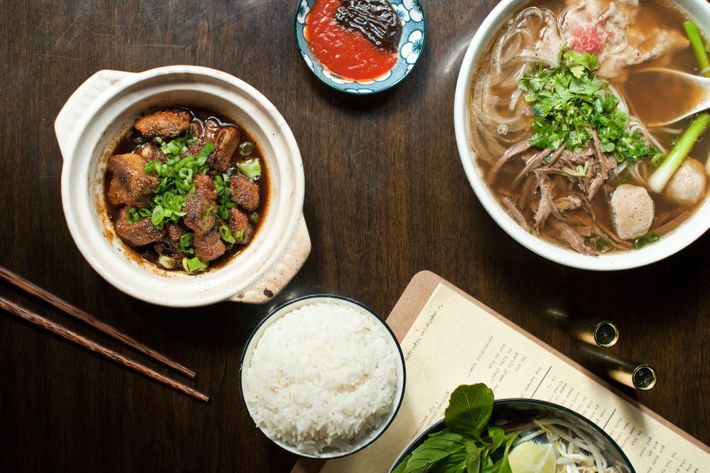 5. Eat Fried Squash Blossom Dumplings and Other New Dishes at Oiji
Oiji's honey butter chips are the only excuse you'll need to head back to the restaurant again (and again). But the menu keeps evolving, and in January chefs Brian Kim and Tae Kyung Ku rolled out some new dishes to kick off the new year. There's scallop hwe ($19) with cucumber, jellyfish, and snow crab in a spicy Korean mustard dressing; kabocha porridge and deep-fried squash blossoms ($17) stuffed with a traditional Korean dumpling filling; and a sea urchin gamtae gimbap ($25), the seaweed rice roll.
6. Eat 'Angry Pasta' for Planned Parenthood, and Oysters for the ACLU
President Trump and the Republican Party have threatened to defund Planned Parenthood, so for the entire month of February, Andrew Tarlow's Roman's in Fort Greene will serve a special of penne all'Arrabbiata ($24) — literally, angry pasta — and donate all of the proceeds to the women's-health-services provider. The penne itself is donated by Bronx importing company Gustiamo; then it's sauced with the traditional garlic, tomatoes, and red chili peppers cooked in olive oil. And on February 7, its sister restaurant Marlow & Son's will donate all proceeds from sales of Fishers Island oysters to the ACLU.
7. Jam Out to Jazz While Eating Lamb at Minton's
Harlem's legendary jazz club Minton's has expanded, absorbing the space that was previously occupied by its sister-restaurant the Cecil. Chef Joseph "J J" Johnson still helms the kitchen, with chef de cuisine Tiffany Minter, and the new menu includes dishes like a chicken liver mousse ($14) served on skillet corn bread and topped with a sweet fruit jam and lamb top rounds ($29) with escovitch plantains, azuki red beans, and the crispy rice called concón.
8. Eat Fried Tripe With House HP Sauce at Otway, the Successor to Clinton Hill's Tilda All Day
Claire Welle garnered a local following last year courtesy, in large part, of the creative pastries she baked at the briefly lived Tilda All Day. Fans were disappointed when that restaurant closed, but now she's back in the kitchen in that same Clinton Hill space. Together with Samantha Safer, a partner in Tilda, she's opened Otway. This time, she's serving dishes like fried tripe with house HP sauce ($10), squab with mincemeat and a root vegetable tart ($30), and desserts including a buckwheat cake ($9) with chocolate and herbs.
9. Eat Spicy Fish Sliders at Mother's Ruin
The fried fish is the unsung hero of the sandwich world. At the Soho bar Mother's Ruin, they've gotten in on the action with their "McFish" sliders. The fish is Atlantic cod breaded with red hot crumbs and then flash fried, and served as a trio of mini-sandwiches ($14) with red hot tartare sauce, shaved iceberg lettuce, and sliced pickles on a brioche bun.
10. Drink Some of the Country's Rarest Beers at Threes Brewing
Gowanus brewery Threes Brewing will team up with beer writer (and sometime New York contributor) Joshua Bernstein for a second edition of its Can Jam. This time the focus is on the United States' "biggest and rarest cult beers," from breweries including Modern Times, Bunker, and New York favorites like Finback and Other Half. It goes down on February 19, from noon to 6 p.m., and entrance is free. Beers, of course, are not.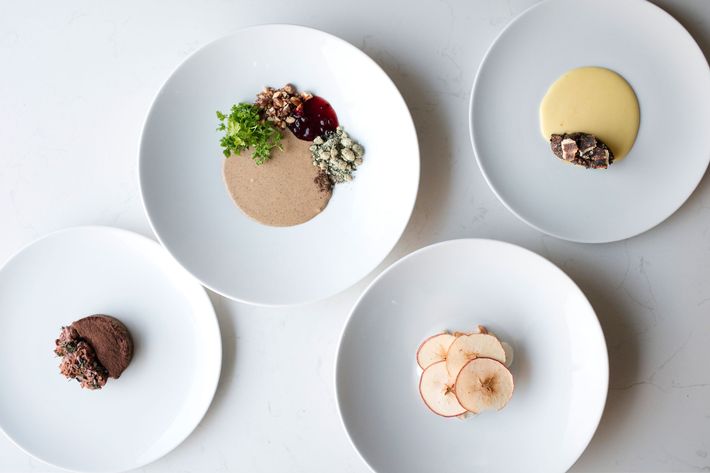 11. Learn How to Bake Danish Breads at Meyers Bageri
Next month, Meyers Bageri will relaunch its baking classes ($110). School starts on February 25, when head baker Rhonda Crosson will kick off the semester with a pair of Kanelsnurrer 101 courses. You'll learn how to make Danish cinnamon rolls, from mixing the filling to kneading and twisting the bread. After, you'll leave with your baked goods, raw dough, a recipe booklet, and some goods from the bakery.
12. There's a New Chef at New York's Best Beer Bar
Last month, Noma and Momofuku alum Daniel Burns announced the unexpected closing of Luksus, his Nordic restaurant inside the Greenpoint beer-geek haven Tørst. Burns also departed from that bar, which has now announced its new chef: Jesus "Chuy" Cervantes, a former sous chef at Cosme who has worked for Burns for the last two years. Cervantes will be joined by sous chef Michael Goessman (Luksus and Prune), and Max Blachman-Gentile (Roberta's, Emily, and Luksus) will bake the bread. The new menu sounds less New Nordic — though there's a sea buckthorn dessert, a nod to the bar's Scandinavian origins — and more bar food. Take the crispy chicken skin with Chiriboga blue and Crystal hot sauce ($12), country ham with a seaweed roll and pimento cheese ($16), a fast-food style burger ($12) with chipotle mayo, and a black-bean torta ($12).
13. Eat Sunday Supper, Staten Island–Style
Barano chef Albert Di Meglio hails from Staten Island, New York's fortress of Italian-American culture. Starting February 8, he'll start exploring the tradition of Sunday Suppers ($45 for the prix fixe) on Sunday and Wednesday. The dinner includes an antipasto board featuring warmed ricotta with olive oil and sea salt; dishes like a cast-iron ragu with meatballs, Calabrian sausage, and lamb spare ribs; and, for dessert, the restaurant's top-tier cannoli.
14. Have Your First Ice Cream Sandwich of the Year
Some might say it's too cold for ice cream, but those who know know that there's no such thing as "ice cream season." To that end, Mexican sweets queen Fany Gerson has introduced ice cream sandwiches ($9.50) at her West Village sugar shop. In the La Newyorkina shop, they're made with vanilla or chocolate conchas, the shell-shaped Mexican sweet bread, split open and stuffed with three scoops of ice cream (your choice), cajeta, and up to two toppings.