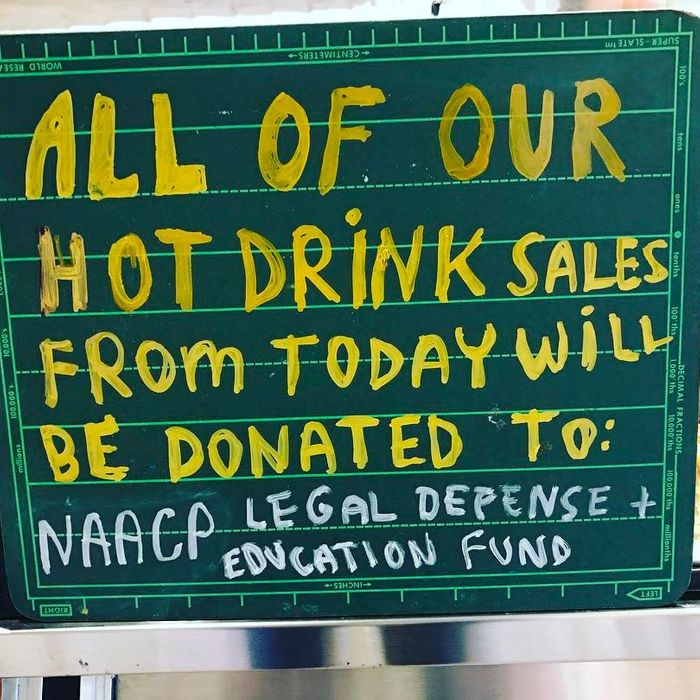 Use your coffee to support a cause.
Photo: Court Street Grocers/Instagram
Since his election, President Donald Trump has been met with a tsunami of grassroots opposition. Protests have occurred from Republican congressman Jason Chaffetz's Utah town hall to the streets of New York. Organizations like the ACLU have seen donations go into overdrive, while members of Congress have been so inundated with phone calls from constituents opposing, say, Betsy DeVos's nomination that they've been unreachable at times.
The country's restaurant community and workers, too, have responded. The Restaurant Opportunities Centers United and Presente.org have organized the Sanctuary Restaurants campaign, and this Thursday Hispanic immigrants working in Washington, D.C., restaurants and other industries plan to strike. Others are turning consumers' purchasing power into donations for organizations fighting for free speech and the rights of immigrants, refugees, transgender individuals, and more. Hundreds of cafés participated in a fundraising drive for the ACLU last weekend, and here in New York there are a host of restaurants donating to worthy causes. It doesn't replace action, but if you're going to eat out, here's where you can do it and help out a little in the process.
Nourish Kitchen + Table
In support of the ACLU, the West Village café Nourish Kitchen + Table has organized a dinner ($150) for February 16 at Ramscale Studio. They're partnering with local businesses and farms, including Sweet Syrian Refuge, Roberta's, Pino Prime Meats, and SOS Chefs, for a menu meant to celebrate the seven countries targeted by Trump's executive order on immigration. Along with the food, NYCLU executive director Donna Lieberman will speak and Sudanese-American singer Alsarah will perform.
Court Street Grocers
Every Friday indefinitely, the sandwich shop and grocer will donate all of their hot-beverage sales at their three locations in Carroll Gardens, Red Hook, and Soho to a nonprofit. The last two weeks, they've donated to the National Immigration Law Center and the NAACP Legal Defense and Education Fund, respectively. This week, they'll donate to the American Immigration Council.
Breaking Bread NYC
Created to benefit the Council on American-Islamic Relations, for a $10 donation Breaking Bread offers New Yorkers listings on restaurants affected by President Trump's executive order on immigration, as well as tours of restaurants in Muslim neighborhoods. (Restaurants are approached for inclusion.) It's all organized by pizza-nerd-king Scott Weiner, who has exhibited a charitable streak for years with his annual Slice Out Hunger fundraiser, and who hopes to expand the program through volunteer support.
La Newyorkina
Mexico City-born Fany Gerson, whose West Village shop is predominantly staffed by Hispanics, has created a special sorbert, Mi Corazón ($4.75 for one scoop, $6 for two). The profits benefit the Mexican American Legal Defense and Educational Fund, a leading nonprofit advocating for and protecting the civil rights of Latinos in the United States. Patterned after the Mexican flag, the sorbet has three flavors: hibiscus-berry, mezcal with lime, and cactus-pineapple.
Foster Sundry
Through February 17, Foster has collaborated with Brooklyn's Pilot Kombucha to offer an exclusive kombucha on draft, Pomegranate Rose, with all proceeds benefiting the Sylvia Rivera Law Project. The SRLP provides legal services to transgender, intersex, and gender-nonconforming people, work that's particularly relevant given the immediate indication that the Department of Juice under Secretary of Justice Jeff Sessions will step back from defending protections for transgender people.
Otto and Roberta's
For the fourth Otto O.G.S, Mario Batali's Otto will team up with Carlo Mirarchi's Roberta, with 25 percent of sales going to the ACLU. It's going down on February 20 starting at 9 p.m., and tickets are $10, not including drinks.
Nitecap
Every weekend since the election, the downtown spot has been donating proceeds from rotating cocktails to different organizations, including Planned Parenthood, CARA, and the After-School Corporation. This weekend, the bar will donate to 350, the climate-change-focused movement that has been fighting the Dakota Access Pipeline.
Grand Army
Until supplies run out, the Boerum Hill bar will sell a sparkling Clotilde Davenne Cremant de Bourgogne Rosé NV by the glass and bottle, with all proceeds going to Planned Parenthood. It's a double win, because the wine's importer Bonhomie is itself donating all proceeds from sales of the wine to Planned Parenthood as well.
Roman's
For all of February, the Fort Greene trattoria is running a special of penne all'arrabbiata ($24) — "angry pasta" made with penne donated by Bronx importer Gustiamo — with all proceeds given to Planned Parenthood.
Food Not Fear
There are still some tickets ($75) left to this dinner in support of the International Refugee Assistance Project. On February 15 at Egg, a cadre of talented chefs — Egg's Evan Hanczor, Franny's Ian Auger, La Vara's Alex Raij, Oxalis' Nico Russell, and White Gold Butchers' Erika Nakamura and Jocelyn Guest — will cook from 8 to 11 p.m. All proceeds will go to the IRAP, and there will be a silent auction.
Supercrown Coffee Roasters
While you get your maple latte, purchase a crown made by Feminist Killjoy Club in benefit of Brooklyn Community Services and other organizations working on behalf of vulnerable communities.
Colonie
The Brooklyn Heights spot will donate $2 from the sale of every glass and $10 per bottle of Syrah to White Helmets, a charity supporting Syrian refugees. Over in Dumbo, its sister restaurant, Gran Electrica, will donate $1 from the sale of every Margarita Electrica to the ACLU.
Insa
Starting at 11 p.m. on February 19, the Korean barbecue-and-karaoke palace will host a rager to assist the International Rescue Committee in its efforts to help refugees. Entry is free and so is karaoke, DJ Sasha Couture will be playing tunes, and there will be "Asian nachos" ($9) to go with the drinks. All proceeds will go towards the IRC.
Tapestry
Chef Suvir Saran will donate $5 from every order of his masala fried chicken ($28) to God's Love We Deliver — a New York City charity that provides meals for people too ill to shop or cook — as well as $5 from each plate of coconut chicken, saag paneer, party cauliflower, and Kabuli rice pilaf on "Indian Ruby Tuesdays." During its Meatless Mondays, he'll donate $5 from his greens and beans pasta, mujadarrah lentils and rice casserole, and falafel with shepherd salad to Services and Advocacy for GLBT Elders.

Hungry For Liberty
Haven's Kitchen will host Saveur's Stacy Adimando and Kristy Mucci for Hungry for Liberty, a dinner to benefit the ACLU. Admission is $5, with proceeds benefiting the ACLU, and there will be foods, baked goods, and wares from a lineup of all-female cooks, bakers, and producers.

This post will be updated with other bars, cafés, and restaurants that are donating.