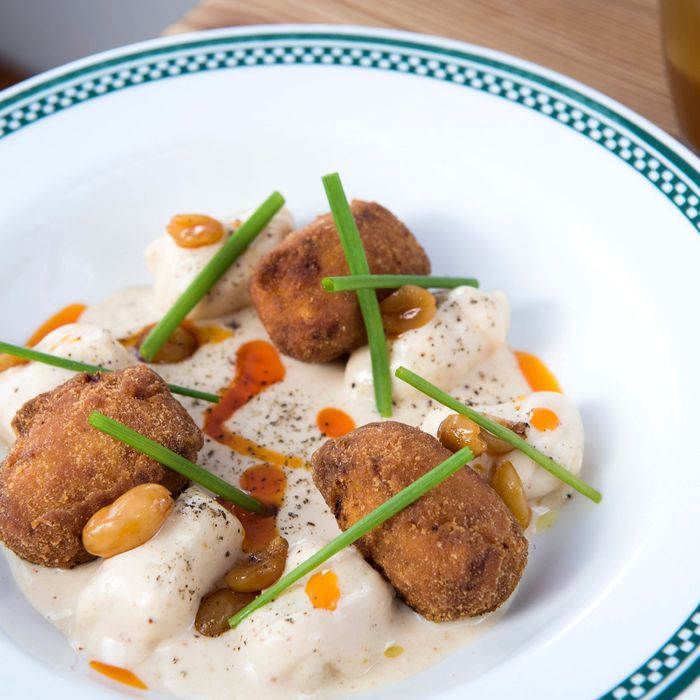 The dish is a nod to chef Adam Harvey's grandfather's fried chicken and mashed potatoes.
Photo: Liz Clayman
When you put a butcher shop and a cheese counter and a coffee shop and a restaurant into a single space, it's often best to focus on one thing at a time. Which is why A&E Supply Co., Gowanus's newest multi-hyphenate, has opened in stages since November. Over the last several months, partners Adam Harvey and Ennio Di Nino slowly unveiled the retail components, lunch, and a bar menu. Tonight, the entire operation will be running at full steam with the launch of dinner service, which is as meaty as you'd expect, considering the whole-animal-butcher-shop setting.
Here's what you'll find on the menu: beef tartare tonnato; a double cheeseburger with beef heart mixed into the grind, its bun basted with beef fat for good measure; a "steak o' the day"; and chicken-nugget gnocchi, which is more or less as it sounds — breaded-chicken-forcemeat nuggets interspersed with potato gnocchi in a roasted-garlic-buttermilk cream sauce. (Look for a smattering of southern-style boiled peanuts tossed in chile oil on that same plate.)
So what do you call this style of cuisine? "Shameless gastropub," says Harvey, who met Di Nino when they were both working at North End Grill. "In the pursuit of deliciousness, we'll do anything, no matter how slutty the food may be." And you can wash it all down with cocktails, wine, and local beers, including Genesee Cream Ale, which Harvey swears by both as a post-shift thirst quencher and for making beer-can chicken.