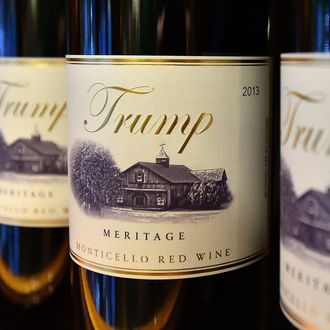 Trump bought the winery in 2008 as a real-estate investment.
Photo: Josh Edelson/AFP/Getty Images
Earlier this week, Wegmans became the latest company to face a backlash for carrying Trump-owned products. The supermarket chain sells five different Trump Winery wines at its ten stores in Virginia, where the vineyard is located, and a local chapter of the National Organization for Women called on its notoriously loyal fanbase to boycott Wegmans unless it agreed to remove the products from stores statewide. The company responded that it bases inventory "solely on how well [a product] sells," and welcomed shoppers to "demonstrate their convictions." Seeing that as an encouraging sign, a group called Stop Trump Wine materialized with a Twitter account and website, where visitors could pledge support, and news stories reported angry people were vowing to shop elsewhere. Boycotters probably felt things were looking pretty good.

Unfortunately for them, Trump supporters have fired back, and it's not a pretty sight. As the Richmond Times-Dispatch reports today:

A boycott of Trump Winery products at Wegmans has caused just the opposite effect: Five of the wine varieties have sold out at the two Richmond-area Wegmans stores.

"Both Midlothian and Short Pump (stores) have sold out all five of the Trump wines we carry," said Jo Natale, vice president of media relations for Wegmans. "They will be replenished when they are available, possibly three to four weeks."

The grocery retailer's eight other stores in Virginia also either have sold out of all or have sold out of some Trump Winery varieties, she said.
Hillary Clinton won Virginia by more than 5 percent, but the residents apparently love themselves some Trump wine. Local news channel WTVR reports that the winery, which is run by Eric Trump, is "the number five wine brand sold" at state-run ABC stores. And sales have actually more than doubled since Trump started running for president in 2015 — from 3,318 bottles that year, to 7,837 in 2016. An ABC rep adds that wines only get removed if they're underperforming, and that as of right now, Trump wines "meet the listing criteria and are not scheduled for delisting or removal from our sales inventory," in case those high sales numbers didn't make that clear.

Wegmans essentially came back and said the same thing after supporters gobbled up all its bottles — that performance is "our single measure for what stays on our shelves and what goes," and if people who "feel strongly" about Trump wine being a waste of shelf space, they need to show them a product "that's in greater demand."