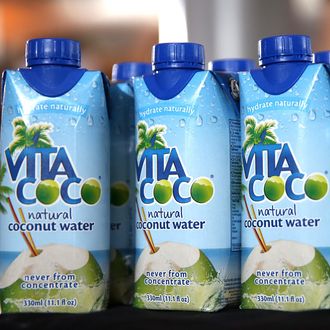 Just but one soldier in the Vita Coco coconut army.
Photo: Tim P. Whitby/Getty Images
America's coconut-water industry is about to crest a wild new milestone: Vita Coco, the brand with a near-monopoly in every corner store in the country, is headed for the triple-comma club. Bloomberg says the company, which already accounts for an insane 46 percent of the U.S. market, expects to reach, or at least come very close to making, a billion dollars in sales this year. Just for comparison, the most recent total revenue for Coca-Cola — a Fortune 500 company with 123,000 employees — was $44 billion.

Whether Vita Coco crests $1 billion hinges on "owning the coconut in different areas of the store," CEO Michael Kirban says. The brand is launching an organic coconut milk in March, and the potential for that could be huge — milk sales have fallen for the last five years, but plant-based alternatives are up 61 percent. The product will debut in Safeway supermarkets first, then gravitate to other retailers. The company is also ramping up its chilled-coconut-water line and adding coconut oil over on the cosmetics aisle, among "other products."

It's hard to imagine that the struggling soda industry doesn't regret its shortsightedness here. Big Soda tried giving consumers more bottled water, and sweetening soft drinks with real sugar or stevia, when it should've been draining the liquid from coconuts. Coke actually realized its error in 2013, when it bought Zico, the second-largest coconut-water maker. Its sales, though, are still barely a third of Vita Coco's.

Vita Coco, meanwhile, has taken investments from the Anheuser-Busch InBev families and Red Bull China's owner, and uses Dr Pepper as a distribution partner. One thing Bloomberg's profile makes clear is that Kirban is sort of obnoxiously a fan of this newfound success. He reminds the writer, Jennifer Kaplan, that Vita Coco is "probably the largest independently owned natural-beverage company in the world," meaning that business-world VIPs are "regularly" courting him in hopes of being able to invest. He expects to either sell the business or do an IPO once Vita Coco has fully infiltrated stores' pizza and toothpaste sections, or whatever their end goal is. What he apparently isn't doing, though, is leaving his coconut conglomerate to his kids. "I don't see this as a business I'm going to pass on to my children — they'd screw it up," he explains.