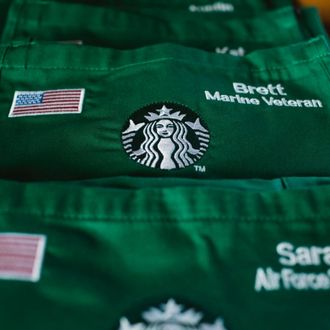 Vets say you can't miss them because they wear flags on their aprons.
Photo: Starbucks
Starbucks has rolled out a group of ex-military baristas to fire back at Trump supporters who continue making the fanciful claim that the chain doesn't care about jobless veterans. The claim has sort of become the #BoycottStarbucks crowd's default response to CEO Howard Schultz's news that they'll hire 10,000 refugees over the next five years. Even though Starbucks pointed out it's ahead of schedule with its plan to hire 10,000 veterans by 2020, they're demanding the chain help veterans instead. The group that released today's statement — Starbucks Armed Forces Network — has actually been around for ten years, and exists for no other purpose than to support the vets and their spouses employed by the company.
The group wanted to, in its words, officially correct the "false and inaccurate statements about Starbucks's commitment to hiring veterans":

We respect honest debate and the freedom of expression. Many of us served to protect that very right. Some of our brothers and sisters died protecting it. But to those who would suggest Starbucks is not committed to hiring veterans, we are here to say: check your facts, Starbucks is already there.
The group reminds critics that Starbucks has hired more than 8,800 veterans in less than four years, none of which "would have been possible without our boss's very personal commitment." Schultz has literally written a book called, For Love of Country: What Our Veterans Can Teach Us About Citizenship, Heroism, and Sacrifice, and his family foundation runs a program called Onward Veterans that he pledged $30 million to in 2014. At the time, he said it was important because he saw war vets "coming home to an American public that really doesn't understand, and never embraced, what these people have done."