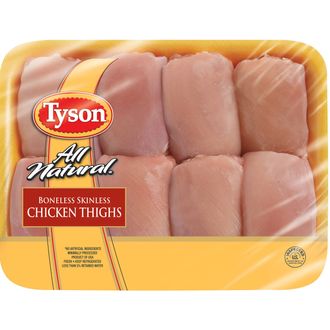 Tyson has refused to give any details about the subpoena.
America's largest meat producer says it's been served with a subpoena by federal agents who suspect the allegations that Big Chicken conspired to jack up prices might be true. A lawsuit filed last September by distributors accuses the major producers of colluding in an industrywide scheme for eight years — Tyson, Pilgrim's Pride, Perdue Farms, Koch Foods, Sanderson Farms, and Simmons. It claims they drove up broiler prices by as much as 50 percent (even as feed costs fell) by limiting production. It alleges the poultry giants culled birds and even purposefully reduced breeder flocks to create artificial demand.
All the companies deny wrongdoing, but Tyson dropped the disclosure bomb in its quarterly filing Monday, explaining it's now "cooperating with" an investigation by the Feds. It says it received the subpoena on January 20, and the admission is effectively the first sign that Feds are probing the allegations.

The producers have banded together to file a joint motion to dismiss the suit. Tyson in particular has continued raking in excellent profits even amid the dustup, posting record numbers last quarter (it "capitalized on favorable market conditions," to quote CEO Tom Hayes). Producers' biggest setback so far, which might be seen as a bad omen, was when the so-called Georgia Dock index — the widely used pricing benchmark whose validity the lawsuit questions — was discontinued in December. Georgia's Department of Agriculture, the agency that used to run the index, has started collecting data for a new pricing measure, but cites "a lack of contributions" for why they've had to delay publishing it.