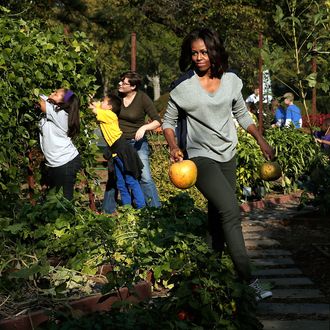 She can rest a little easier tonight.
Photo: Win McNamee/Getty Images
Since November, there's been a lot of talk about what terrible fate will likely befall the White House vegetable garden. It was the centerpiece of Michelle Obama's campaign to improve America's awful eating habits, so the assumption was that it didn't stand a chance, even after Michelle reinforced the 1,700-square-foot area with "cement, stone, and steel" before the Obamas left. "I guarantee you they'll dig up Michelle's garden," Obama predicted on the "Tom Joyner Morning Show." "You think I'm joking?"
Well, hats off to the new First Lady. In a statement released to CNN, Melania Trump says the garden is staying put:

The First Lady has a deep personal commitment to her role as caretaker and nurturer, beginning with her family. She believes there is a connection between a child's mind and places of calm and beauty to be used as a tool for us all. As a mother and as the First Lady of this country, Mrs. Trump is committed to the preservation and continuation of the White House Gardens, specifically the First Lady's Kitchen Garden and the Rose Garden.
Hillary Clinton promised to keep the garden if she moved in, but this is the first time the Trumps have made a verbal commitment one way or the other. The Washington Post tried to get the president himself to publicly note his wife's promise, but a spokesperson didn't respond.