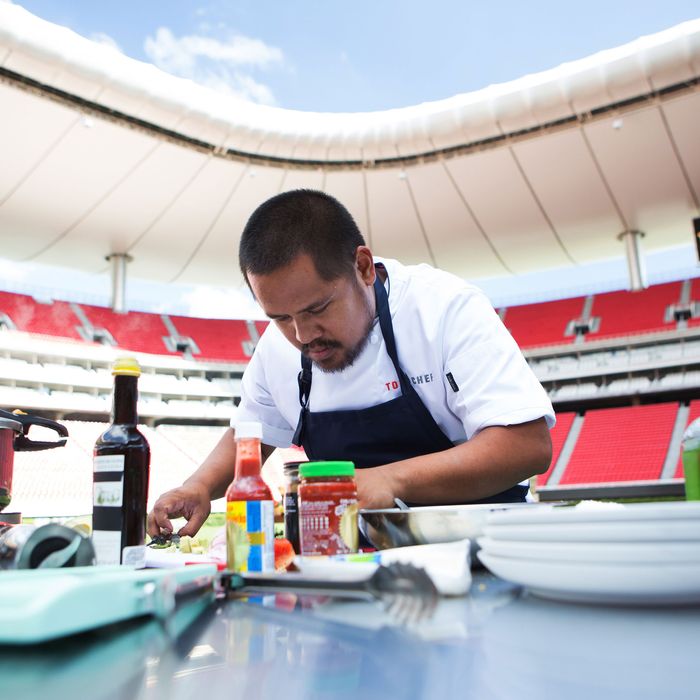 Goal!
Photo: Paul Cheney/Bravo
How far we've come! Once, there were 16 innocent hopefuls in Charleston, South Carolina, and now we are down to three hardened contenders in Guadalajara. "I confronted so many demons," reflects John, who explains that he is here to win Top Chef. "I've grown so much," agrees Shirley, who knows, deep down, that she can win Top Chef. "This season, I cooked from the heart," says Sheldon, who also plans to win Top Chef.
There is a little time for our finalists to settle into their sweet Guadalajaran digs, because it's time to suit up and ship out to their first challenge at Chivas Stadium, home of Guadalajara's soccer team and site of the final Quickfire Challenge.
But before they can get the rules of the rumble, Padma and Tom have big news: The winner of "Last Chance Kitchen" is Brooke! I have missed her, during the 4.925 seconds she was not on this show. "As painful as it is to say, I appreciated getting eliminated," Brooke announces, dewy with victory. "I have nothing to lose. I am ready to go." That's what Thelma and Louise thought! (Then they drove off a cliff.) In response, Shirley waves vigorously at Brooke's face on the megatron.
With everyone finally assembled on the field, Padma and local guest-judge, and noted Chivas fan, Francisco Ruano lay out the plan: Since Chivas means goat, and goat is the Chivas mascot, everyone will prepare a dish showcasing — wait for it — goat! To sweeten the deal, the winner gets $10,000 from our old pals at Hidden Valley Ranch plus an "important advantage" in the next challenge, to be explained later. Also, they have 45 minutes. Go!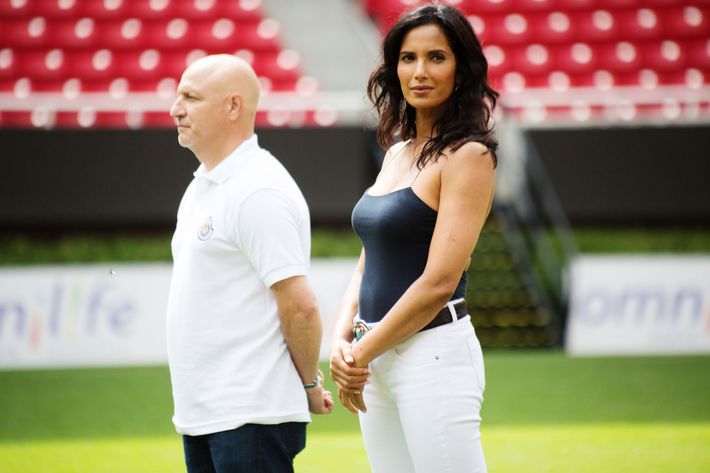 Do you know how hard it is to cook goat in 45 minutes? Me neither! Apparently, it is very hard. Normally, it takes Shirley two days to cook a goat! Given her current constraints, though, she's going to try pressure cooking it for some goaty soup noodles, but the twist is that she's going to make the noodles with a tortilla press. Think global, act local, that's what I always say. Sheldon knows all about goat, so he's braising the fast-cooking cheeks for a Filipino-style goat stew, while Brooke is doing goat ribs with chamomile and tropical fruit. John has actually done some reading on the local food scene, and as a result of his studies, he will be constructing a braised-goat torta with two sauces.
Honestly, Francisco Ruano was a little nervous about Brooke's goat-and-fruit combo, but he ended up "amazed in a positive way." Tom likes Sheldon's goat cheeks with ancho chile, and Francisco agrees that the contrast between the stew and the fresh salsa indeed captures the Guadalajara spirit. If only the same could be said of Shirley's noodles with huitlacoche and radish! Unfortunately, Francisco found them lacking in the garnish department. John, meanwhile, should have added salt to his tortas. Also, they were too chewy. Also, the bread-to-meat ratio was off. In general, most things would have been better if they were different, which is also my personal philosophy.
Francisco does the honors: The winner is Brooke. "Goooooaaaaaaal!" cheers Brooke, athletically. Shirley is beginning to wonder if maybe she wasn't a little too enthusiastic about Brooke's return.
After hustling Francisco Ruano off into the middle distance, Padma offers up a quick mini-lecture on the history of tequila, before introducing the night's Elimination Challenge (the theme is tequila). Patrón is hosting an exclusive party for 100 of their finest distillery workers, and it's up to each chef to make a perfectly balanced dish, and then artfully pair it with their own signature margarita (featuring Patrón). If only Katsuji were here!
Oh, wait. Katsuji is here! So are recently fallen soldiers Emily, Sylva, and Casey, who have been brought back to serve as sous-chefs-slash-mixologists. Since she won the Quickfire, Brooke gets to choose first. She picks Casey. And since she won the Quickfire, she also gets to assign sous-chefs to everyone else. John pleads for mercy, but mercy is not forthcoming: Sheldon gets Emily, Shirley gets Sylva, and John — oh John, poor John — gets his old nemesis, Katsuji. "I have no problem with this," says John, hugging Katsuji. "I do," says Katsuji, not hugging John. Isn't it nice to see old friends?
In order to teach them the ways of tequila, Tom ships everyone off to the Patrón Hacienda, where they learn about tequila and partake in some of the heaviest product placement this show has ever seen. Here is a fun drinking game: drink every time anyone says Patrón. (Drink.)
Just this morning, Brooke had the best watermelon of her life, so she's inspired to use watermelon as the base of her dish, and do a cold-tuna, ceviche-style salad, only the grocery store doesn't have any good tuna, so she's making it with coconuts. John was "truly inspired" by the Patrón workers, so he's making caldo con pollo, a "working man's dish," and pairing it with a straight-up working man's margarita with a chamoy-encrusted rim. "As much as I hate you, I'm not going to sabotage you in this challenge," says Katsuji. "I'm a little worried that Katsuji could sabotage me in this challenge," confesses John. Sheldon settles on an octopus kinilaw and a matching coconut-guava margarita, while Shirley's working on charred skirt steak with pickled cactus and a refreshing cucumber-honeydew marg medley.
It's pretty smooth sailing back at the kitchen. Shirley is briefly worried, because she asked Sylva to grab a few more bottles of agave for her marinade, and he accidentally grabbed a few more bottles of Mexican vanilla, but she decides to go with it. "Maybe a touch of vanilla doesn't hurt," she reasons. Maybe? Sheldon is panicked because he thinks he may have overcooked his octopus. Brooke is concerned because John and Katsuji seem to be getting along. "We're not bickering at all!" marvels John. "Fuck you," counters Katsuji. And we're back in business!
And so 100 Patrón employees file in to the cheerful strains of mariachi. Guest-judges Richard Blais and Ray Garcia make a beeline for Sheldon's station to harass him about his sedimentary margarita. "I mean, are we supposed to stir this?" Ray wonders. "It looks kind of like the bottom of a fish tank," Richard quips. Tough crowd!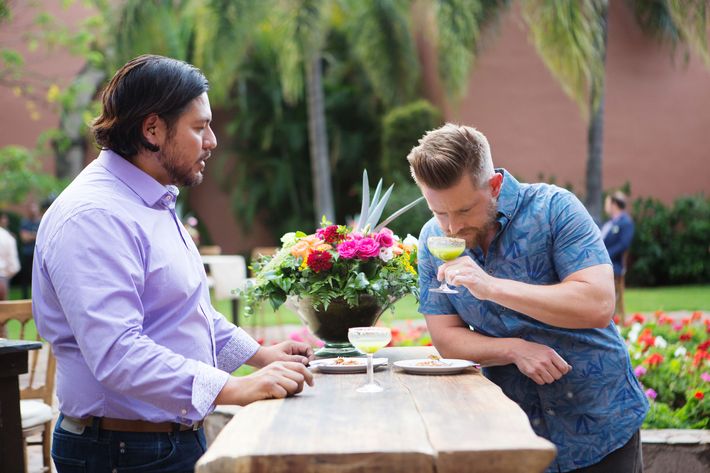 Everyone agrees the vanilla in Shirley's charred beef is deeply weird, and Tom cannot abide the swampy texture of her cucumber-honeydew margarita. "It's like, chewy," he complains. In Shirley's defense, her salsa molcajete is so good that Richard Blais would bathe in it. John's working man's caldo verde con pollo is generally underwhelming, though his minimalist margarita makes a powerful statement. (The statement is alcohol.) Padma, meanwhile, cannot get enough of Brooke's chilled coconut-watermelon melange with avocado soup. Tom wishes her hibiscus marg had been just a little stronger, frankly. I, too, could go for a margarita right about now, but nobody has offered.
At Judges' Table, Richard Blais wastes no time getting into it, and accuses Brooke of playing it safe with a cold soup. "There was a lot of work in that soup," Brooke says, with the icy stare of a woman with nothing to lose. Padma interjects to say she loved everything about it, and Tom chimes in to say he liked the textures. That is the thing about Tom: He's a real textures guy. One thing Tom did not like was John's straight-tequila margarita."The high alcohol content completely washed out the soup!" he exclaims. John tries to explain that he is a man of the people, and that humble workers came from all over the hacienda to tell him how they loved his cocktail, because it showed respect for their tequila, and by extension, them. Tom sighs profoundly. Sheldon's dish was impressive in execution, even if it was too sweet; and his cocktail was tasty, even if it was basically a guava salad with tequila on it. "I wanted to make it rustic," Sheldon smiles, half-heartedly. Shirley also tries to frame her vanilla beef as a "beautiful accident that happened," but no one's buying it, except maybe Shirley. Tom didn't like her swamp-arita, either. Is there any way to get a decent drink around here?
For a change of pace, the winner is Brooke. "I haven't made it quite to where I want to be yet, but I'm on my way," she says, before accepting a special crystal bottle of Patrón that's apparently worth $7,500. Drink!
"I'm not ready to go home," John groans, which can mean only one thing: John is going home. And to think, it isn't even Katsuji's fault! "I promised myself whatever the decisions were, I was going to take it like a man, with grace and dignity," John says softly, with grace and dignity. "I'm proud of what I've done this season, and how far I've come." And the thing is, I am proud of him, too.