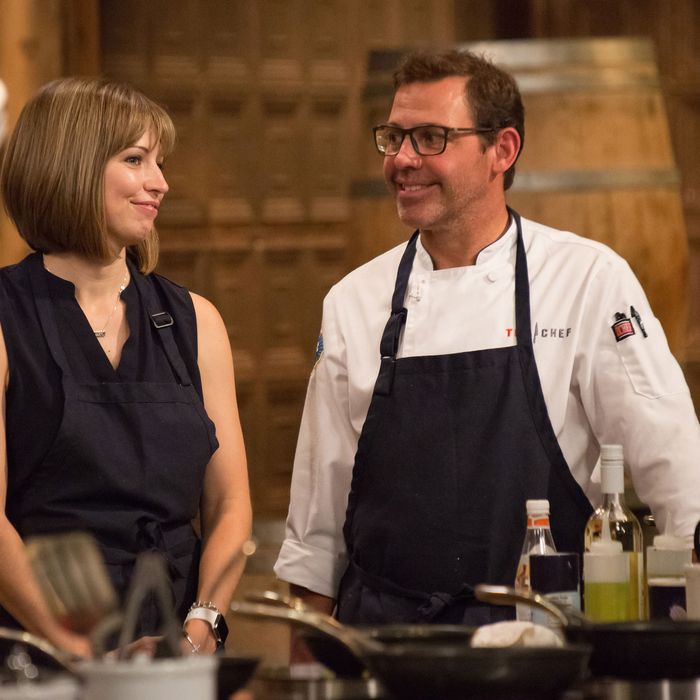 Cute.
Photo: Paul Cheney/Bravo
We are down to the final four, and everyone is having a lot of feelings about it. "I wasn't very sure I was going to make it this far," confesses dumpling-burger champion Shirley. John is taking this opportunity to meditate on where he came from, and how far he has gone. "I'm not crying," he sniffles, a tear rolling slowly down his cheek. And Brooke is as sentimental as ever: "I just want to get this last challenge done."
Let's do it! Padma and guest-judge Michael Solomonov will explain. "As chefs, everything that you do requires constant communication," says Michael Solomonov, gravely outlining the theme of tonight's Quickfire Challenge (it is communication). For the challenge, the chefs will all be paired with a very special mystery guest, only they won't be able to see the mystery guest, because they'll be separated by a partition. Then, everyone makes a dish with whatever ingredients are there, while simultaneously teaching their mystery partner how to make the exact same dish. And the stakes are higher than ever, because the winner gets $10,000 and a state-of-the-art sous-vide machine!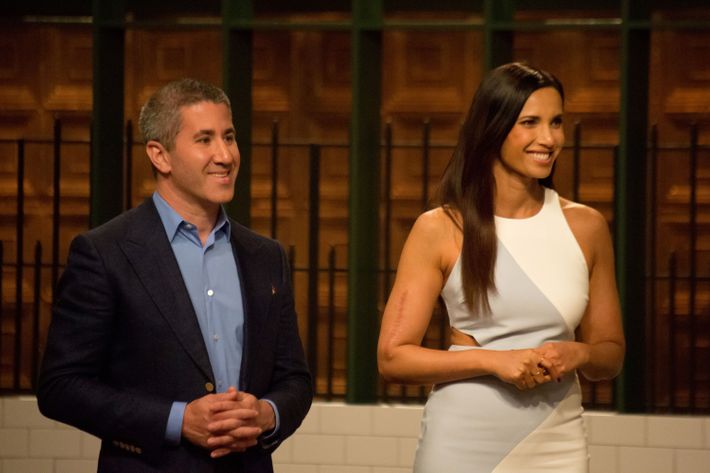 After donning their blindfolds — Padma is really into blindfolds this year — it's time for the chefs to meet their mysteries! "Is it going to be a six-year-old?" wonders John. "Is it going to be a master chef? I have no idea!" What I love about John is that he is a man of perpetual surprise. And John's special guest is … his wife! Sheldon's guest is his wife! Shirley's is her husband! Brooke is paired with her secret, cheerful sister! It's a whole family reunion up in here, and no one has any idea. Just like Jerry Springer!
"I think I'm in trouble!" yelps Shirley. "This person doesn't even know how to dice an onion!" (She has been married to this person for ten years.) John is blissfully confused. John: "Are you going to share your name with me?" John's wife: "No." Sheldon, on the other hand, instantly identifies his wife, on account of the fact that they are married. Did you know they met interning at Disney World? It's true. Brooke still doesn't know who her sister is.
"Knowing the skill set of my wife, I'm going to keep this super-simple," says Sheldon, explaining that he and Janice are doing six-minute eggs with sautéed onion, charred onion, and brown-butter grapefruit sauce. You know, super-simple. Across the kitchen, Brooke is trying to give her sister instructions for your basic poached egg over sautéed bacon, corn, and collard greens, only she can't, because of Shirley's singular volume. "Shhh!" hisses Brooke. "PUT FOUR DASHES OF HOT SAUCE INTO THE CORN MIXTURE," bellows Shirley.
John, meanwhile, is extremely worried about his mystery wife's ability to cook scallops, because there's nothing worse than a pan-poached scallop. Nothing.
And … time! Padma asks John if he has any guesses who he cooked with, and John reiterates that he could not possibly even begin to speculate. Surprise! It's still his wife, Tracey. Her version of their scallop extravaganza is missing some sauce, but otherwise looks identical to John's version, except slightly worse. A success! Brooke and her sister's poached-egg bowls are also the same! Padma and Michael Solomonov are very impressed.
Shirley and her husband, Jimmy, did soft-scrambled eggs with brown butter, corn, and crab ragout, which is very beige, but like, in a comforting way. "Wow, these are really close!" offers Michael Solomonov. (Padma thought Jimmy's was actually better, but whatever.) There's no revelation over on Team Sheldon, but everyone agrees their dishes are also similarly similar, and Michael really loves that subtle burst of citrus. To celebrate their excellent communication skills, Sheldon and Janice kiss deeply. And they're the winners! "Let's go to Vegas!" suggests Sheldon. "No," suggests Janice.
There's not even time for a segue, that's how big tonight's Elimination Challenge is. "Earning recognition from the James Beard Foundation is one of the highest honors for a chef," Padma intones, and to help underscore this point, she has brought renowned tunic-wearer Mary Sue Milliken, who won her first James Beard Award before there even were James Beard awards. Shirley's husband beams. Shirley's husband is the real MVP of the night.
Anyway, for their final Elimination Challenge, the chefs will create a dish representing their journeys on Top Chef Charleston, and the winner will get to cook it at the James Beard House in NYC. (All I'll say is, it's no sous-vide machine.)
Being in Charleston taught Sheldon how much he loves Hawaii, so he's going to make chow fun, but the twist is that he's going to use Charleston ingredients, like Carolina Gold rice and okra. (Tom hates okra.) Shirley takes a similar tact, fusing Chinese cooking with Charleston ingredients to make an oil-poached grouper. John likes his wife, so he's revisiting scallops. Brooke will replay her greatest hits of the season, because she is a literal thinker. "I have trouble pulling inspiration from abstract ideas," she mopes. Accordingly, she is glumly braising pork shoulder with cola, and then somehow incorporating radishes.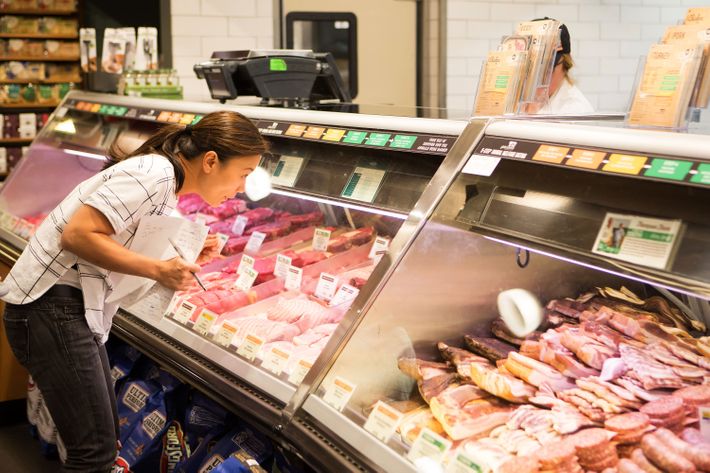 A brief interlude: back at the ranch, Padma has whipped up a little something for a casual dinner party. It is spicy kumquat chutney, chicken, and Padma-brand frozen rice, and everyone agrees it is very good, especially Brooke's sister.
And it's cook day! "Let's do this," says Sheldon. John is hard at work on his sofrito-crusted scallops. "My sofrito takes a little bit of technique," he begins, outlining in great detail his patented sofrito technique. The trick is that you never, ever take the skin off the peppers."This is the meal that could or couldn't get me to the finale," reflects Brooke, sous viding her cola-steeped tenderloin. Out in the main dining room, Padma and all of her best James Beard-award-winning friends take their seats.
"I'm hoping that the simplicity is enough for the judges," says John, who is, as always, anxious about his scallops. Luckily, the judges all praise his sofrito-scallops-with-leek sea broth, inspired by his wife, the ocean, and Edna Lewis. A classic triumvirate! Tom thinks John captured the ocean. Tom also thinks he really should have peeled those peppers.
Shirley's up next, with oil-poached grouper served in meat and bone, and "herbal tea" consommé with collards and cracklings. She is at peace with it all, because she isn't cooking for the judges, anyway: She's cooking for herself, and her grandparents, and everyone who has ever supported her. Conveniently, though, the judges also universally love it.
Brooke's coke-braised pork with radishes and egg yolks didn't stay together like she'd hoped, but there's nothing she can do about it. I understand. That is also how I feel, but about life.
On the bright side, Mary Sue Milliken loves the radishes and the radish greens, and Gail thinks the whole shebang is "texturally really stunning." Now for the bad news! It was too sweet, too literal, and Sean Brock thinks cooking it sous vide was misguided. Michael Solomonov says nothing, probably because he's the only one in a tuxedo. Why doesn't anyone tell him anything?
Finally, it is time for a grand reveal of Sheldon's noodles — which required much hemming and hawing on Sheldon's behalf — and they are … perfect. Typical Sheldon. "First of all, this is insanely good," says Sean Brock, digging into his Carolina Gold-rice chow fun with grilled pork belly, okra, annatto seed, and turkey broth. In fact, it is so good that Michael Solomonov is willing to break his apparent vow of silence.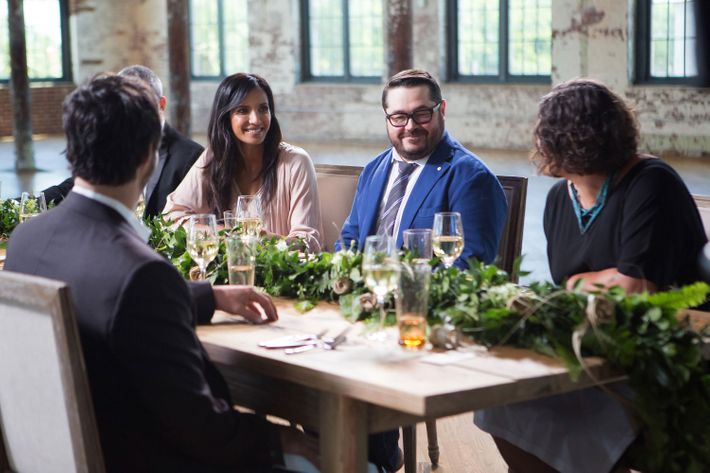 While Sean Brock says everything was "insanely delicious," it's called Judges' Table for a reason, and the top-two chefs of the night are Shirley and Sheldon. "I'm just excited that I get to continue on," gulps Sheldon. "Being humble is great," Tom offers, "but at some point, you're going to take your place among America's greatest chefs." I am not going to lie to you here: like Shirley, I wept. Sean announces the obvious: The winner is Sheldon. He's going to the finale in Mexico! Shirley is also going to the finale in Mexico!
The real question is: Who will not go to Mexico? By Padma's estimation, there is one slot left, but also two people. John didn't peel his peppers, and they were bitter. (Point.) Brooke shouldn't have sous vided tenderloin (Counterpoint.) "There're really no losers here," says Tom, inaccurately. "There's just one person that's … not moving on." And that person is Brooke.
Brooke is devastated. "I was so close once before," she chokes. "And I've grown a lot, as a person and as a chef." And yet, here she is, banished to duke it out in the online-only hinterlands of "Last Chance Kitchen." But LCK winners have won it all before, as Brooke knows all too well. And when she disappears into the middle distance, there is still some fight in her eyes.