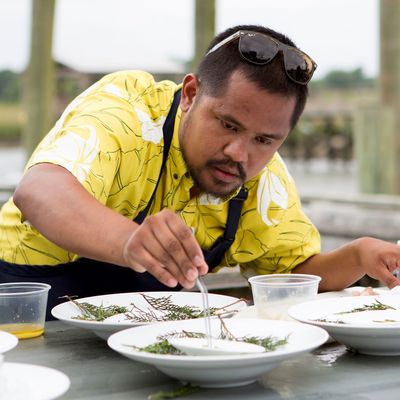 The tweezer game is strong.
Photo: Paul Cheney/Bravo
Whew! What a week it has been: American democracy is crumbling before our very eyes, and we still don't know who is going to win Top Chef! "There's six people left, and we're all heavy contenders," groans Brooke. "Just don't suck!" advises resident life coach John. Words to live by.
Sylva is now the only rookie left in Charleston, which is a testament to Sylva's talent and also to the inherent design flaw in this competition. "It's not like there's a target on my back!" he chuckles, ominously.
And here comes Tom, waltzing into the "stew room" in a blazer like he owns the place. (Did you remember it was called the "stew room"? I am shocked every time.) Since the chefs have all been working so hard, Tom's got a little treat for everyone: They're going boating! Brooke's bad day is just getting worse, because there is nothing Brooke hates more than boats. "I'm terrified of vomit," Brooke says, perhaps even more ominously.
Tom introduces everyone to grizzled Captain Tommy, before announcing the day's high-seas adventure. Shrimping! Like a beacon in a jumpsuit, Padma awaits dockside for a post-shrimping Quickfire Challenge. The theme is: shrimp. In honor of everyone's favorite ocean insect, everyone gets 30 minutes to create an original dish. But the bouillabaisse thickens! It's a Sudden Death Quickfire, which means that the three chefs with the worst dishes will have to fight for what's left of their lives in a high-stakes cook off. "There's no way I'm gonna go home now," declares John, hoarding a pile of limes. "No. Way."
John will make what he calls "seafood salad in the style of ceviche," and it's going to be very spicy. Brooke simmers shrimp heads for clarified shrimp butter with sea beans. Sheldon won a similar dock challenge on Season 10, so making literally the same thing, but with roe shrimp and sea beans. Casey goes with a pineapple-and-red-curry thing with sea beans to prove she can "punch you in the face." Shirley is woozy from her special pills, so she focuses on figuring out how immersion blenders work. I am focused on what a "sea bean" is. Wikipedia suggests it's complicated.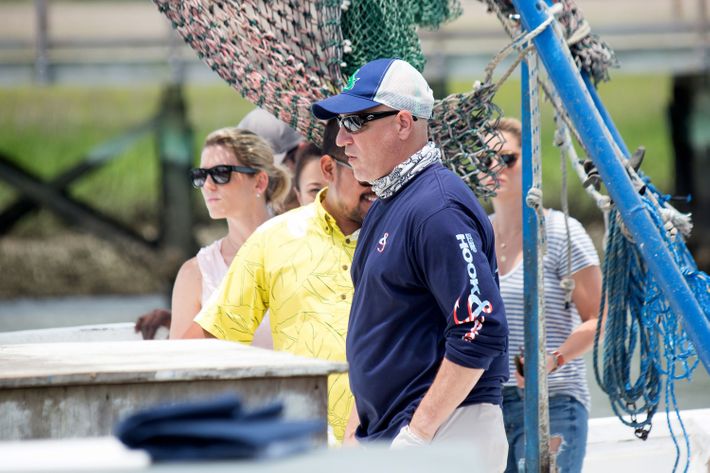 Gathering their flock, Tom and Padma announce the verdict: The winner is Sheldon, for his smoked-pine shrimp with sea beans! (Everyone is really into sea beans.) "I thought it was really original," says Tom. Arguably, it was not original, because he made it before, but memory is short. Brooke's clarified shrimp-head butter and John's not-ceviche also get a pass, which leaves Casey, Sylva, and loopy Shirley to duke it out on bottom. Their challenge: make something using the bycatch from shrimping. Convenient!
Casey attacks a pile of squid, which she'll serve in earthy mushroom soy broth with fennel; Brooke comes back to life to say that's an excellent idea. The most Shirley can handle in her drugged-out haze is calamari, so she's grilling that with chili-garlic broth and even more fennel, while Sylva makes semi-raw redfish paired with tarragon butter and cabbage. In an unprecedented turn of events, Tom loves it all! Shirley's calamari was "full of flavor," Casey's squid was an "umami bomb," and Sylva's redfish proved that subtlety is tasty, too. "It's really hard to find mistakes," says Padma, sadly, but somehow, she will manage: The loser is Casey. Please pack your knives and go.
"It's time to have some fun with your food," chirps Padma, Queen of the Segue. And who better to help than guest judge and legendary Cronut creator, chef Dominique Ansel! For the elimination challenge, the chefs will serve brunch to an untold number of Charleston's most fashionable hat ladies. But not just any brunch, oh non, non, non! For tonight's Elimination Challenge, everyone has to invent a new mashup brunch dish that combines breakfast foods with lunch foods. Tom, for example, is quite proud of his foiegraffles (guess). Frenchly, Dominique tells everyone it is very important to be créatif.
Are you done mourning? Good. So is Padma.
"Being told to be creative is like being told to be articulate!" John complains. "It's not easy."
After the obligatory Whole Foods trip, everyone hops in their matching SUVs and heads to wherever the hat ladies are. Since they only have two hours total, John decides his original idea, poached eggs, needs to be simplified: "I would rather poke my eye out with a stick than poach 100 eggs," he explains, sagely. "You should poach eggs," Sheldon retorts. I have never loved him more. Shirley unveils her creative brunch dish: It's a potsticker with cheeseburger filling!
Sheldon's creative hybrid is chicken and waffles, but the original twist is that he's going to make the waffles out of chicken, and then use regular frozen waffles as a crumble topping. "Like half the challenge is opening bags!" he moans. Sheldon means the challenge of this competition, but I find it is also true for life.
Tom and Dominique swing by the kitchen for a traditional mosey, and it is safe to say that things are not going well. Dominique asks Sylva if he feels "confident" about his egg-and-arctic-char surprise, and Sylva says he feels "confident that there's a lot of technique in it," which is not a ringing endorsement on either side. Brooke tries to explain that her play on a yogurt parfait is creative because of the way she's serving it, which is in cups made of yogurt and filled with secret hibiscus broth. "It will be a nice surprise for people that they didn't expect," says Brooke. "Okay" says Tom. Behind them, John sets fire to something.
And the hats come marching in! "I was a little bit worried about wearing a hat," muses Gail, bedecked in a fascinator. "But when you're in a room filled with fantastic hats, it kind of feels good."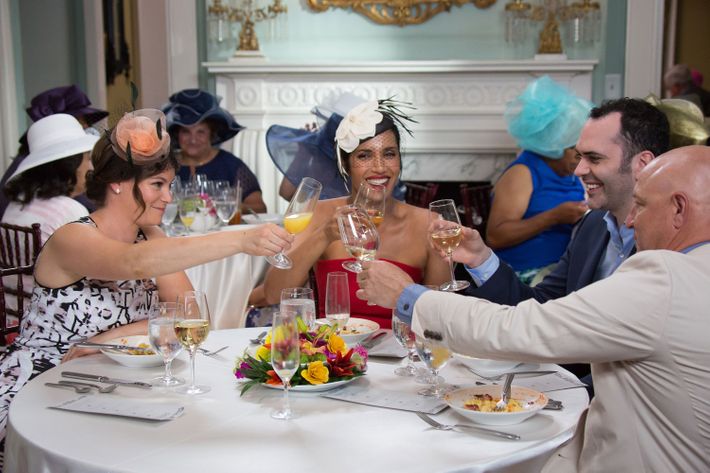 As the food comes out, the judges dig into Shirley's cheeseburger dumplings with bacon-tomato jam. An instant hit, obviously. Dominique Ansel: "It's very unusual to have cheese inside a dumpling. It makes it very special." Tom agrees that it is indeed a dumpling combined with a cheeseburger.
Big news! Sylva's dish is scrambled eggs now. Unfortunately, he still has to call it a frittata. "Why is this a frittata?" Tom demands. "A frittata is baked!" Sylva tries to explain how it's a pan frittata, and Tom says it's obvious he was struggling in the kitchen, and Dominique Ansel, generous soul that he is, breaks in to say he loved the fish. Buy a Cronut — this guy's the best.
Brooke's matcha-chia yogurt cups don't fare much better, since they didn't work: They were supposed to be filled with hibiscus-strawberry sauce, and instead they are formless blobs floating in a pool of blood. "I think it's an interesting dish," Dominique offers. "I don't believe it is the most creative one."
"I think I've made a good bowl of octopus and scrambled eggs," John muses. You know who does not think that? The judges. "What's your favorite part of hash?" Tom wonders. "I just … like it all together … in a bowl?" John offers. No. The best part of hash is crispiness. It is like I have to do everything on this show myself. Tom confirms that crispiness is indeed the best, and Dominique nods. Gail complains there wasn't enough kimchi, which seems like a minor quibble at this point. Thankfully, Sheldon redeems the hat brunch somewhat, because his Korean fried-waffle chicken with seaweed butter is "cravable."
"It's savory, it's sweet, it's a little bit of spice, it's delicious!" raves Dominique. "This is by far my favorite," drawls a large green hat.
Tom kicks off Judges Table by expressing his general disappointment in everyone for everything. There weren't even any puns! Shirley wins, for "coming very close" to true créativité. Since it's hard to argue with a chi-waffle, that leaves Brooke, John, and Sylva as the prospective losers. The judges cannot decide which is worse: A bad yogurt parfait or a sad pile of eggs with a fish on it. Padma is enraged by the yogurt parfait, but Tom does not see how it is possible to excuse Sylva's ill-fated eggs. In the end, Tom wins, as he always does, and Sylva is sent packing. "It's really devastating," says Sylva, speaking for both of us.