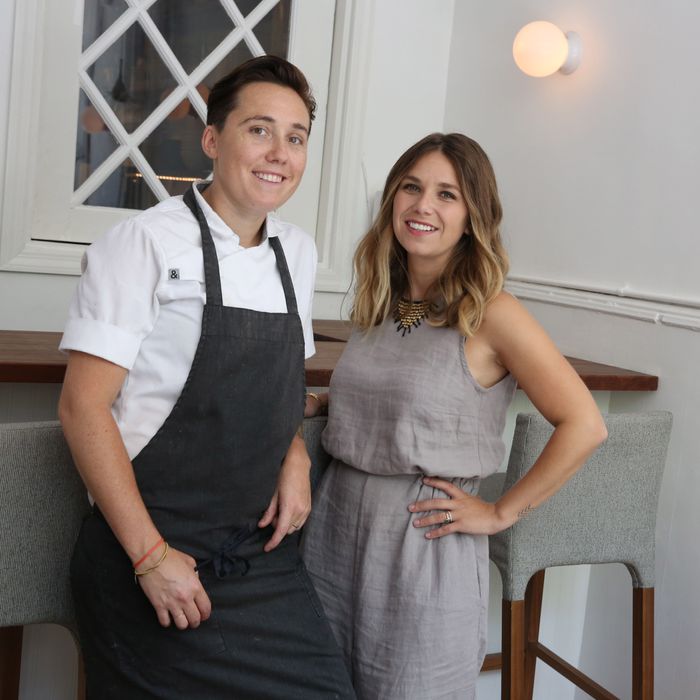 "A lot of people just look at us like we have ten heads."
Photo: © Michael Halsband
These days, restaurants close in New York because a landlord spikes the rent, costs become prohibitively expensive, the neighborhood gets too competitive, or customers simply stop coming. Not Take Root — a tiny, one-of-a-kind restaurant in Carroll Gardens that has 12 seats, one Michelin star, and only two staffers: chef Elise Kornack and her wife, Anna Hieronimus. On March 17, they will permanently close their four-year-old restaurant, but it's a decision that they've made from a position of strength — business is better than ever. So why is now the time to say good-bye?
"It's been a long time coming," Kornack explains. "When we first opened, we never had set in stone how long we wanted to continue the project. Anna and I both like to let things unfold, and when we get a sign from the universe, we take that and run with it. We were lucky enough to have an upstate house fall in place the same time that our lease was up here, so everything just fell into place." Hieronimus adds: "We feel that the project is over — there's no way to continue to grow."
Chefs declaring themselves as artists is slightly controversial, but Take Root truly blurs the line between art project and restaurant (Kornack studied art in college). Not only does Kornack cook the entire $120 tasting menu herself in a kitchen that she considers a studio, but the way she and Hieronimus operate the restaurant — a single seating, three nights a week — makes dinner feel like an intimate performance that's much warmer than a traditional fine-dining experience.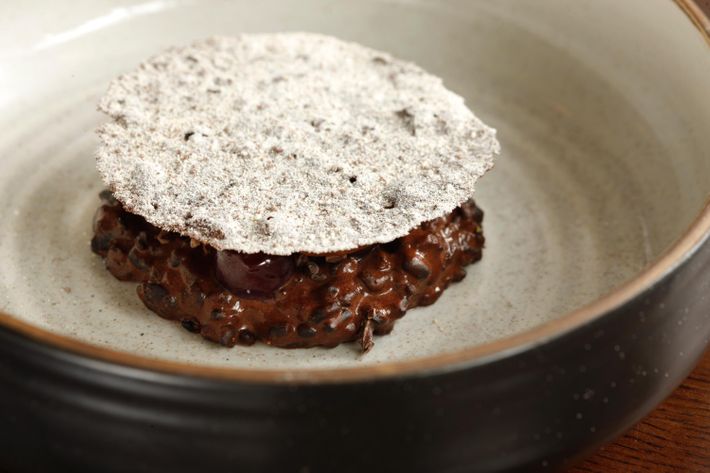 Kornack and Hieronimus have always defined success by their ability to fill their seats — which they do every night they're open — but they've also received countless accolades: glowing reviews, that Michelin star, and, just yesterday, a semifinalist nod from the James Beard Foundation. Late food writer Josh Ozersky first brought them national attention when he included Take Root in his "Best New Restaurants" feature for Esquire in 2014 — and he also gave them enduring advice. "He always said that you have to go out on top," Kornack says. "When you feel like you're doing your best, when your space looks the best, and your food tastes the best, that's when you should stop." After closing temporarily and renovating the space in fall of 2015, they've reached that point. "In New York, it's very foreign to hear somebody reach success and then stop," Kornack continues. "A lot of people just look at us like we have ten heads."
Hieronimus says they also want to "breathe some fresh air upstate and reestablish their personal relationship" — working with a partner is hard enough, let alone working only together. "It feels like your relationship is moving seven times faster, because you're learning things about each other on a daily basis that you probably wouldn't learn for a long time," Kornack says. "I'm very grateful because we've grown so close so fast. But I'm not the easiest person to work with, and my ambition and my drive can sometimes come across as harsh. I don't want my wife to be privy to that part of my personality all the time."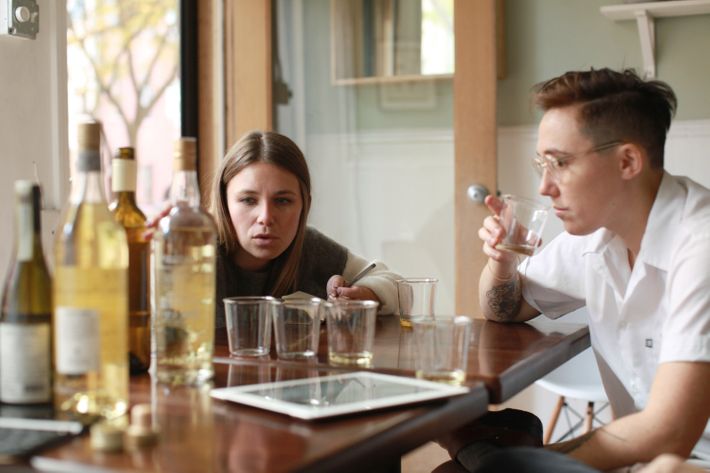 Another consequence of Take Root's structure is they end up absorbing the energy in the small space, for better or worse. "The hardest part has been dealing with people that come in, and for whatever reason, do not have a nice frame of mind, and it bleeds out into their dining experience," Hieronimus says. "And then it bleeds into the way we communicate during service, and our personal life after service is over." They say they've had countless uncomfortable encounters with customers who apparently don't understand the nature of their restaurant or their relationship. "Since we're providing a service, they feel they can treat us like servants," Hieronimus says, with Kornack adding, "When you're working with somebody you love and they're mistreated, it's incredibly difficult, if not impossible, to remain professional."
Kornack and Hieronimus have always been open and clear about their marriage, and, sadly, they believe this contributed to the aforementioned negativity. "We are gay women and we understand what treatment feels like when we feel marginalized," Kornack says. "I can confidently say that there have been a handful of experiences that very much made us feel that way. It doesn't go without saying that I am a masculine-presenting woman — I look 'gay' according to how people would stereotype a gay woman." Customers have asked Hieronimus if her husband is the chef, and refused to touch the food after meeting them.
Even if these instances are infrequent, they're still significant, especially in a "bubble" like Brooklyn. While there are certainly many gay women thriving in New York's restaurant industry, rarely do they vocalize if sexual orientation impacts their work. (It should be said that gay male chefs largely keep an even lower public profile.) "You look to highlight things that you think are going to make your brand seem more desirable, and you'd be hard-pressed to find a lot of people that think being a gay woman is what's going to make it more attractive," Kornack says. Speaking out has been a "no-brainer" for her because it can mean revealing truths that modernize the industry. "There's a lot more to be said about being a female chef," Kornack says. "There's a lot more to be said about being a gay woman in this industry. There are still publications out there creating lists with only one woman, and to say that there aren't women out there who deserve an award is ridiculous."
Fortunately, even though they're going to take a break to move upstate, this will not be the last you hear from Kornack and Hieronimus. They want to eventually open a restaurant there, though Kornack isn't sure if it'll be fine-dining. "With the next venture, I do want to consider my diner a lot more than I was able to here," she says. "It was not our intention to be exclusive, and I'm sure people have felt it's pretentious in the way that we don't accommodate for dietary restrictions and we only have 12 seats. I definitely want to be much more accessible and approachable to the average person, in a lot of respects."
Hieronimus notes that it will "definitely" not be another two-person operation, but they want to make it clear that this project did work. "This model is amazing for young chefs to get their name out there," Kornack says. "It doesn't go without feeling judged by other chefs. There are difficulties we have that people who run regular restaurants don't have, and vice versa. But it's incredibly easy to manage, in terms of finances. People are always wondering how we make money. We got a space with low overhead. We don't have to pay anyone except ourselves. It's wonderful to build a reputation and express your creativity without having the stress of running a full-time restaurant. The model definitely can and should be replicated. It's just that after four years, we're done."