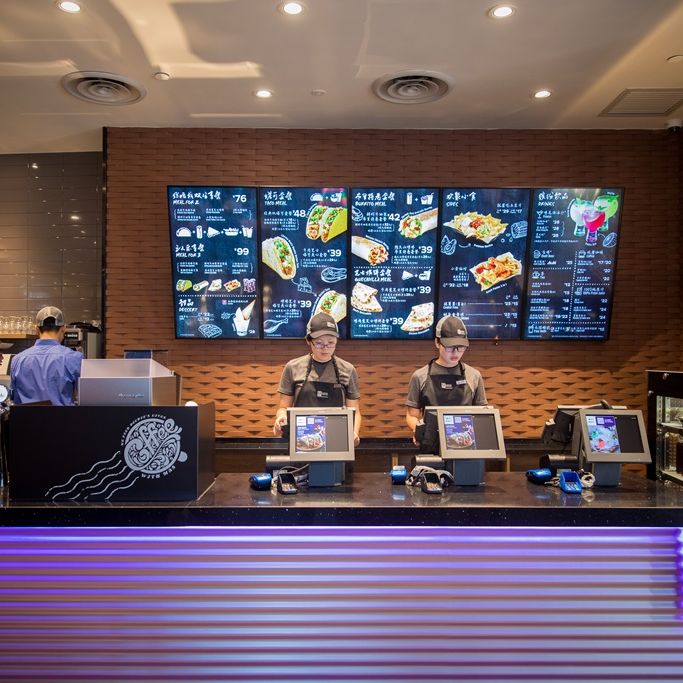 The new Taco Bell in Shanghai.
Photo: Taco Bell
While KFC and Pizza Hut have spread across China like grease fire, their sister-chain Taco Bell has struggled to make inroads into the country. Chinese consumers latched on to KFC for its fried chicken and local offerings, like congee with you tiao, but Taco Bell's Americanized Mexican food never struck a chord. (Higher-end Taco Bell Grande stores were first opened in 2003, but only lasted five years.) But now, against all odds, Taco Bell sees an opportunity to seize the moment — believing it has finally landed on the secret to cracking the Chinese market: booze.
On January 9, Taco Bell opened a new branch in Shanghai, which was its first Chinese location in years. It spared no expense, bringing in basketball legend Shaq for an opening-day taco-eating competition. The chain also focused-grouped their menu to make sure it adequately appealed to local palates: The bean burrito, for example, was found to be "controversial" because of its starch-on-starch construction. Fajitas were dropped because people didn't like the peppery heat. And Taco Bell's more outré creations, like the Doritos Locos tacos and fried-chicken taco shells, were left on the cutting-room floor altogether.
Taco Bell's problem has been that Chinese consumers tend to be unfamiliar with Mexican food — Taco Bell manager Will Cao had never even seen a taco before getting his job — and can be skeptical. As one diner summed up Taco Bell's food to the New York Times, "it really does not look good when you eat it."
Presumably, the chain sees booze as the antidote to this assessment, so it will offer it in the form of margaritas, Japanese beer, and "alcoholic slushies," which sound like good additions to the Taco Bell menu, but which would probably end up leading to disaster in American stores.