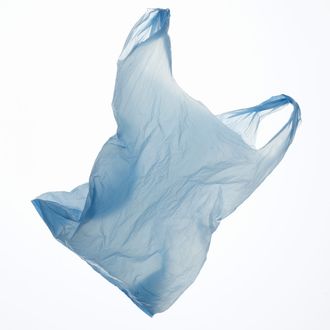 Doing his victory dance.
Photo: Stephen Stickler/Getty Images
The fate of New York City Council's five-cent plastic-bag tax now rests in Governor Cuomo's hands. The State Assembly yesterday passed legislation approved by the Senate three weeks ago that puts a moratorium on the city's law. If Cuomo signs it, the fee won't roll out as planned next Wednesday. Instead, it will be subjected to a yearlong delay that, in the words of Staten Island senator Andrew Lanza, "gives the City Council the opportunity to come to their senses and understand and appreciate what's happening in their districts." He contends, "the overwhelming majority of the people of New York City" know the fee "is a fraud."
The rollout has already been postponed once. The original start date in October was pushed back to February 15 after legislators in Albany threatened to thwart it. The idea was that this delay would allow fuller talks between the city and the state, but nobody really seems to have come away with greater respect for the other side. "What Albany is doing is disastrously bad environmental policy," City Councilmember Brad Lander tells WNYC, "and also disastrously bad democracy." Other backers have taken to blasting the state government on Twitter:

Outspoken opponent Assemblyman Dov Hikind, meanwhile, says it's "chutzpah" that supporters even "believed they could get away with" the fee. Cuomo hasn't indicated if he'll sign or veto the bill yet, but Hikind predicts there are enough votes to hand the governor the first veto override of his career, should he not pull through.