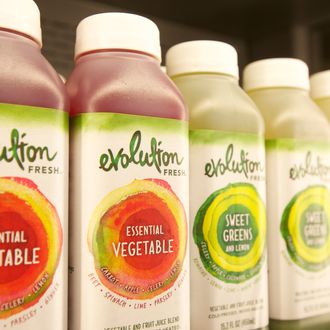 Don't worry — these guys are sticking around.
Photo: Stephen Brashear/Getty Images
Starbucks is finally pulling the plug on its attempt to clone Liquiteria. The ill-fated Evolution Fresh stores were part of the coffee chain's plot to dominate the juicing craze; it bought that brand in 2011 from the Naked Juice creator, and by 2012 was building cafés where "juice partners" served cold-pressed, organic ginger and kale elixirs, plus a selection of healthy fare — like wraps, grain bowls, and customizable salads. But they never caught on; the number of stores stalled before it even reached a half-dozen, all of them in the Seattle area or San Francisco. The remaining two are near downtown Seattle, and Seattle Met notes they'll both be closed by June.
Most Starbucks-goers are familiar with the Evolution Fresh bottles the chain stocks in cafés' cold cases, though. Those debuted nationwide around the same time as the hapless juice-store concept, and their run was much more successful. The company not only plans to keep on selling them at supermarkets and cafés but it's also about to expand the line to include four new "superfoods" flavors with Über-trendy ingredients like coconut milk and turmeric.