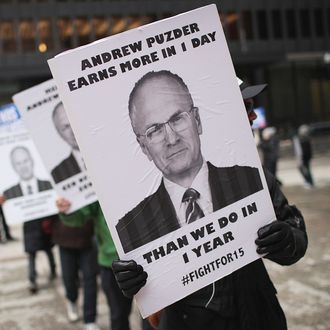 "Looking forward" to his grilling.
Photo: Scott Olson/Getty Images
Andy Puzder yesterday reassured reporters yet again that he's really "looking forward" to his cabinet hearing, but the possibility of it being the nastiest confirmation fight yet seems to grow almost daily: Senators Elizabeth Warren and Patty Murray, two of his loudest critics for Labor secretary, have now produced a report of their own called "Charbroiled: Workers Tell All About Life Under Puzder" that contains ten pages of firsthand accounts from Carl's Jr. and Hardee's workers. Their stories are not what you'd call complimentary of their employer, parent company CKE Restaurants.
The report explains they surveyed employees about "whether [Puzder] stands up for them" in order to "determine whether he is qualified and capable of standing up for America's workers." The senators' conclusion is even more solidly "No" than it was before the report, because the employees all described a "remarkably similar" terrible workplace at both chains.
Some of the highlights:

• "When I started [in 2006], I made $5.85 an hour and the only wage increases I ever received were due to the federal minimum wage increases."
• "Working at CKE means being constantly afraid. Managers are afraid of getting fired if they don't work enough time off the clock to meet all their budgets."

• "My sugar level was so low that I passed out and when my son found me, he called my manager and said that I was not able to work that day. My manager retaliated and suspended me for four days. And then they terminated me."
• "Myself and many others at our location have come to work sick — like really sick. Management's response is that if we can't find someone to take our shift, we must come in, no matter how sick we are."
• "I can recall multiple instances when the cooks in the back would be puking off into the garbage can and then finish up an order. Employees routinely worked while having pneumonia."
• "A supervisor also had inappropriate interactions with me when I first started working there. Once, he just grabbed me and kissed me while we were cleaning in the back."
Puzder's confirmation hearing was postponed for the fourth time on Tuesday. It had previously been scheduled for January 12, January 17, February 2, and February 7. An aide to Senator Lamar Alexander, the Republican who chairs the committee overseeing Puzder's hearing, told the AP this keeps happening because Puzder has yet to provide "key paperwork" (i.e., financial disclosures, a plan for avoiding conflicts of interest if allowed into office, etc.). Earlier reports had indicated he might be getting cold feet, but a spokesman says divesting his assets is a "complex process," and they're working on it now.