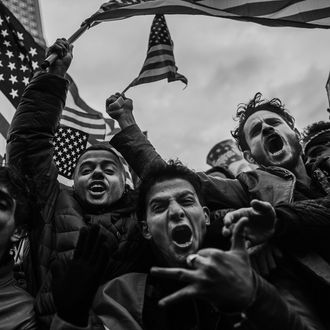 Protesters gathered at Brooklyn Borough Hall following a citywide bodega strike.
Photo: Andres Kudacki
Bodegas are de facto community centers in New York, and yesterday's citywide shutdown of more than 1,000 delis, grocers, and other small businesses was a humble but powerful reminder that the Trump administration's new immigration policies have affected large swaths of New Yorkers. As word of the shutdown spread, so did interest in the rally, which was held yesterday at Brooklyn Borough Hall. Thousands showed up: Muslims, Americans with roots in other Middle Eastern nations, and people just generally opposed to the new policies.
Men clambered on bus shelters drinking coffee and smoking to catch a view of speakers; groups of elderly bodega owners yelled and waved American flags; children climbed on their parents' shoulders holding neon signs to show their support for Muslims across America. A pair of Brooklyn high-school teachers wearing North Face jackets came at the insistence of their Yemeni students, many of whom have parents who work in bodegas.
In the wake of Trump's executive order on immigration, the rally was meant to express both unity and resistance, as well as show the world exactly who's affected: neighbors, friends — everyone. This wasn't a calm, docile protest. The crowd was, for good reason, fired up and impassioned, talkative, greeting and hugging friends. Chants of "U.S.A! U.S.A!" frequently broke out.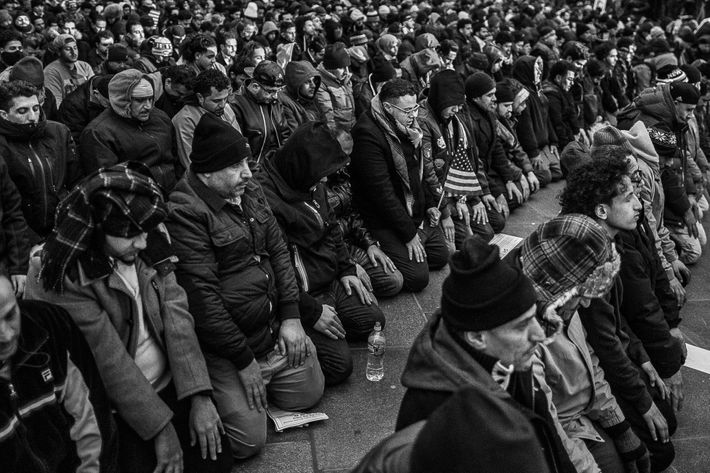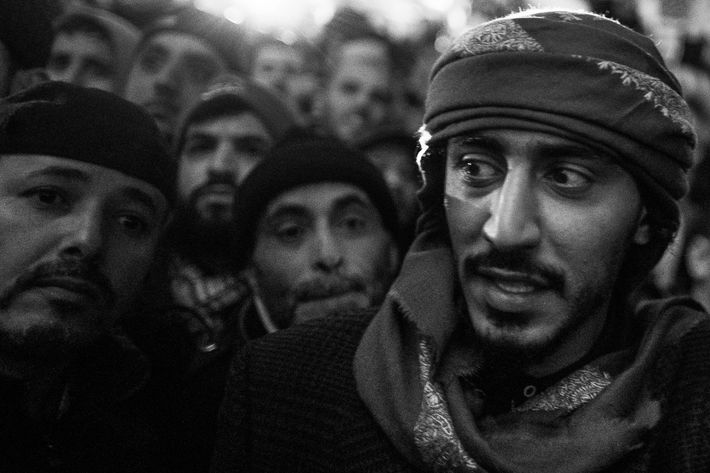 Following a call to prayer, a string of speakers was introduced, including organizers Rabyaah Althaibani and Summer Nasser, who introduced herself as the daughter of "two great Yemeni immigrants" and "most importantly … the daughter of deli owners." Nasser talked about her experience being stuck in Yemen when the civil war broke out. Althaibani spoke directly of how the ban had affected her, sharing her story of marrying a Yemeni national in Goa, India, and now being unsure of what will happen, despite his immigration having been approved last November.
Eighteen-year-old Abduelah Mohamed, a contractor, showed up despite being exhausted after spending the weekend at JFK, where his aunt was detained by immigration. Mohamed moved to New York from Yemen when he was a toddler, and has many relatives who have just been told their long-awaited visa interviews have been canceled — indefinitely: "This is the first time I've seen an action like this and it's scary," he said. "There are children who are separated from their family because their parents have green cards and they don't — that's frightening and cruel." He had come to the rally with some Yemeni friends for support: "People are already wary of me and they will look at me with even more suspicion now. There's going to be a big problem if this continues."
"We came here to be united and to be seen," said Ishraq Almontaser, a 20-year-old Yemeni-American makeup artist from Brooklyn. She still has family in Yemen, and Trump's actions have shaken her identity. "This is all about basic humanity. We were born and raised here. We are American and yet we are called terrorists. We pay our taxes. We go to school. We work. We are the future and we want him to see that we won't put up with this." When Almontaser heard about the strike, she immediately tweeted and put it on Instagram. "I wanted Trump to see as many of the young generation as he can, because we will not stand for this."
Althaibani, one of the rally's organizers, discussed her own family: "I have an uncle who is in Jordan; he and his family escaped the war. He's been a refugee there for almost two years … He was cleared to resettle in Michigan, but what happened the night Donald Trump signed the executive order? My uncle called me and said, 'Rabyaah, this is not the America you told me about.' He was so heartbroken."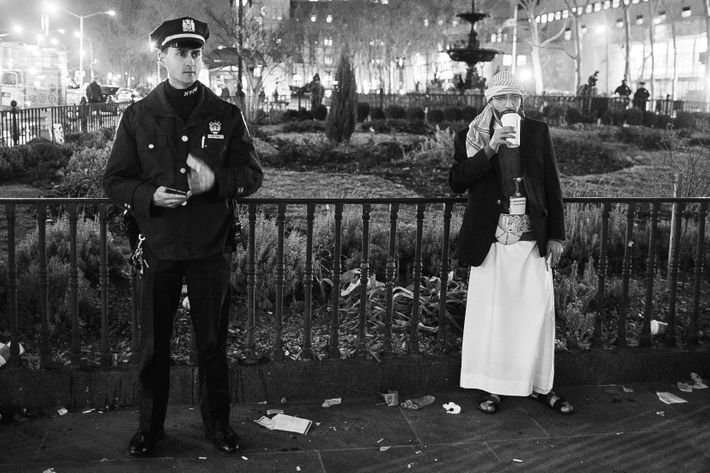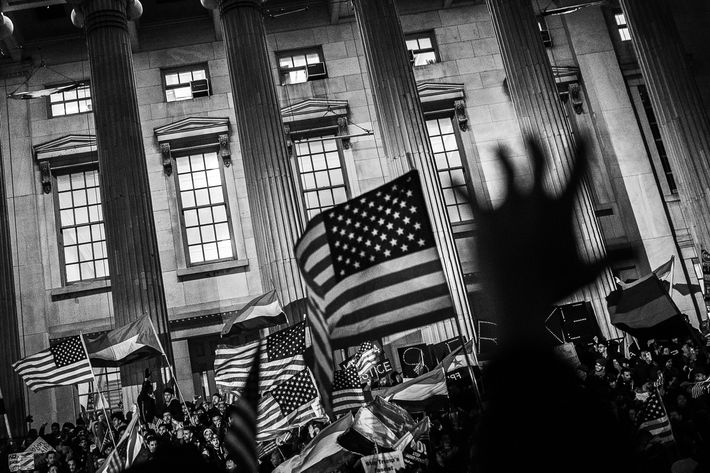 Originally from Yemen, Fateh Sharhan works in New Jersey and has been in the United States for 35 years. The ban has fractured his family. "My kids, I just got them a month ago. What's going on back home, with the war, they had to travel to three different countries, spent four months getting their visas. But I still have my wife back home," he explained. "This situation is really hurting everybody. I have a lot of relatives in countries all over. We're suffering, we're suffering. I don't have any problems. No issues with police. I came out here to say I'm not okay with this, we're not okay with this."
Yasmeen Alnajar, a second-generation Yemeni-American from Brooklyn, said she was "astonished" by the executive order and explicitly referenced the president's registry rhetoric. She was at the protest with her mother, Amal Mohammed, carrying a sign that expressed the cruel irony of a ban on refugees from a country that American backed forces are bombing. Still, the sense of belonging — of being Americans, proud if threatened — reverberated through the protest.
"We've always been proud to be American," Alnajar's mother added. "And this is just horrifying. To me, it feels like we're unwanted or hated or banned."