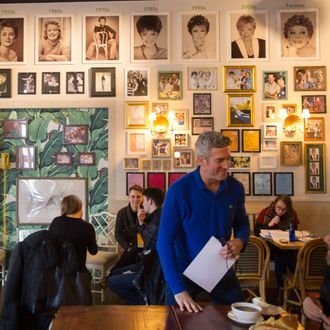 Co-owner Michael La Rue greets guests at his new café.
Photo: Jed Egan
New York City isn't lacking a diverse selection of surprisingly themed restaurants: Ninja, the Trailer Park Lounge, the Beetlejuice–themed Beetle House NYC. But Michael J. La Rue nevertheless created a lot of excitement when he announced a project that manages to simultaneously dovetail with a cultural craving for both comfort and nostalgia: a new restaurant entirely devoted to Rue McClanahan and the Golden Girls.
The story of Rue La Rue Café, as it's known, begins in 2001, when La Rue first met McClanahan at a charity event. After hearing his last name, La Rue says the accomplished actress — best known, obviously, as the Golden Girls' Blanche Devereaux — immediately proposed marriage: "She wanted her name to be Rue La Rue!" Instead, the two became friends, which gave La Rue insight into McClanahan's vast collection of memorabilia. "She saved everything," he explains. People may have called her a collector, but that's only because she had enough space to house everything — in reality, it's a lot of stuff. "She was a flat-out hoarder!" says La Rue. "I have a whole warehouse in Queens full of memorabilia."
McClanahan famously maintained a clause in her Golden Girls contract that allowed her to keep all of Blanche's costumes. She also acted in eight other TV series, more than 70 films, and 250 theatrical productions. As a result, the collection comprises jewelry, antiques, and artwork, as well as cookbooks and recipes from friends.
La Rue, who has ample experience in restaurants and has lived in Washington Heights for nearly two decades, says he was storing some of McClanahan's artwork elsewhere in the building, and thought the ground floor would be an ideal café. "It has direct sunlight and a big sidewalk," he says. "About two years ago, I was walking out and this little voice said, Well do it." So La Rue called McClanahan's son, Mark Bish, and the two partnered on the project.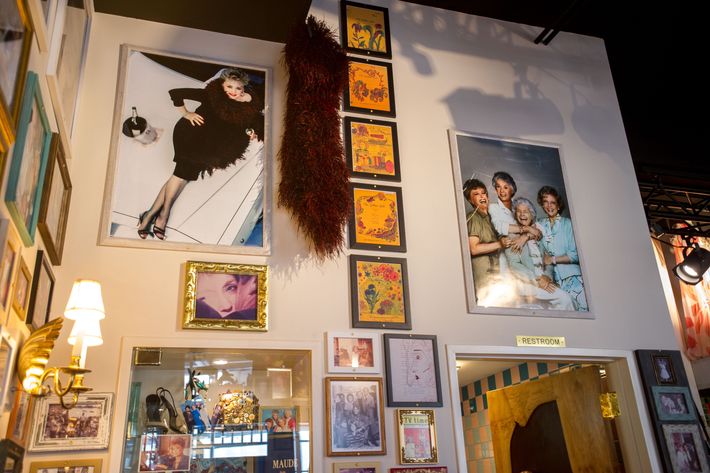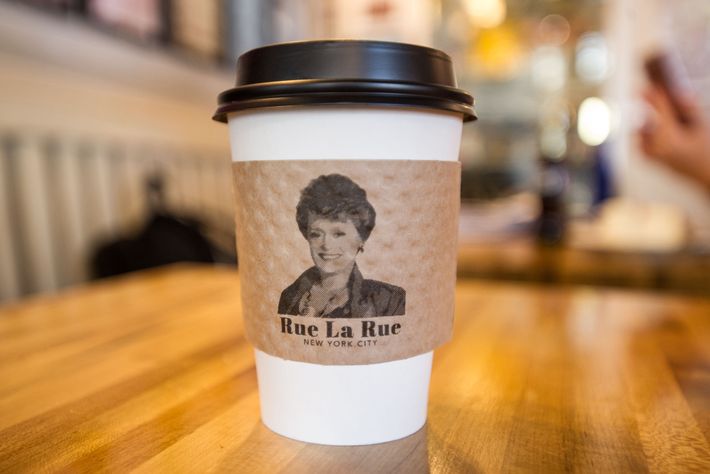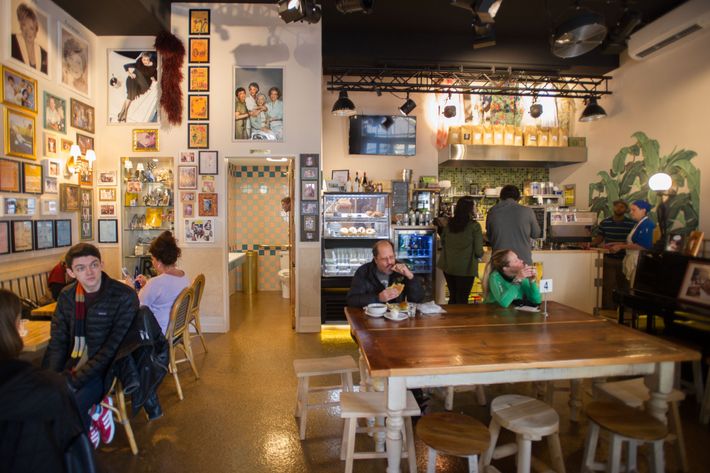 Now that it's finished, the dining room is decorated with things like McClanahan's Outstanding Lead Actress Emmy from 1987 (as well as the dress she wore to accept it), publicity shots, signed scripts, costumes, and McClanahan's piano. No detail was overlooked: The phone from the Golden Girls' kitchen set hangs on a wall painted to match the wallpaper from Blanche's bedroom. The bathroom is even tiled to match the one on the show. And on a counter are photos of McClanahan's ex-husbands. "Rue used to insist she was nothing like the character Blanche," La Rue says, "but that's why I put the picture of her six husbands over there — because she was exactly like Blanche."
Even though the café is still in soft-open mode, it has immediately become a destination for curious diners, fans of the show, and customers who want a perfect Instagram shot — which is a surprisingly young demographic, given that the Golden Girls' (very successful) original run on NBC, which began in the mid-'80s, ended 25 years ago. The show, though, is aging gracefully — it remains a cult hit thanks to constant reruns and a new streaming deal with Hulu.
But kitsch appeal only goes so far, and La Rue knows that for the restaurant to succeed, it actually has to be a good place to eat. He says the area needed a relaxed spot, so the café — now open for breakfast and lunch, with regular dinner hours coming soon — is dialed in on comfort food. The menu, from chef Michele Weber, includes biscuits with homemade strawberry butter, steamed eggs (made with the wand of an espresso machine), Estelle Getty's basil-mayo BLT, and — for fans of Golden Girls — dishes like the Rusty Anchor clam chowder and a Stan the Putz turkey club. Fans will also be happy to know that, yes, there is cheesecake for dessert.
"As a long-term resident here," La Rue says, "I know this is what we needed." He hopes the restaurant can become something of a gathering place for neighbors, something he thinks McClanahan would have appreciated. "She felt like Washington Heights was an authentic New York neighborhood with a mix of all different types of people," La Rue says. "She lived on Sutton Place and 56th. She said it was very nice, but sedate — she liked the action up here."