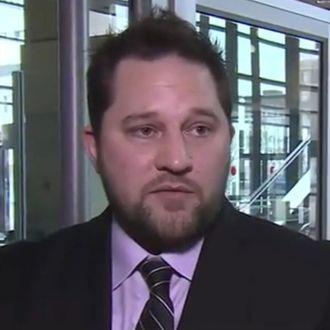 Horvatinovich says it's not illegal to post public pictures online.
Photo: WOWT
An Omaha restaurateur could be going to jail because he tweeted photos of two 17-year-olds who tried buying alcohol as part of a Nebraska State Patrol sting operation. John Horvatinovich, owner of a spot called Salt, says his bartender refused to serve the underage duo two Bud Lights (a win for both sides), then he posted security-camera stills of their faces as a heads-up to other businesses. But the state argues he "obstructed a government operation" — a misdemeanor that carries a max penalty of one year in prison and a $1,000 fine. The trial has been going on all week, and a verdict is expected from the jury any day.

The tweet in question (since deleted, of course) originally contained the images and this warning from Horvatinovich: "Omaha restaurant peeps: These two are trying to ruin your night w/sting operations in town." Police got tipped off to it later that night, and felt the tweet compromised the teens' identities. The undercover team, which had a list of about 30 bars and restaurants to visit that evening, was told to pack it in. "[If] there's one drunk patron at the next business … and they see their face, now we've got a confrontation and the kid could be assaulted," the officer in charge testified. "We just needed to get them off the streets and get them safe."
"Had I known they were minors working with authorities in a compliance check, I would have deleted it immediately," Horvatinovich says now, according to WOWT. "But we didn't find that until 12 days after the tweet." He claims he wanted his day in court either way, though, because "it's time for restaurant owners to stand up for themselves." His lawyers argue he had no way of knowing the teens were so-called "cooperating individuals" working for state police, and that he thought he was just looking out for his service-industry pals.

It's unclear why, then, he'd use the phrase "sting operations" at all, but he doesn't think his odds of winning are awesome regardless ("Sixty percent that they'll find me guilty"). On Sunday, the restaurant's Twitter account at least tried ramping up for a potential PR battle by tweeting images of incarcerated salt and using the hashtag #TrialoftheCentury, but that's looking like an uphill fight, too, since @Salt88Omaha's account has now been completely deactivated.