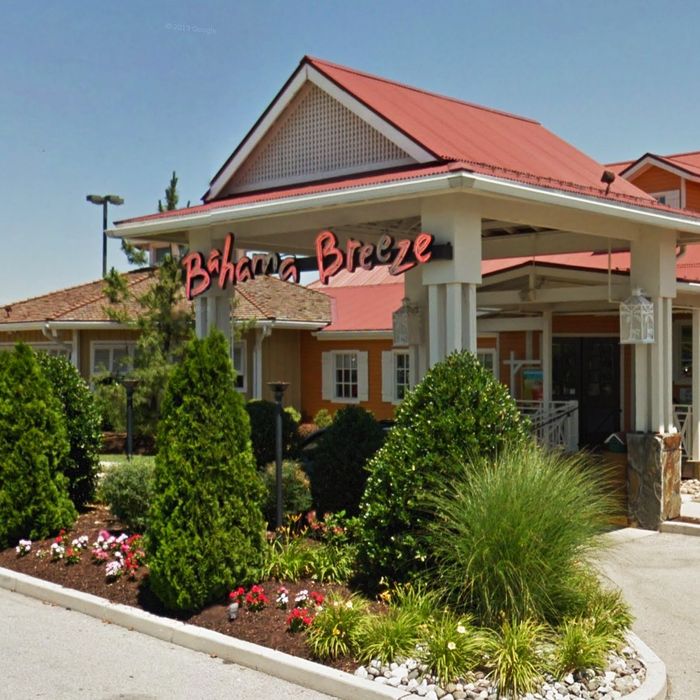 A Bahama Breeze in Pennsylvania where six employees were reportedly fired.
Photo: Google
On Thursday, workers across the country went on strike as part of a grassroots movement called "A Day Without Immigrants." Many restaurants and food businesses, both immigrant-owned and those sympathetic to the cause, shuttered for the day, or allowed workers to take the day off, in solidarity with their employees and in opposition to President Donald Trump's immigration policies. Unfortunately, not all employers were supportive, and reports of workers losing their jobs have subsequently come out. While these firings are being called a backlash to the strike, the few restaurants owners who are known to have let workers go have instead faced an immediate backlash of their own.
The restaurant facing the most ire has been the I Don't Care Bar and Grill, in Catoosa, Oklahoma, which fired 12 Latino employees after they failed to show up for their shift or inform their employee about their absence. That restaurant has received the most attention — its Yelp page is now a battlefield of armchair activism — thanks to its owner's tactic of firing employees via text message. Local news station KTUL obtained a message sent to an employee by owner Bill McNally, who wrote, "I hope you enjoyed your day off… love you." McNally wrote in a statement that the restaurant has a "zero tolerance policy" for no-shows no matter the reason, while telling CNN, "I'm on their side, but we have rules at I Don't Care Bar and Grill."
In King of Prussia, Pennsylvania, six employees at a Bahama Breeze location were reportedly fired after participating in the strike. According to immigration activist Carmen Guerrero, the workers were told on Friday that they could not enter the building. When the news was posted to the Coalición Fortaleza Latina's Facebook page, some 100 people called the restaurant demanding that the workers be rehired. And it appears that Bahama Breeze backtracked after word got out. A spokesperson tells the Philadelphia Inquirer that "no one was ever fired," while Guerrero says the workers were rehired "to make it look like nothing happened."
There has also been at least one apparent case of misreported firings. After the strike, Telemundo 47 reported that 25 employees of Ben's Kosher Delicatessen Restaurant & Caterers in Greenvale, Long Island, were fired for not showing up to work on Thursday. But owner Ronnie Dragoon says this isn't the case. In a statement, the restaurant explained that it put up a formal note last Wednesday expressing support for the protest, while also asking employees to work their scheduled shifts. Those who did elect to walk out "were, and still are, invited to return to their positions," the statement read. Speaking with CNN, Dragoon, who described himself as "the grandchild of immigrants" and "a progressive my entire life," says just one employee was fired — and only after pressuring others to walk out and even physically threatening them.